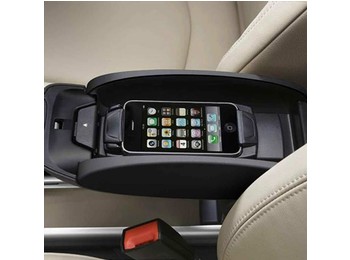 For MINIs with the MINI-Connect factory option with the center armrest. Cradle snaps into the base plate in the center armrest.
The MINI SNAP-IN ADAPTER / PHONE CRADLE allows to securely store your phone in the Mini Factory center armrest, to take advantage of the full might of the vehicles antenna and to charge it while it is connected with the MINI Bluetooth Comfort System (please note that the vehicle option MINI Bluetoth Comfort / option code 6NE is required).
The smartphone cradle allows in addition to the features of the regular cradle to access and play the music stored on the smartphone without the need to take the device out of the cradle. Please note that the smartphone cradle works only in conjunction with the vehicle option 6NF (Smartphone Preparation).
Apple iPhone 3G™ shown. Music Snap-In Adapter can be used with MINI Connected, but does not support video transfer.
Here is a handy youtube video on how to move the bluetooth microphone from the passenger side to the drivers side.