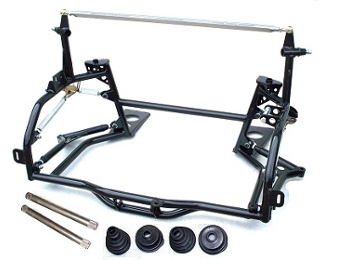 We would like to introduce to you our new MTK Kit. The MTK Series was designed to install Honda's newer K Series engine into the Classic Mini (1959-2000), upgrading the Classic Minis A-Series engine with today's most trusted engines built by Honda. With nearly six times the horsepower of a stock Mini 850, you might understand one good reason for the swap. Reliability and knowing that your car will crank and run in any condition is another great reason. Have fun with your Classic Mini.
Mini Mania has taken all of the headaches out of this engine swap by developing the MTK subframe. Specifically designed for the Mini and the Honda K20 engine, the MTK subframe mounts directly to the Mini using the two stock Mini tower front subframe mounting bolts, then the Honda engine mounts directly to the subframe using the hardware and brackets that are supplied with the Kit. It is as simple as that!
The MTK Kit comes with the upper and lower suspension arms. And, they are custom made just for the MTK Kit, so no more 1959 antique suspension on your Mini. Our new kit also comes with the axle shafts that you will need to cross over your Mini CV joint to the Honda joint. Other items included as well (photo Coming Soon). The All New MTK Series Kit from Mini Tec means out with the old slow bumpy ride and in with the new smooth Super Fast ride! MTK Kit Includes: MTK Subframe, RH and LH Upper Suspension Arms, RH and LH Adjustable Lower Suspension Arms, Engine Mounting Brackets, Transmission Mounting Brackets, 2 Custom Hybrid Chromoly 400hp Axle Shafts , Replacement Steering Arms (these arms are extended for better control at high speeds), Detachable Cross-member Bar for extra strength, and all of the Hardware and Instructions that you will need for the Honda K20 Installation. All subframes come in black.