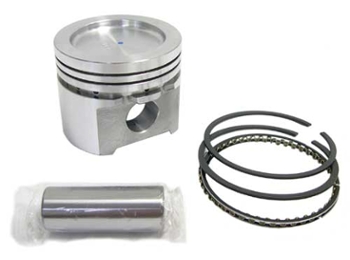 72.5mm Dished piston set, sold by the set, rings and pins included. Three-ring design with top two rings being 1.5mm thick and an oil ring at 3mm thickness. 'Pin Height' (centerline of wrist pin to top of piston) is 38.8mm (same as 21253 AE pistons as used in Cooper "S").
A design feature of these pistons has the ring set placed higher in the piston than most other manufacturers to minimize piston rock, providing more HP. Flat Dish diameter is approximately 53mm with a depth of approx 5mm resulting in a 9cc dish. These super quality cast pistons have been used in many race motors and work just as well in a supercharged application. A crown thickness of over 6.5mm allows for safe further modification. Overall piston height from bottom of skirt to top of piston is 58.6mm.
In the event that lower compression is desired an additional 2.5mm can be taken off the top of the piston and yet another 2.5mm can be removed from the bottom of the dish with no compromise to piston integrity.
Piston to wall clearance should be set to between 1.5 and 2 thou.
At 249 grams these pistons are 20% lighter than their AE equivalent and still are strong enough for RPM race engine applications.