Need a Smile?
Check out these FUN April Fool's Day Jokes from years past Press Releases from New MINI
2002

MINI INTRODUCES REVOLUTIONARY THIRD HEADLIGHT: 'CENTERLITE
Another Example of When Three is More Fun than Two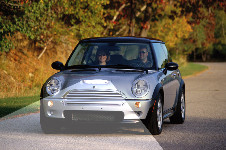 Woodcliff Lake, New Jersey, April 01, 2002…While most cars now come with either two or four front headlamps, MINI has introduced a groundbreaking third headlamp specifically for foggy English weather.

A spokesman for MINI UK said; "We are delighted to be getting this technology as a world first. I have so often been caught out in foggy weather while bringing home my fish 'n' chips. This breakthrough really is a godsend, me old mate."


2003

REMOTE CONTROL STEERING AVAILABLE ON MINI
Little Car Crammed with High technology Sets New Standards in Convenience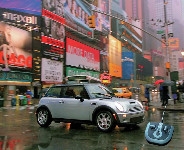 Woodcliff Lake, New Jersey April 1, 2003… MINI is well known for packaging high-technology into a small space and its latest innovation, MINI Remote Steeringtm, takes ease of ownership to new levels. With MINI Remote Steeringtm, MINI has produced the world's first commercially-available full-sized remote control car. Based on the proven 'Tamiy-ah-hah' model racing technology, the new system allows MINI owners to remotely operate their cars up to a distance of 150 feet.

MINI spokesperson, Donna Falforit said 'Clearly this once again highlights MINI as a high technology product. We have thoroughly trialed this new system and apart from the occasional interference with light aircraft and TV remotes, we are happy with it. Pricing is not set, but we think it'll be a winner, especially on a day like today."

2012

NEW AMPHIBIOUS MINI COOPER YACHTSMAN TO LAUNCH IN NEW YORK… BESIDE THE HUDSON RIVER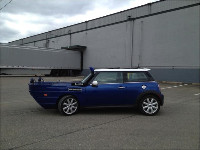 Woodcliff Lake, NJ – April 1, 2012… MINI customers will be able to boldly go where no motorer has gone before when the all-new MINI Cooper Yachtsman makes its world premiere at the New York International Auto Show next week, right beside the Hudson River.
"Our exciting MINI Cooper Yachtsman is the ultimate extension of the MINI brand, expanding our line-up to seven models in the USA and offering consumers even more ways to enjoy MINI ownership in a manner best-suited to their individual taste and location," comments Jim McDowell, Vice President of MINI USA.
"The Yachtsman will become an instant status symbol, a car/boat combo that evokes 'land/sea envy' in equal measure. Originally endorsed by the British Royal Navy**, the Yachtsman brings a new level of versatility to MINI ownership. So, if you're cruising along and someone yells 'Lake' – no worries. Simply downshift, grab a life-vest, hit the water and let Yachtsman take care of the rest!" adds McDowell.

2016

MINI UK DEBUTS THE NEW MINI HIPSTER HATCH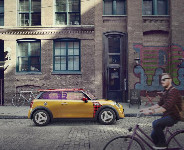 World Premier of MINI Hipster Hatch • Instagram Filtered Windows • Twin-deck cassette player as standard • Fixed-gear drivetrain • Upcycled alloy wheels, stonewash denim upholstery

Hoxton, London, April 1, 2016: MINI has whipped a fair-trade Peruvian cotton sheet off its latest model this morning in Hoxton, London. Featuring Instagram filtered windows, Twin-deck cassette player and a fixed-gear drivetrain, the new MINI Hipster Hatch launches today.

"The MINI Hipster Hatch is like no other we've built before" said Ivana Nuwatto, senior external product launch experience curator at MINI UK. "Inspired by the kind of innovative thinking only found when you ignore the script and ask what those who refuse to be categorized want from a car – features like fixed gear drive, twin-deck cassette player, upcycled details and Instagram filtered windows to name but a few."

2017

NEW ACCESSORIES FOR THE MINI CONVERTIBLE: THE JOHN COOKER WORKS PACKAGE.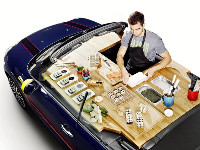 MINI special projects has cooked up an innovative accessories package for the MINI Convertible. The MINI Convertible with the MINI John Cooker Works Package.

Oxford, April 1, 2017. MINI is pleased to announce a new accessory that's perfect for the culinary entrepreneur. The MINI Convertible can now be fitted with the new John Cooker Works package and turned into a mobile street vendor. The MINI Convertible receives a solid-oak food sales and preparation surface.

"The strikingly painted and backlit mirror caps and side scuttles in Citrus Yellow give the MINI Convertible an sharp street food look. We applied the knowhow we gained from our MINI Yours vehicle personalization program", says Sue Scheff of the MINI Design Team.

The Sport Stripes for the John Cooker Works Package are in Chilli Red and Berry Blue.

"Street food businesses are a great complement to established restaurants and offer their customers fantastic variety. However, typical street food trucks are often too big and cumbersome for our city centers. The MINI Convertible can be used by street food vendors to whisk their food directly to the customer and even right onto festival grounds", says Matt Erdee from MINI Business Innovation.


....what are you thoughts on these MINI Models? Would you actually like to see these on the road today? Leave us a comment below and let us know your thoughts!