MODEL DESIGNATION QUICK REFERENCE GUIDE

As BMW saw fit when they began making MINI Coopers, consistency wasn't at the forefront of their decision making.
As a result, we wrote this article to help you determine what kind of MINI Cooper you have.

Essentially, there are Three Generations of MINI Coopers - with Generations marked not in years, but in changes in the models. To find your car, simply scroll down the page and look at the R-Type or F-Type and the year of production. Then when you're 100% you've got the right car, REMEMBER to Select Your Cart Type by using the "Car Selection Tool" at the top of the page. This way you'll Get Better Results while searching for parts.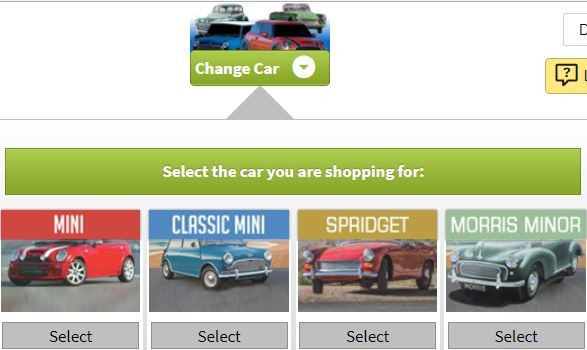 Still Unsure Which Parts Actually Fits Your MINI?
It's not an uncommon problem. The slight changes from model to model, year to year, even month to month makes finding the right part a confusing chore at best.
LET US HELP.
If you have ANY question or concern about a part, email us at info@minimania.com and be sure to include the last 7 digits of your VIN Number. One of Expert Team Members will get back to you shortly with an answer to your fitment problem.
Generation 1 - aka 'GEN 1 Mini'

R50 Hatchback – (2002 – 2006)
2-Door/ Rear Hatch / Front & Rear Seats

Models:
MINI Cooper - (normally aspirated non-supercharged W10B16 engine)

[shop for R50 products here]



---

---

R53 Hatchback – (2002 – 2006)
2-Door/ Rear Hatch / Front & Rear Seats

Models:
MINI Cooper S - (Supercharged W11B16 Engine)

[shop for R53 products here]



---

---

R52 Convertible – (2005 – 2008)
2-Door / Rear Trunk / Front & Rear Seats

Models:
MINI Cooper (normally aspirated non-supercharged W10B16 engine)
MINI Cooper S (Supercharged W11B16 Engine)

[shop for R52 products here]




Generation 2 - aka 'GEN 2 Mini'

R56 Hatchback
2-Door / Rear: Hatch / Front & Rear Seats

Pre-Facelift Models - (2007 - thru Jul 2010 production ):
MINI Cooper (non-Turbo N12B16A engine)
MINI Cooper S (Turbo N14B16A engine)

Post-Facelift Models - (from Aug 2010 to 2014 production):
MINI Cooper (non-Turbo N16B16A engine)
MINI Cooper S (Turbo N18B16A engine)

JCW MINI Cooper S Models:
07/2010-06/201 / (Turbo N14B16A engine)
03/2012-2014 / (Turbo N18B16A engine)

[shop for R56 products here]



---

---

R55 MINI CLUBMAN (2008 – 2014)
3-Doors / Split Rear Doors / Front & Rear Seats

Pre-Facelift Models – (2008 thru Jul 2010 production):
MINI Cooper (non-Turbo N12B16A engine)
MINI Cooper S (Turbo N14B16A engine) 2008 - 2010 (thru Jul 2010 production)

Post-Facelift Models – (2011 - 2014 (from Aug 2010 production):
MINI Cooper (non-Turbo N16B16A engine)
MINI Cooper S (Turbo N18B16A engine)

JCW MINI Cooper S Models:
(05/2010-06/2012) - Turbo N14B16A engine)
(09/2012-2013) - Turbo N18B16A engine)

[shop for R55 products here]

---

---

R57 Convertible (2009 - 2015)
2-Door / Rear Trunk / Front & Rear Seats

Pre-Facelift Models – (2009 - thru Jul 2010 production):
MINI Cooper (non-Turbo N12B16A engine)
MINI Cooper S (Turbo N14B16A engine)

Post-Facelift Models - (from Aug 2010 to 2015 production):
MINI Cooper (non-Turbo N16B16A engine)
MINI Cooper S (Turbo N18B16A engine)

JCW MINI Cooper S Models:
03/2010-06/2012 / Turbo N14B16A engine
06/2012-2014 / Turbo N18B16A engine

[shop for R57 products here]

---

---

R60 COUNTRYMAN - (2011 - 2016)
4-Door / Hatch / Front & Rear Seats
Optional AWD

Models:
MINI Cooper (non-Turbo N16B16A engine)
MINI Cooper S (Turbo N18B16A engine) including ALL4

[shop for R60 products here]

---

---

R58 COUPE - (2012 - 2015)
2-Door / Trunk / Front Seats only (2-seat hardtop)

Models:
MINI Cooper (non-Turbo N16B16A engine)
MINI Cooper S (Turbo N18B16A engine)

JCW MINI Cooper S Models:
01/2011-07/2012 / (Turbo N14B16A engine)
09/2012-2014 / (Turbo N18B16A engine)

[shop for R58 products here]

---

---

R59 Roadster 2-seat convertible (2012 – 2015)
2-Doors / Trunk / Front Seats only

Models:
MINI Cooper (non-Turbo N16B16A engine)
MINI Cooper S (Turbo N18B16A engine)

JCW MINI Cooper S Models:
08/2011-06/2012 / Turbo N14B16A engine
07/2012-2014Turbo N18B16A engine

[shop for R59 products here]

---

---

R61 MINI PACEMAN - (2013 – 2016)
2-Door / Hatch / Front & Rear Seats
(2-door version of Countryman, including AWD)

Models:
MINI Cooper (non-Turbo N16B16A engine)
MINI Cooper S (Turbo N18B16A engine) including ALL4

[shop for R61 products here]




Generation 3 - aka 'GEN 3 Mini'

F56 HATCHBACK - 2014 model
2-Door / Rear Hatch / Front & Rear Seats

Models:
MINI Cooper (B38A15A 1.5 liter 3-Cylinder engine)
MINI Cooper S (B48A20A 2.0 liter 4-Cylinder engine)

[shop for F56 products here]



---

---

F55 Five Door Hatchback – (July 2014 – 2017+)
4-Door / Rear Hatch / Front & Rear Seats

Models:
MINI Cooper (B38A15A 1.5 liter 3-Cylinder engine)
MINI Cooper S (B48A20A 2.0 liter 4-Cylinder engine)

[shop for F55 products here]

---

---

F56 JCW Hatchback – March 2015+
2-Door / Hatch / Front & Rear Seats

Models:
JCW MINI Cooper (Engine Code B48A20O0)

[shop for F56 JCW products here]

---

---

F54 Clubman
4-Doors / Split Rear Door / Front & Rear Seats

The F54 will be a Clubman with 4 Doors plus the two 'split' barn doors in the rear for a total of 6 DOORS!

Models:
MINI Cooper, MINI Cooper S – July 2016+
MINI Cooper, Cooper S ALL WHEEL DRIVE - March 2016+

[shop for F54 products here]

---

---

F57 Convertible
2-Door / Rear Trunk / Front & Rear Seats

Models:
MINI Cooper/Cooper S - Start of Production: November 2015 – 2017+
JCW MINI Cooper Start of Production: March 2016 – 2017+

[shop for F57 products here]

---

---
BODY STYLE
DOORS

REAR
SEATS
GENERATION
MODEL YEARS
MODEL DESIGNATION
HARDTOP / HATCHBACK
2-Door
Hatch
Front & Rear
1st Generation
2002-2006

R50

for the Mini Cooper (Set Your Car and Shop for a R50.)


R53

for the Mini Cooper S (Set Your Car and Shop for a R53 .)
2nd Generation
2007-2013
R56 for both the Mini Cooper and Cooper S (Set Your Car and Shop for a R56.)
3rd Generation
2014-2020
F56 for both the Mini Cooper and Cooper S (Set Your Car and Shop Shop for a F56.)
4-Door
Hatch
Front & Rear
3rd Generation
2015-2020
F55 for both the Mini Cooper and Cooper S (Set Your Car and Shop for a F55.)
CONVERTIBLE
2-Door
Trunk
Front & Rear
1st Generation
2005-2008
R52 for both the Mini Cooper and Cooper S (Set Your Car and Shop for a R52)
2nd Generation
2009-2015
R57 for both the Mini Cooper and Cooper S

(Set Your Car and

Shop for a R57

.)

3rd Generation
2016-2021
F57 for both the Mini Cooper and Cooper S (Set Your Car and Shop for a F57.)
CLUBMAN
3-Door
Split Doors
Front & Rear
2nd Generation
2008-2014
R55 for both the Mini Cooper and Cooper S (Set Your Car and Shop for a R55.)
4-Door
3rd Generation
2016-2020
F54 for both the Mini Cooper and Cooper S (Set Your Car and Shop for a F54.)
COUPE
2-Door
Trunk
Front only
2nd Generation
2012-2015
R58 for both the Mini Cooper and Cooper S (Set Your Car and Shop for a R58.)
ROADSTER
2-Door
Trunk
Front only
2nd Generation
2012-2015
R59 for both the Mini Cooper and Cooper S (Set Your Car and Shop for a R59.)
COUNTRYMAN
4-Door
Hatch
Front & Rear
2nd Generation
2011-2016
R60 for both the Mini Cooper and Cooper S and ALL4 (Set Your Car and Shop for a R60.)
3rd Generation
2017-2022
F60 for both the Mini Cooper and Cooper S and ALL4
PACEMAN
2-Door
Hatch
Front & Rear
2nd Generation
2013-2016
R61 for both the Mini Cooper and Cooper S and ALL4 (Set Your Car and Shop for a R61.)
Save