MINI COOPER REAR SWAY BAR APPLICATION GUIDE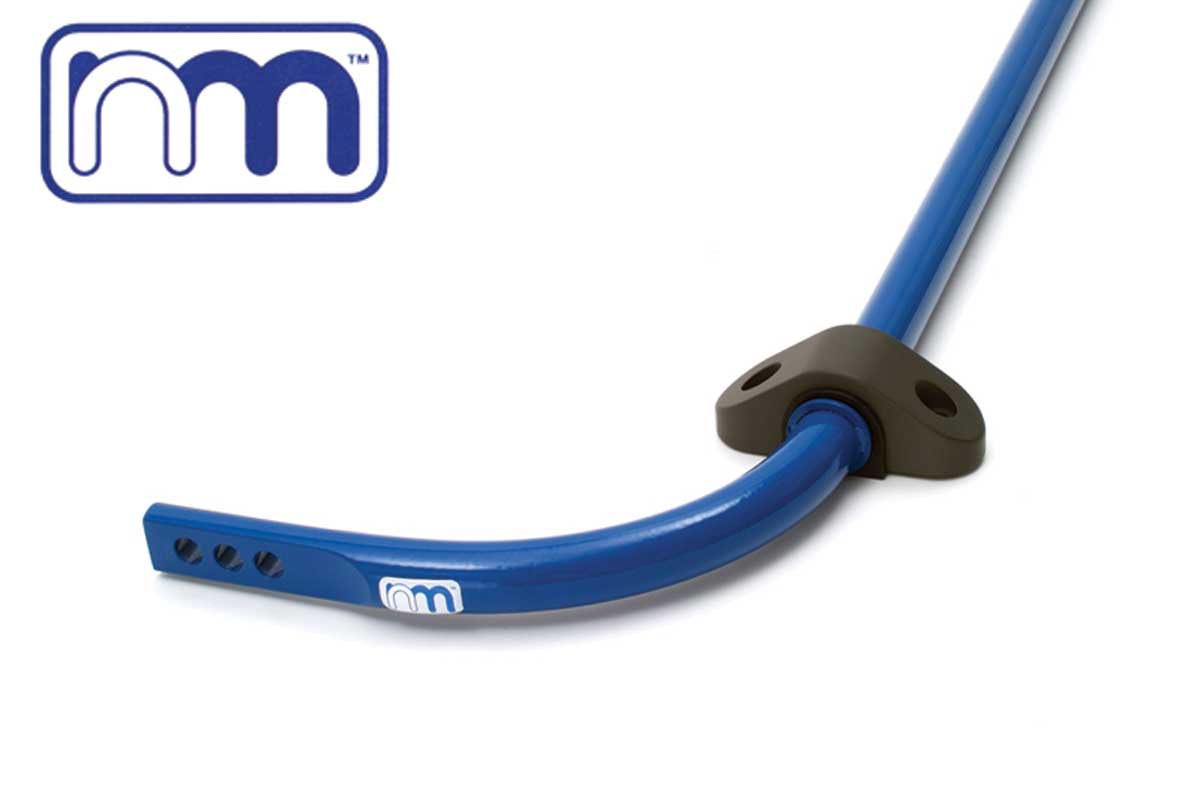 The Mini Cooper Rear Sway Bar or more accurately, the 'rear anti-sway bar' is the rear suspension component that is attached between the rear suspension and chassis. As the name suggests, its primary purpose is to reduce the body roll or 'sway' in the corners. The sway bar uses its torsional rigidity to limit the amount of body roll. The larger diameter bar will result in less lean in the corners and improve turn-in response. Sway bar upgrade is one of those rare performance upgrades that has minimal impact on ride quality while improving handling performance.

Most vehicles have a front and rear sway bar, and the difference in stiffness between the two bars affects the handling. The balance between the two bars determines whether the car will understeer, oversteer, or remain neutral. The factory suspension is intentionally setup with understeer which is what happens when the car enters a corner too fast - where the car wants to go straight even with the wheels turned. This is a safety factor which forces the driver to reduce speed in order to navigate the corner. For the performance oriented driver, the preference is to have a more 'neutral' suspension where the car turns more easily instead of understeer. A larger rear sway bar will change the balance so the car turns more neutral or even oversteer - as preferred by some performance type driver. This allows the car to carry higher speeds in the corner and lowers the lap times on the track.

For the 'track-only' Mini, both the front and rear sway bar can be replaced with larger diameter bars for maximum 'flatness' in corners.

Aside from taking a drivers education event at a track, we recommend the larger rear sway bar as the 'first' suspension upgrade for improved handling.
Below is a chart with stock sway bar sizes, followed by our Sway Bar Upgrade Application Guide.

MINI COOPER REAR SWAY BAR STOCK SIZES


BODY STYLE
MODEL
YEAR
FRONT BAR SIZE
Standard / Sport
REAR BAR SIZE
Standard / Sport

HARDTOP R50 R53
COOPER
2002-2006
22.5 / 24.0 mm
16.0 / 17.0 mm
COOPER S
24.0 / 24.0 mm
17.0 / 17.0 mm
JCW
24.0 mm
18.5 mm
CONVERTIBLE R52
COOPER
2005-2008
22.5 / 24.0 mm
16.0 / 17.0 mm
COOPER S
24.0 / 24.0 mm
17.0 / 17.0 mm
HARDTOP R56
COOPER
2007-2013
21.5 / 23.5 mm
16.0 / 18.0 mm
COOPER S
22.5 / 23.5 mm
17.0 / 18.0 mm
JCW
24.0 mm
18.5 mm
CLUBMAN R55
COOPER
2008-2014
22.5 / 24.0 mm
16.0 / 17.0 mm
COOPER S
23.5 / 24.0 mm
17.0 / 18.0 mm
JCW
23.5 / 24.0 mm
17.0 mm
CONVERTIBLE R57
COOPER
2009-2015
22.5 / 23.5 mm
16.0 / 17.0 mm
COOPER S
22.5 / 23.5 mm
16.0 / 17.0 mm
JCW
22.5 / 23.5 mm
16.0 / 17.0 mm
COUPE R58
COOPER
2009-2015
21.5 / 22.5 mm
16.0 / 18.0 mm
COOPER S
22.5 mm
18.0 mm
JCW
22.5 mm
18.0 mm
ROADSTER R59
COOPER
2009-2015
21.5 / 22.5 mm
16.0 / 18.0 mm
COOPER S
22.5 mm
18.0 mm
JCW
22.5 mm
18.0 mm
COUNTRYMAN R60
COOPER
2011-2016
22.0 / 23.0 mm
16.0 / 17.0 mm
COOPER S
22.0 / 23.0 mm
16.0 / 17.0 mm
JCW
23.0 mm
17.0 mm
PACEMAN R61
COOPER
2013-2016
22.0 / 23.0 mm
16.0 / 17.0 mm
COOPER S
22.0 / 23.0 mm
16.0 / 17.0 mm
JCW
23.0 mm
17.0 mm
HARDTOP F56
COOPER
2014+
COOPER S
HARDTOP R55
COOPER
2015+
COOPER S
MINI COOPER REAR SWAY BAR UPGRADE APPLICATION GUIDE