Mini Cooper Parts Online
Select the Site for Your Car
Specializing in New MINI Cooper and Classic Mini, Austin-Healey Sprite, MG Midget and Morris Minor
For the best in OEM Parts Mini Mania is the place to go with a wide selection of factory-original and aftermarket performance, repair, maintenance, upgrades and replacement Parts and Accessories. Ships from USA.
And if you Need Help
- Give us a call or
Ask Us a Question
if you need help with fitment, installation or technical issues. An expert staff member can field question about New MINI Coopers or the Classic Cars.
New MINI Cooper Parts and Accessories

Brakes | Interior | Exterior | Lights | Performance | Powertrain | Suspension | Wheels
Classic Mini Parts and Accessories
Badges Decals
|
Brakes
|
Electrical
|
Engine
|
Exterior Parts
|
Fluids and Filters
|
Fuel Systems
|
Gearbox /Transmission
|
Interior parts
|
Lamps
|
Suspension
|
Tools
|
Wheels / Tires
|
Wipers
|
VTEC Conversion
|
Parts Diagram Catalog
Morris Minor Parts and Accessories
Brakes
|
Oil Filters and Air Filters
|
Engine
|
Suspension
|
Exterior
|
Tools and Car Care
|
Fuel Systems
|
Interior
|
Wheels
|
Lamps
Austin-Healey Sprite and MG Midget Parts and Accessories
Brakes
|
Oil Filters and Air Filters
|
Engine
|
Suspension
|
Exterior
|
Tools and Car Care
|
Fuel Systems
|
Interior
|
Wheels
Why Buy Your Car Parts From Mini Mania
There are a multitude of reasons why it pays to shop at Mini Mania. Here are are just the top 5 reasons to buy from us:


1. Best in Customer Support
We pride ourselves in our customer support. We do everything we can to provide you with complete answers to any questions you might have, from orders to technical support.


2. Fast Shipping
If ordered by 1:00 pm PST, Monday through Friday, we ship all in-stock that afternoon.
3. Easy Returns
With a few exceptions (mostly custom order and special orders), we'll accept returns of any new or unused item within 15 days from the date your item was shipped and we will refund the full purchase price. (See exceptions and how to apply for a return.)
4. Technical Expertise and Advice
We have been in the past, and continue to be into the future, the leader in technical expertise. Call any other company and chances are, they only know superficial information about the products they sell. Our staff, however, are all gearheads with tons of personal experience. Callus before you buy or after you buy... we know our stuff.
5. All The Benefits of Shipping From The USA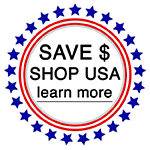 You Won't Be Charged Hidden Fees
Buying overseas has a hidden cost called "custom duty tax".
Based in the U.S. we ship locally so you never have to worry about foreign exchanges, customs or returning items.
For Larger Items, We Offer Faster, Cheaper Shipping Rates.
We admit, because companies have negotiated cheap shipping rates from Europe, it's hard to compete, especially to customers on the East Coast. But that only works for small onesie-twosie items.
For big items, you'll pay through the nose.
You'll Eliminate the HUGE Hassle of Returning Items Overseas
While it's cheap to ship items FROM Europe, it's the exact opposite going the other way.
Duties need to be paid AGAIN. Plus, if something happens to the return, whether it's lost or damaged, you have to wake up early to call customer support to work things out.
---
All About Mini Mania
Mini Mania started in 1974 (some here like the claim that we were around before Google) as a small business supplying fellow race car drivers with Mini Cooper spare parts. Created by Don Racine, a race renowned in the racing world, he began his business on the tarmac, offering his expert technical advice and parts to drivers who needed a hand to get back in the race. Soon he began importing Classic Mini Spare Parts not just for himself, but his fellow racers too and moved from the tarmac to a small shop he ran part time.

Shop Online for BMW/MINI Parts and Classic Mini Parts His part-time store however, turned into a huge business and before he knew it, Don had a business known for technical expertise and high-quality parts. By 1999, the Classic Mini was no longer being made but the business continued to grow. When BMW took over the mantle of building MINI Coopers in 2001, Mini Mania stepped right in and received Federal Government permission to import the first privately owned BMW MINI Cooper in the USA, for product R&D purposes.

By 2002, Mini Mania was hot and heavy into selling MINI parts online all over the world.

Today We Continue to Lead in MINI Cooper, Classic Mini, Sprite, Midget and Morris Minor parts As more and more MINI Coopers fill the roads and Classic Minis become show-stopping remodels, Mini Mania remains a technical source for all Mini Cooper Parts and problems. Our technicians are all trained in or have experience in remodeling cars, fiddling with engines or tearing apart and rebuilding all sorts of cars.

We pride ourselves in our customer service and skills in locating hard to find classic parts as well as providing the smallest details in repairing the New BMW/MINI Coopers.
---
Thank You For Shopping Mini Mania - The Leader in New MINI and Classic Mini Parts and Accessories.