MINI COOPER PERFORMANCE UPGRADE KITS For F55 and F56 MINIs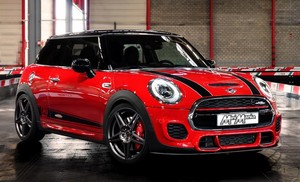 These kits combine our most popular products for a 'package' with lower prices than the sum of individual parts. There are many other individual performance upgrade parts, but these kits offer great results with value and convenience.
These are performance upgrade kits for the
3rd generation Mini
Cooper models including:
2013+ F56 Mini Cooper and Cooper S Hardtop
2015+ F55 Mini Cooper and Cooper S Hardtop 4-Door

Mini Cooper performance upgrade kits include kits for Engine upgrades or Suspension upgrades:
Engine upgrades are designed to increase horsepower for improved acceleration.
Suspension upgrades are designed to improve handling, whether on canyon roads or on the track.

If your Mini is under factory warranty, always check with your Mini Service Advisor on the impact of the upgrades to the factory warranty. Warranty coverage 'may' vary from one dealer to the next.

ENGINE PERFORMANCE UPGRADE KITS

The Stage 1 and Stage 2 Engine Performance Upgrade Kits are simple 'bolt-on' upgrades that improve engine efficiency while increasing horsepower. The Cold Air Intake kits improve airflow into the engine and the Performance Exhaust systems improve airflow out of the engine. The exhaust upgrades also increase the volume or sound level giving your MINI a more sporting sound (without waking the neighbors).

Mini Cooper Engine Performance Upgrade Kit Application Guide


SUSPENSION UPGRADE KITS
The Stage 1 and Stage 2 Suspension Upgrade Kits include components to improve handling by lowering the center of gravity and improving the 'balance' of your MINI when turning in corners. The lowering springs also improve the looks of you MINI by reducing the gap between the tires and fenders. The changes result in improved turn-in response, a more neutral balance in the corners (reduced understeer), and a flatter cornering MINI.

Mini Cooper Suspension Upgrade Kits Application Guide - Stage 1-Stage 2
The Stage 3 thru Stage 5 Suspension Upgrade Kits includes Coilover Shocks for the more serious performance minded drivers. While the Stage 1 and Stage 2 kits rely on the factory original shocks and struts, the Stage 3 thru Stage 5 kits include the height adjustable KW Coilovers. These coilovers allow the tires to be 'better planted' over different road surfaces allowing better control and handling of your MINI.


The Stage 4 coilover adds rebound adjustability and the Stage 5 coilover has rebound and compression adjustments. These adjustments allow fine tuning of the suspension for different road surfaces and driving styles.


Mini Cooper Suspension Upgrade Kits Application Guide - Stage 3-Stage 5


NOTES:
Anytime you upgrade suspensions components, you should have the alignment checked.
Some States (like California) have ever tightening requirements for emissions testing and inspections. Always check your current local regulations on compliance for street use.
For Performance Upgrades on ALL MINI Coopers,
see our
Mini Cooper Performance Parts, an Upgrade Guide for your Mini
.
.