From the foothills of the Sierra Nevada comes a super-trick MINI Cooper racer capable of capturing the top medal in any contest.
In the foothills of the Sierra Nevada, about an hour northeast of Sacramento, lies the Gold Rush town of Nevada City, California. Here, Mini Mania owner Don Racine mines gold of a slightly different hue as one of the nation's largest sources of racing and performance parts for the original Mini. For the past five years, he's been doing the same for the MINI, as well. The British-built hatchback has turned out to be not only as fun to drive but also as agreeable to racetrack duty as its predecessor-even without obvious modifications.
Though this 2003 MINI Cooper S track car is a totally transformed race car that's no longer street legal, few of its changes are visible to the naked eve aside from the carbon fiber trim around the headlamps.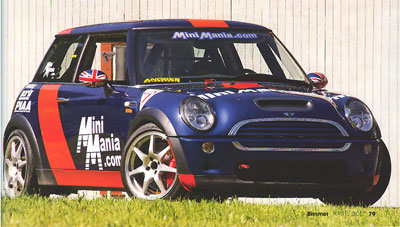 It appears at first glance that Mini Mania has left the remainder of the exterior bone stork-until closer inspection reveals a carbon fiber hood, doors and rear deck lid. Oh, and those heavy DOT bumpers mandated for street use? They're long gone.
Look inside the cabin and you'll find all the track goodies you could possibly want like a MOMO racing scat and Schroth harness-and none of the equipment you don't, like a passenger seat or an airbag in the MOMO steering wheel. Everything is short, sweet and to the point. A fire suppression system pull handle resides where the glove box used to be, while extra gauges dot the dash and center console. An ULTRIK (Mini Mania's house brand) short shift kit is topped with a billet aluminum shift knob. Should Racine fail to keep it rubber-side down, an Autopower roll cage ensures he'll walk away. Fully stripped down and set up, fueled and ready for the track, the little car weighs just 2400 lbs.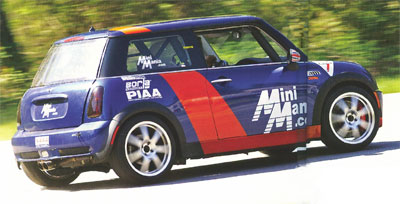 As impressive as that weight reduction plan may be, Mini Mania really flexed its muscles under the hood. The BMW Tritec four still displaces 1.6 liters and uses the stock crank, connecting rods and pistons, but it breathes deeper through the use of an ULTRIK cold air intake, throttle body, custom-ported intake manifold, oversized air-­to-air intercooler and Stage One head and performance cam. Unichip's ECU upgrade controls four JCW 380cc fuel injectors to deliver just the right amount of fuel.
An ULTRIK lightweight pulley is fitted to the front of the crank (or side, since the MINI's engine has a longitudinal layout), though installing it nearly required the engine to be pulled from the car thanks to a lack of space in the engine bay.
Nology ignition wires zap the mix, and the resultant by-products exit through an ULTRIK header and Borla catalytic con­verter-back exhaust system. Spec provided the Stage 2 clutch kit, which Racine paired with a Fidanza lightweight aluminum flywheel. No normal transmission would serve, so Mini Mania installed its own ULTRIK close-ratio 'box and limited slip differential.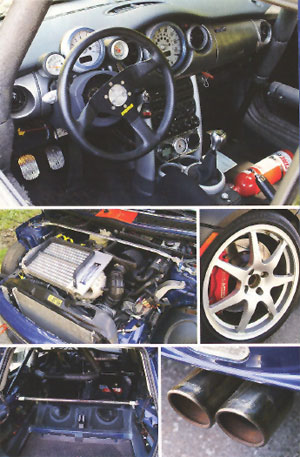 With all that care lavished on the drive­train, this car's performance has an inversely proportional relationship with its cute exterior appearance. Packing 250 horsepower in a 2,400-lb. car nets one very quick little cookie!
Real racers are loud!
It also nets a fairly noisy one, the weight-saving measures necessary to trim nearly 300 lbs. from the road going car included the removal of all sound insulation. The speak­ers are still in the factory locations, but we're not sure they even work. If they do, it's doubt­ful that they'd be heard over the rock song played by, well, real rocks pinging against the uninsulated sheet metal underbodv.
The noise is constant and unrelenting, which in its own way is similar to the pull of the engine. In true race car fashion, this aggres­sive engine package doesn't want to run cleanly below 2,000 rpm; above that point, Mister Hyde shows up ready to play. On the boost, this MINI's front 205/40-17 Hoosier tires class the tarmac for traction, while the LSD does an admirable job of delivering power to both half-shafts.
Koni shock absorbers and SPAX springs are used in conjunction with an ULTRIK 20mm rear anti-roll bar and K1v1AC adjustable front camber plates. These changes actually give the nose-heavy MINI a tossable feel-turning in hard reveals a copious amount of front bite. ULTRIK adjustable rear control arms and solid trail­ing arm bushings ensure tile rear tires' con­tact patches are tightly controlled. Between the stiff rear setup and the front and rear strut braces that add to the already impressive structural rigidity of the body, the chassis feels almost like a rear-wheel drive car; the faster we go around corners, the more the rear of the car wants to slide. Delightful and predictable, it's hugely different from the terminal understeer associated with street-­driven FWD cars, and it offers proof that Racine and Mini Mania know their Stuff when it comes to vehicle dynamics.
Since this MINI isn't street legal, we're driving it on a second- and third-gear course set up in Mini Mania's ample parking lot. Our course doesn't really provide enough room to test the power of the Stoptech big brake kit mounted inside the SSR GT-7 wheels, but even hard street driving would­n't push the Hawk Blue front pads and Ferodo DS2500 rear pads to their limits. Suffice it to say that they work well with on ABS, even on the somewhat loose gravel scattered around the edges of Mini Mania's parking lot. With this system, it's no stretch to envision last lap, late-braking passes for the lead in a BMW CCA event.
In the time-honored tradition of "race on Sunday, sell on Monday," Racine and his staff have been fettling Mini Coopers for the racetrack since 1974, then selling the parts that enthusiasts need to do the same for them­selves. In 2001, Mini Mania became the U.S.'s first private owner of a new MINI, imported to jump-start the company's parts program. Since 2003, they've been producing perform­ance street and racing parts for the new MINI as well as the original, and they even helped Dale Earnhardt, Jr. build his own MINI. (A stock car racer owning a quirky lit­tle MINI-how cool is that?)
Ultimately, this car demonstrates Mini Mania's need to compete as both constructors and drivers. The guys at Mini Mania are wildly passionate about remaining true to their core business as parts suppliers for the original Mini while continuing to develop even more gear for the latest cars. And, of course, they'll always be racing. If you see Don Racine at the track, give him a friendly wave. He'll probably be in the car at the front of the field.
Photography by Eric Eikenberry (reprinted with permission from Bimmer Magazine April 2007)