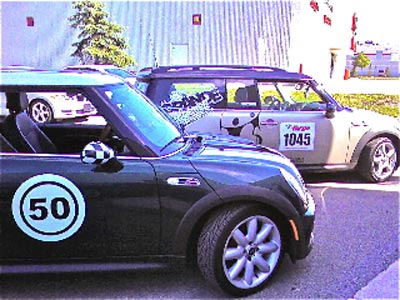 Three years ago as I was killing time in the Ford dealership while my Ford truck was being serviced so I walked their inventory lot, and I spied me some black and whtie checkers. I have a Genuine Stella Limited Edition British Racing Green Scooter with black and white checkers so my feet took me to these. As I got closer I began to tingle all over. There she was MINIrva, my future car. She did not know that at the time but I did. There was a lot man with the battery truck near by and I asked if I could sit in it..as the car was unlocked. Oh, let me back up. MINIrva was British Racing Green with Black and White Checkered side mirrors. Matched my scooter.
As I sat in the drivers seat and turned to take hold of steering wheel I realized the car fit perfectly. I am not too tall and my legs reached pedals and my ass and I could see perfectly over the dash. I thought about this for about five minutes and telephoned my wife Sue, who was out on the golf course. I reported what I had found and could she please stop by the dealership on her way home? I figured if she being taller than myself could fit in the car and get in and out with ease, the deal would be started. She fit and liked MINIrva and that was that. My Ford pickup truck was turned in and I was the happiest of owners of a previously leased 2006 MINI Cooper S.
I adorned it with the #50 on it's doors as I was turning 50 a week later. My present to myself. I was very generous. Very swanky. But I do have to tell you I need to be very careful how I drive and interact with others as I am the third most recognized vehicle in Buffalo NY.
The first being a MINI with Red Bull wrap and can on it and another car with cloud wrap on it. So that's my story and I'm sticking to it. I attended the 50th birthday bash at the Polson Pier in Toronto.
Cheers and Happy Birthday.
Deborah Lavell #50