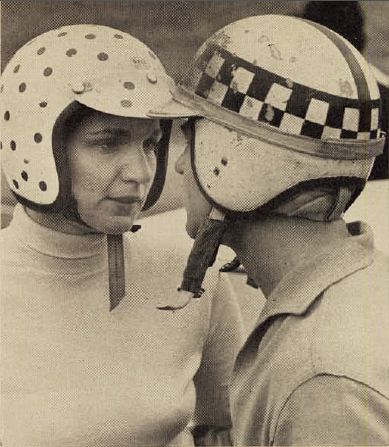 Denise McCluggage (born 1927) is an American auto racing driver, journalist, author and photographer. McCluggage was a pioneer of equality for women in the U.S., both in motorsports as well as in journalism.
McCluggage spent her childhood in Kansas and then graduated Phi Beta Kappa from Mills College in the Oakland, California. She began her career as a journalist at the San Francisco Chronicle.
In early 1950s San Francisco, whilst covering a yacht race, she met Briggs Cunningham, the builder of the first American cars to race at Le Mans. She bought her first MG TC sports car, and began racing at small club events.
In 1954 she moved to New York to work at the New York Herald Tribune as a sports journalist.
The MG was replaced with a Jaguar XK140, and she began to race professionally. As she began to drive professionally in the mid-1950s she earned the respect of her male counterparts.
Her trademark was a white helmet with black dots. Her racing achievements included winning the grand touring category at Sebring in a Ferrari 250 GT in 1961, and she scored a class win in the Monte Carlo Rally in a Ford Falcon in 1964. She also participated in the 1000-km race at the Nurburgring.
She drove Porsches, Maseratis and other racing cars of many marques, often with her compatriot Pinkie Rollo. She ended her racing career in the late 1960s and eventually became editor of the U.S. automotive magazine AutoWeek.
Check out the vintage Operation 850 where she flipped a Mini. Click HERE
Related Articles
Denise McCluggage Racing Legend & Journalist