EBC GREENSTUFF UPGRADE PADS
A nice upgrade from stock with a slight brake dust reduction. Greenstuff 6000 series is regarded as a first level brake improvement over stock and can deliver up to 15% improvement in stopping power.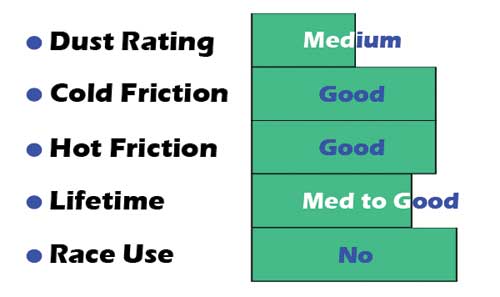 The latest version of Greenstuff brake pads are a deliberately softer compound to improve pedal feel on lighter cars at lower speeds. This resulted in a medium dust material with good lifetime and minimal rotor wear.
EBC medium dust fast street pad with 20-25% % brake improvement.
Capable of repeated heavy brake use without brake "Fall-Off".
Very minimal disc/rotor damage characteristics.
Superb material for lighter model Asian and European sport compacts.
ECE R 90 type approved for most cars.
Features red "brake in' surface coating for instant safe braking after install.
Many drivers of lighters cars and kit cars have used Greenstuff 2000 series with success in race use and tests at the UK MIRA Motor Vehicle Research Institute have shown a version of Greenstuff to stop a car almost 20 feet quicker than original parts on a popular hot hatch braking from 60 MPH offering a huge 15% brake improvement.
Greenstuff 6000 is a good quality pad replacement with medium dusting and good brake effect. Premium street sport pad for cars up to 200bhp. General spirited street driving.
Designed for premium street driving offering better brake effect up to 600°C (1100°F). EBC Greenstuff has a high initial brake effect and gives drivers confidence from first application of the brake pedal. There is no such thing as a no dust pad. The very nature of how a brake works requires that some dust be generated to avoid rotor vibration (shimmying). The EBC pad creates less dust and dust is more easily washed off than most. All pads create more dust as they are bedding in especially if rotors are worn. Nominal friction coefficient 0.55. For heavier faster cars and vehicles above 200bhp we strongly recommend Redstuff which does offer much less dust.