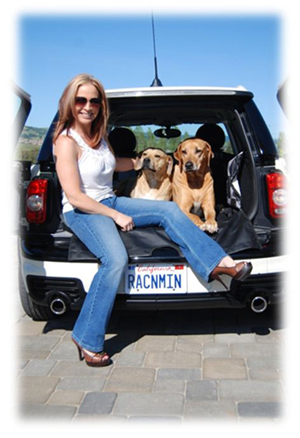 My name is Julie Racine and I am 41 years old. I live in Livermore, CA with my husband and our two dogs Kona and Toby. I've owned a Mini on and off since I was 16. This is my Mini/MINI story.

I grew up around Mini's. I really don't think I appreciated how cool they were until a bit later in my life. As kids growing up in San Jose, CA, my mother drove us all round town in her Austin Mini Woody Wagon. We all popped into the back seat or the 'luggage' area and went on our merry way. No seatbelt laws back then! 'Lead Foot Mama' was a song us kids made up and sang happily while our Mother drove down the road. Once "So happily", she didn't realize that a police officer caught her speeding….Ooops!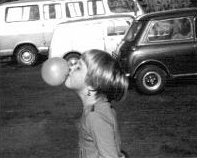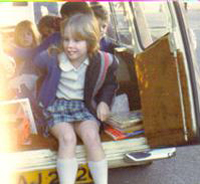 My first Mini was a 1963 Austin Mini Pick-up that I got when I was 16 years old. My Dad said, "Put it together and it's yours!", so I did! I spent many of my high school weekends covered nose to foot in grease. I never liked wearing coveralls. When my Mini broke, my Dad or brother would tell me how to fix it, but rarely ever actually helped. The motto was, if you want to own a Mini you better know how to work on one. Of course I always had to be one of the 'boys', so all the more motivation for me to learn and be good at it.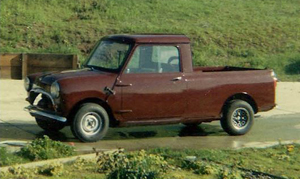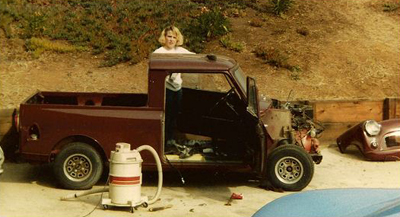 The Mini Pick-Up started as a 850cc motor with a 3-Syncro gearbox and Magic Wand, drum brakes and a fiberglass front end. It popped out of first gear all the time! Two weeks after I got the car running and had my actual driver's license (although still only a temporary piece of paper), I managed to crash my poor Mini. While driving along on a road that went from two lanes down to one, the car in front of me stopped suddenly and OOOPSSS (or some other expletive) I couldn't stop in time.

I hit the brakes, foot went to the floor, and "BAM!!!" hit the car in front of me. Of course, I was still a new Mini driver and owner and hadn't quite mastered the "pump and brake" method, especially in a panic. My Dad was chastised on the scene by the police officer filling out the accident report for allowing me to drive a car with no brakes. Of course the accident looked much worse than it was due to the fiberglass front end exploding on impact. The only other damage was a smashed coil. Fortunately the car only improved from there. New front end (still Fiberglass) and paint, it was good as new.

Another great memory was one time parked on a steep hill in Santa Cruz and not able to pull out of a parking spot because someone had parked too close behind me. I kept trying but it was popping out in first gear and dying in second. So, being the cute little 16 year old I was, walked down to the beach and found a couple of big muscle bound guys to come help me out. I pointed to my car and asked them if they would pick up the back end and swing it out to the street so I could just simply roll out of the spot. Of course, they happily (and laughingly) obliged! Not too long after that, I upgraded to a slightly used 1275cc rebuilt motor and front disk brakes. I could then go fast AND stop!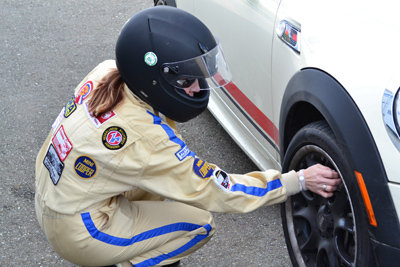 For those of you who may not know, my Dad is Don Racine, owner of Mini Mania. Even when I didn't own a Mini, I had lots of opportunities to be around them. I worked for Mini Mania off and on since I was sixteen back when it was in Milpitas. My longest stint was in the mid to late 90's. I worked in the warehouse but also worked in Sales. I was involved in as much of the business as I could which meant participating in every swap meet, car show, Mini Meet. I was there to help support and promote the business. This took me across the U.S. to "Mini Meet East". I met many Mini Owners from across the U.S. and Canada. Mini owners are a unique breed of both men and woman and I loved meeting and being around all of them and their cars.

In 1996 I was given an opportunity to drive a Mini in the CSRG Reno Hilton/Buick Vintage Grand Prix. This was my first official racing event besides all the Mini Meet Autocrosses and a driving school at Sears Point in the famous Monte Mini. I was driving a white Mini that a business partner of Mini Mania brought up from Colorado and needed a driver. I was very happy finishing the race in the middle in the pack. I had such a blast which fueled my racing bug. Later that year, I raced an Austin Healey "Bugeye" Sprite at a Mini/Sprite Challenge in Colorado. It would be years later before I had the chance to race again.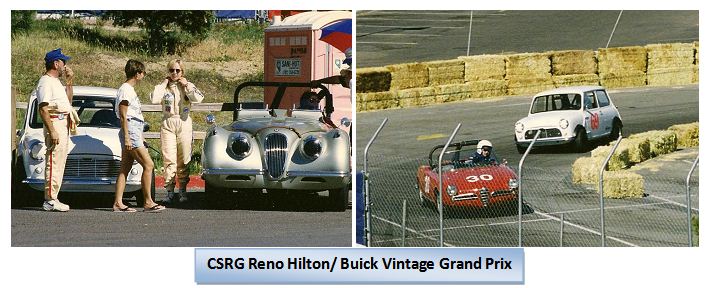 My second Mini was a 1978 Canadian Mini 1000 which I bought in B.C. Canada in 1999 and drove it back down to Northern California. This one was a bit rough with rusty floor pans and side panels, but a good solid 1000cc motor. I drove this car as my daily driver for about 2 years.



I didn't own another Mini until this past year, a 2010 MINI Clubman Cooper S Limited Laurel Edition. I was really happy when the Clubman came out with its longer wheel base and wagon style back doors. I do a lot of driving in the Bay Area traffic, but I had to have the manual transmission. Seemed to be blasphemous not to! It's an easy clutch so it's fine in traffic, PLUS, a blast to drive when I want to zip around.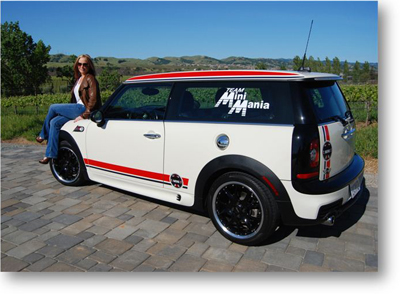 Last year I was finally given an opportunity to race again thanks to my Dad. He called me in January 2010 and said, 'How'd you like to race against your brother?'. I'm not sure why exactly he used those terms except that he always knew that my brother and I were always very competitive with each other. Although, he could have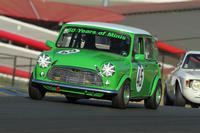 just said "Wanna race!?" and I would have been all over it. My Dad had just bought another race Mini and wanted to get as many cars on the track at the 2010 Mini Thunder event at Thunderhill Raceway in Willows, CA. So of course, I happily obliged. Later that year, I raced in several events driving the "Bumble Bee" Mini racer or my brother's (at the time) 1960 Green Morris Cooper S. If I wanted to get more serious, I would need a race car of my own.

Another fun Mini driving opportunity as a family was to drive the Mr. Bean Mini (replica) in the 24Hour Sears Pointless Lemons Race. We drove a beat up 1098cc Mini with hundreds of other beaters at not quite a 24 hour race, but two separate days of about 10 hours each. You have to prove that you purchased the car for no more than $500, less safety equipment. There is a tech inspection that if you are blatantly lying about the money you spent on the car, you have an opportunity to get the judges to look the other way. Sometimes this meant gifts (mostly Alcohol) or a team who had a lot of 'enthusiasm' and dressed in costume to sway the judges. I, being the team player, dressed for the part during the inspection. We passed! The goal of the race is to complete as many laps as quick as you can but avoid all of the other rolling beater cars out there. There were 4 drivers, myself, my Dad, my brother Dennis, and my husband John. We all rotated and tried to drive at 2 hour intervals. At normal race events you drive for about 20-25 minutes at a time. That was definitely exhausting but we got through it and ended up winning our class.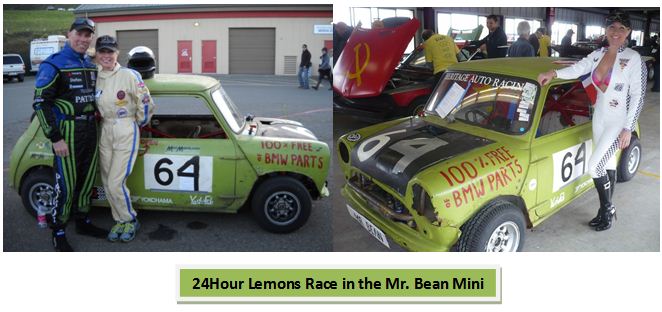 My newly acquired 1960 Morris Cooper S was by brother's car for 20+ years. He decided he would offer it to me to buy last year when we all were getting more serious about racing. It offered him the ability to put some money into an RV to support the family racing and offered me a permanent ride. That "Damn Green Mini" as it had always been known as, is now mine. I'll be trying to do things to personalize it as my own, but it's still going to be green and probably for a long time. It's great to be out there on the tracks with my Dad, my Brother and even my husband! We also spend many weekends working on the cars. Yes, I still turn wrenches and get greasy head to toe (still don't have any overalls!) I'm hanging with the boys and the Mini's and loving every minute of it!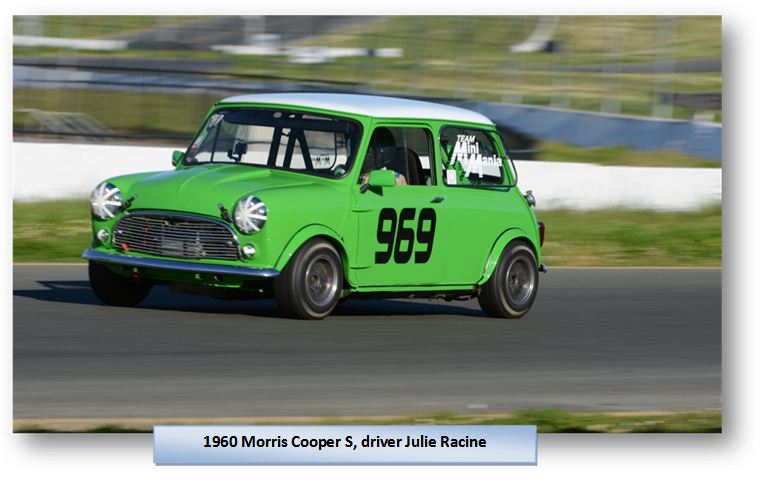 Related Articles
Team Mini Mania Race Schedule 2011
TEAM MINI MANIA Ready for Sonoma's Challenge
Mini Mania's 25th year at the Sonoma Historic Motorsports Festival
Vintage racing a Mini Cooper at Hallett Raceway
Doing Hallett Raceway backwards in a Mini Cooper
Vintage Racing at Hallett Motor Raceway - Dennis Racine (my brother)