MINCOMP MINI / Team Mini Mania racing season 2006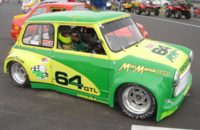 The 2006 SCCA racing season is over, the SCCA Runoff's are past tense and the MINCOMP MINI finished on the podium in 2nd place, It's been a quite a while since we were on the podium and it does feel good. Going into 2006, the MINCOMP MINI was now fully built to the extent of the GTLite rules (GT4 & GT5 consolidation = GTLite).

Rcae 1: Our first race of the season was in January, a National at California Speedway. For round numbers we were about 2 seconds faster per lap than when we ran there in June of 2005, we came home with a new track record and a win, very pleased with the our performance.

Race 2: Willow Springs National in February, This time we set a new track record by running some laps 3.22 seconds better than my own existing track record. Again please...very pleased with our performance.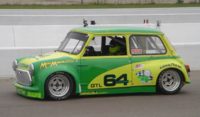 Races 3&4: Firebird Double National in March. These two race where a mess, as a monsoon was going through Arizona. Race 1 was in monsoon rain and we survived to take a 1st for this race. Race #2 We were on the pole for our race and going into the first turn at the start something let loose in the transmission. We finished with a 2nd due to attrition. In Race #2 qualifying we were .70 seconds faster than my own track record on a green damp track with standing yellows at several of the sections of the track. What a mess of a weekend!

Races 5&6: Double National at Buttonwillow. BAD WEEKEND! We I hurt a motor in practice and could not make the race due to scheduling. Race#2 I hurt the second motor and didn't finish the race. Engine #1 had an oiling system failure and engine #2 had an issue when the engine builder (myself) made a re-assembly mistake and got the cam timing wrong while changing an oil seal in the confines and darkness of the trailer, bent all of the valves... arghhh.

Race 7: National at California Speedway. For this race we were 1.75 seconds faster again then we had been at the January National, good stuff...we had a 20 second lead in the race and when I found it necessary to dodge an RX7 I ran up on some curbing and "WHACK" the left front up-right lower pivot bolt broke. Did not finish the race but ran enough laps to be classified as a finisher. Got a 3rd.

The Runoffs: New venue, having moved from Mid-Ohio to Heartland Park Topeka (HTP) beginning this year. In Pre Runoff's testing we were goood!! The weather was a nice 86 degree both days. After about 20 laps on this new track I was 1.75 seconds under the track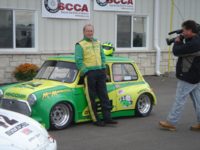 record set in September. The first day of the actual Runoff's week the weather turned cold, low 40's and all of the grip in the MINCOMP MINI went away. The rest of the week was a mixture of cold 30's or cold and wet or cold, wet & windy. During the Runoff's I was never able to get back to the times that I had done on Saturday and Sunday testing. That's the bad news! The good news is, I still was able to qualify 5th with no grip!!! All night and up until just before the GTLite race it had been raining, during the 2 race pace laps I was able to build some pretty good heat (=grip) into the tires. After about 5 race laps the tires lost their heat and thus the MINCOMP MINI lost grip. Due to tenaciousness and other factors, that I was able to capitalize on, I was now running in 2nd place with the 1st place Honda CRX running about 15 seconds in front of me and the 3rd place Honda CRX about 20 seconds behind me. Well...although the track was drying a bit, it WAS muddy and with about 5-6 laps to go I got into some mud that was being dropped by another competitor and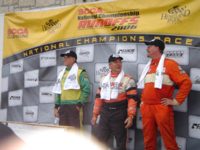 whoosh spinning down the hill I went. Grabbed a gear while in motion got back on the track and on with my race. However...3rd place was now on my bumper-ON MY BUMPER!!! At this point I made a concerted effort to drive the track, not get lost in driving my mirrors and just listened to the info that my Crew Chief Rich Warnock was whispering in my ear over the radio and to not make any mistakes that could throw my 2nd place away, even if it meant slowing myself just a bit. Let me repeat ON MY BUMPER!!! I was able to keep him back with one legit block and the rest of the time I was just making it hard for him to get at me. On the last lap I felt in was probably not in my best interest to have 3rd place ON MY BUMPER so I went for broke "drove it like I stole it" and was able put some distance between us and received the checkered flag and a 2nd place finish at the 2006 SCCA Runoff's.