Protection Accessories for Your MINI Cooper
Keep your MINI looking like the day you drove it off the lot with our selection of interior and exterior protection accessories. Questions? Our expert staff of MINI specialists are available by phone M-F from 7am-5pm at 1-800-946-2642 or by email here. We're happy to help you or answer questions.


Magnetic Stone Guards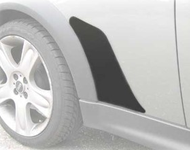 MINI Factory (OEM) accessory to protect the leading edge of your rear fender from all the debris from the front tires. Made of a sturdy magnetic plastic for easy application. This is an affordable protection accessory that could save you a lot of money in the long run. Plus, they can easily be removed when washing and waxing your MINI. Sold in Pairs.
View All Magnetic Stone Guards

Floor Mats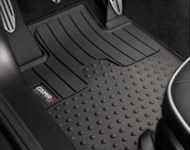 The best way to keep your MINI's original floor carpet looking and smelling like new is to protect it with either rubber floor mats or carpet mats. Our great selection of floor mats includes factory originals (OEM) and aftermarket options. Please note that although the front mats may be the same between models, the rears are different.
View All Floor Mats

Rear Bumper Guard Protection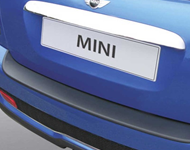 Another affordable accessory that can save you money down the line! Most modern vehicles have painted rear bumpers, which are vulnerable to damage and very expensive to re-paint and repair. Rear bumper guards will protect the paintwork on your MINI's rear bumper from damage when placing objects into the boot, preventing potentially costly repairs!
View All Rear Bumper Guards

Headlight/Fog Light Covers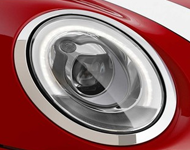 You probably know how common and costly headlight damage is from experience. Damage caused by rocks, road salt, debris and sand will affect the appearance and reduce the performance of your lights. Protect your EXPENSIVE MINI Cooper Headlights and Fog Lights with these easily installed covers from XPEL. Stays soft to absorb most impacts from stones and gravel and fit perfectly.
View All Headlight Covers

Bras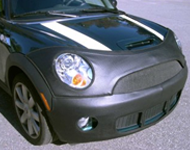 Protect the front end of your MINI Cooper with our high-quality full coverage Bras. They are custom made of durable vinyl with simulated leather pattern (or an optional carbon fiber look) and lined with soft cotton for further protection. They come in two pieces for proper fit and easy installation. Full coverage protection guards against bugs, road debris and even dings.
View All Bras

Mud Flaps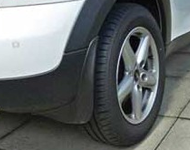 Mud flaps are used to protect the side of your MINI Cooper from mud and other flying debris thrown into the air by the rotating tire. They also help keep your MINI Coopers fenders and tires clean from debris. Our mud flaps are made from a flexible rubbery material that is not easily damaged by contact with flying debris, the tire, or the road surface. They add some uniqueness as well.
View All Mud Flaps

Windshield & Sunroof Sunshades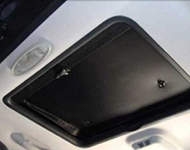 Sunshades prevent harsh heat and UV rays from ruining your MINI's interior. Without a sunshade in place, strong UV rays can cause your dash to crack, warp and fade. They also help keep your cabin (and you) cooler. We offer both factory original (OEM) and high quality aftermarket sunshades for your windshield, sunroof and side windows.
View All Sunshades

Trunk & Cargo Mats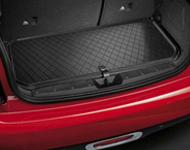 Protect your MINI's trunk from dirt, debris, dampness, grime and pet damage with a cargo boot cover. Available in rubber or carpet and OEM or aftermarket options. Other trunk accessories available include grocery bag holders, trunk cargo nets, trunk trays and rear seat mats. We offer both factory original (OEM) and aftermarket options.
View All Trunk & Cargo Mats

Seat Covers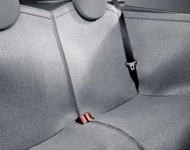 Keep the inside of your MINI Cooper clean. Our selection of removable, protective seat covers keep your seats looking and smelling brand new. Dirt, pet hair, accidental spills and forgetting to roll your windows up when it rains can all take their toll on your MINI Cooper's seats. This can affect the resell value of your MINI. Rear and front options available.
View All Seat Covers

Dash Covers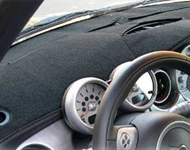 Custom tailored dashboard covers for your Gen 2 MINI Cooper! Dashboard Covers protect your MINI's dashboard from the damaging UV rays that warp and crack a vehicle's interior trim and dashboard. Needle-punch polyester high density carpet dash cover material, guaranteed NEVER to fade or shrink. Exclusive zigzag stitch for the best fit and protection. Made with matching thread and binding.
View Dash Cover




Turbo Heat Shield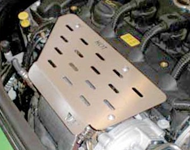 MINI Cooper turbo heat shields are designed to help dissipate the heat from the turbo, reducing intake temperatures and protecting the paint on the bonnet. Prevents 'accidental' burns if you need to open the bonnet after a drive. Heat shields come with mounting hardware. Titanium heat shield option also available. OEM replacements and aftermarket upgrades.
View All Turbo Heat Shields




Black Wow Exterior Trim Protection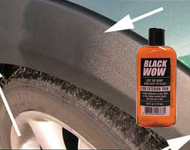 BLACK WOW really works! We were skeptical given the price of this product, but our own test results support Black Wow's claims. See the photo for yourself! Even after a month and 3 storms, the Black Wow treated surface looked as if we just applied the treatment! The other surprise is how far a little drop goes - one full treatment on the MINI hardly put a dent in the bottle!
View Black Wow Protectant




Convertible Top Care Kit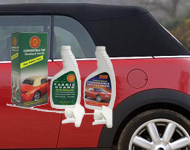 This All-in-One MINI Cooper Convertible Top Care Kit contains both a 16 oz. 303 Convertible Top Cleaner AND a 16 oz. 303 High Tech Fabric Guard - everything you need to keep your BMW / MINI convertible top looking like new! 303 Top Cleaner utilizes a unique "colloidal" action to lift and suspend oil, grease and dirt. It does not contain soap, detergents, toxic organics, phosphates, nitrates or caustics.
View Convertible Top Care Kit




Silicone Windshield Wiper Blades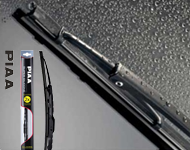 PIAA's Silicone Windshield Wipers for your MINI Cooper contain an activated silicone coating which causes rain to simply bead up and slip off the windshield of your MINI Cooper or MINI Cooper S. The high quality silicone rubber wiper blades are resistant to heat, ozone, and UV for an extra-long life. PIAA wiper blades maintain a sharp, clean edge and offer better resistance to all climates (heat, ozone, ultra-violet).
View Silicone Wiper Blades