Your Order / Return May Be Delayed Due To Shipping Irregularities.
Read More
MINI Cooper S Oil Catch Can Installation Guide
Written By: minimania.com
Article Date:
May 09, 2018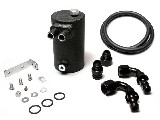 Question:
Does my 2020 Countryman S need an Oil Catch Can?
Answer:
While the earlier cars benefit greatly from oil catch can systems, for the current models it seems a real 'need' has not been demonstrated yet. BMW/MINI has apparently improved the oil separation system to reduce the oil entering the intake.