A simple Fix for a 'frozen' seat back.... where the seat back no longer responds to the adjustment lever....
We have had great responses to these procedures, but there are no guarantees that these procedures will fix the problem with 'your' seat back problem. BUT - it's worth a try before you spend $$$ at the MINI dealership!!
Read the comments below and see for yourself!
Read both Method A and Method B - you may want to try 'B' first since it is a little less strenuous....

Applies to the following models:
2002-2006 R50 MINI Cooper and R53 Cooper S Hatchback
2005-2008 R52 MINI Cooper and Cooper S Convertibles...
METHOD A
This solution seems to work for most cases, but not all. It is definitely worth a try...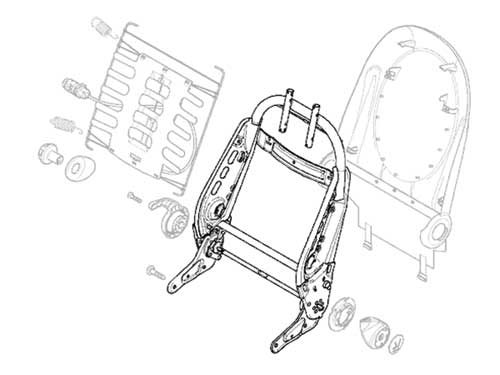 If your seat back angle adjuster suddenly stops working, try this:


A. Kneel in the seat facing the backrest
B. Pull both handles (backrest adjust and opposite handle) up
C. Push / smack / hit the backrest with your shoulder back 'forcefully' until you hear a 'click' (may need to hit it pretty hard to hear the click).
D. That should reset the seat!
Caution: Some owners reported a 'sore shoulder' after performing this procedure - proceed at your own risk...

METHOD B - (Added 01/13/15)
Came across this information recently - it sound a little less 'strenuous'... :

Here's the BMW service instructions for recalibrating a MINI seat that gets out of wack (found in SI M52 03 02):

"If the customer has gotten the backrest operating mechanism out of synchronization, the backrest may not set in position. This can be corrected by utilizing the following procedure:

A. Ensure that the inboard and outboard levers are parallel with each other. If they are not parallel, the operating mechanism has probably been twisted out of shape, and the backrest frame (part number 52 10 7 111 527 left/528 right) will have to be replaced.

B. From outside the car, move the seat into the full easy entry position by pressing down the outboard lever and sliding the seat into the full forward position. The easy entry position is the home position for the inboard and outboard backrest latch mechanisms.

C. Sit in the other front seat, pull up on the inboard operating lever of the seat being worked on, and move the backrest to the fully reclined position before releasing the lever.

The backrest should now move to the desired position and latch in place when the inboard lever is operated.


Good luck!