Mendocino Forest Rally – in a Mini
By Don Racine
Note: this was written 1975.
Mini Owners of America – S.F. Chapter
1st ever scca pro-rally event. Mendocino Rally, Humboldt County, June of 1975

The rally was one of SCCA's Pro-series rally. It was run on dirt roads at as fast a speed as possible. It climbed to 6,000 ft. and back down again several times. Average speed was somewhere around 7,000 RPM's in second gear. The highest speed on a particular semi-smooth gravel road was over 100 mph. At this speed on gravel the car is constantly dancing and swaying – you must continually correct the steering to keep the car going in a straight line (or on the road).

The rally was to cover a total of 250 miles – 90 of which were to be at racing speed, the rest were transit legs, during which time you could slow down to breakneck speeds. The 90 miles were further divided into 9 stages – ranging from 3 to 15 miles each.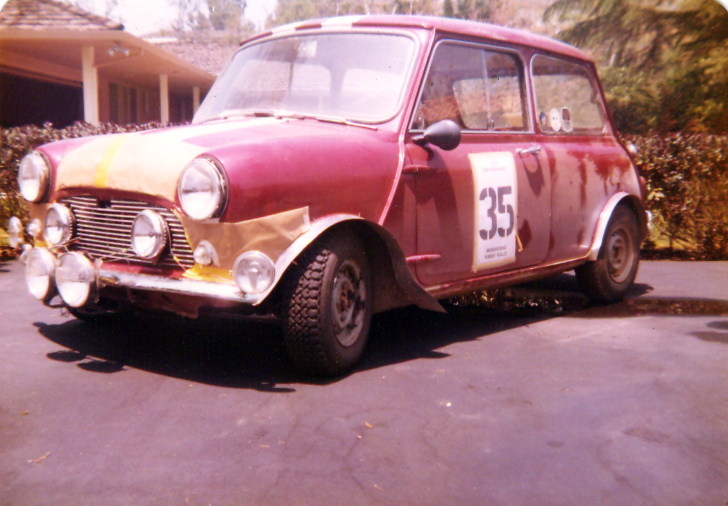 Now, I'd like to tell you of all 9 stages, but since I only completed 5--. The first stage was a nice warm up since it was run in semi-daylight and for a novice that was greatly needed. I wasn't prepared for the intensity of the racing. I don't think I've ever done anything that maintained the tension at that high a level for that length of time (even though some stages were only 3-5 miles long – this took upwards of 10 minutes to drive). The thought that at the next turn or over the next rise I might destroy my freshly painted, highly pampered, cherry cooper "s" was extremely nerve racking. These thoughts were increasingly reinforced as the race wore on since each time I completed a stage, I saw fewer and fewer cars, then I even began to see them smashed into hillsides or over cliffs. (Mt. Hamilton road is straight compared to these roads). And some of these were with pro-rally drivers that were suppose to know!

The cars – total 40 – in the pro-class ranged from Ford Escort with the 1600BDA engine (which I think won) to Dodge Colts, Toyota, Porsche, 4 wheel drive jeeps, Subaru, VW, Datsuns, etc., many of them exclusively prepared for the Pro-rally series. Mostly this takes full roll cage, lots of lights and an accurate odometer. Suspension must be set semi-soft with lots of ground clearance.

Approaching the start of the second stage, after darkness had fallen I flipped the switch for my overwhelming, makeshift candlepower and proceeded to blow the fuse. With two or three minutes to spare, and without a spare fuse, I hotwired across the fuse after cutting the wire to two of the last minute added lights (two down six to go). The second stage started on time and actually went excellent. It was the first time I started to throw the car from turn to turn. The distance between turns and looseness of the dirt surface meant that the car was constantly sliding. With the front wheel drive mini I was putting the car sideways midway between turns and then flooring it when I reached the turn. I also learned that downhill braking is extremely difficult – brakes must be pumped. It takes a whole lot longer to stop, no matter how you do it. I was already beginning to suffer overheating problems, especially at 6,000 ft. at 7,000 RPM.

Stages three and four were continued learning experiences. Each lap I continued to see several cars stuffed into a tree or something. The roads also seemed to be getting rougher, some of the turns had at least 12-inch of loose fine dirt. I wouldn't try it in anything other than front wheel drive.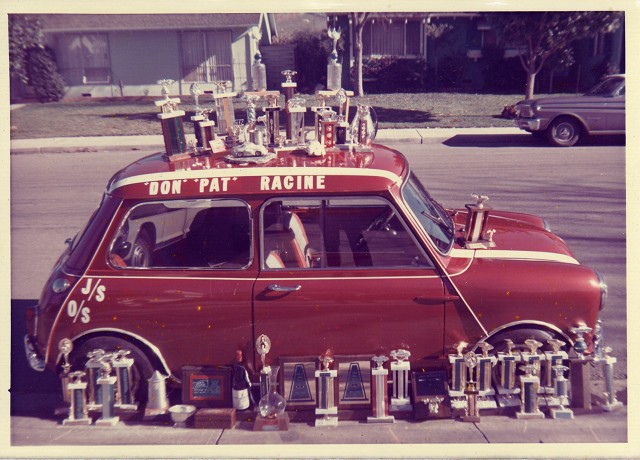 The fifth stage, the last thing before the coffee break (at 2 A.M. ?) proved to be my undoing. There was suppose to be a small creek to forge – 2-3 inches maximum. Well it turned out to be at least 8 inches and my 4 ½ inch ground clearance Mini only made it 6 ft. across the 12 ft. river. After stalling, I opened my door to help the guy winch me out and I proceeded to fill my car and it's carpeting with 3 inches of water. After finally drying out the distributor, I restarted and was trying to make up the lost time, sloshing water and all. Well I forgot about downhill braking and proceeded to put it off the road – almost all the way. A car that I had previously helped but passed stopped to help me and we lifted (literally) the car back onto the road.

Although I completed the rest of the stage without further incident, I wasn't so lucky getting to the coffee break. The real 3 inch stream still stopped me and this time I couldn't restart. A jump from a service vehicle got me to the coffee stop. I located a battery charger at the gas station but couldn't get my Diehard to take a charge – I could push start the car but the generator had insufficient juice to drive the extra lights. This along with overheating and an extremely sick navigator (motion sickness) dictated it was time to quit. My car was in one piece – better than could be said for many others (there was a Corvair on a trailer, a little high in the middle – almost bent in two).

I'd recommend it to everybody.

I'd love to do it again – in someone else's Mini.

-end-