Written By: Mini Mania
Modified Date:
Mar 22, 2021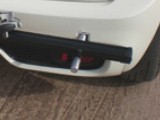 Question:
I would like a rear bike for my New MINI Cooper. What do I need to do to make my car compatible with the one sold on a MINI? If it is not compatible, what is another option? Is there a trunk mounted bike rack that is easy to use for the mini cooper?
Answer:
If you are looking at this
MINI factory bike rack
, and you have the F55 or F56 Hardtop or F57 Convertible, then you will need the
S3ARA Rear Luggage Prep option
from the factory.
Here is the link
to a hatch mount bike rack that may work on your MINI depending on the type of roof spoiler on your MINI. Please read through the product description completely for all the details.
Mini Mania Tech Team
The MINI Cooper Parts and Accessories Experts