NICOLE CIRCUIT DAY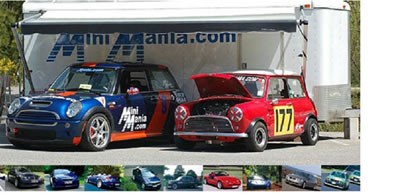 To the celebration of the 30th anniversary of NICOLE Racing Co. Ltd., the backbone of the NICOLE group, we will hold a one-off track-day, the first in 30 years. On this day the president of MINI MANIA will come from the US to drive his own racecar that he will bring to Japan.

This will be the first demonstration run of this car in Japan. Next to this, the long awaited new model from ALPINA, the B3 BiTurbo, which will officially be presented to the Japanese public at the Tokyo motor show in October, will perform some demo laps as a "pre-premiere" and the ALPINA M3, a Group A racecar, will also be prepared to run some demo-laps. The event will be held on a Friday and we are looking forward to welcoming you to the NCD.

Schedule & Program
Demonstration Run
MINI MANIA Racecar (Driver: Mr. Don Racine, president of MINI MANIA USA)
ALPINA M3 Group A Racecar (Driver: Andreas Bovensiepen, General Manager of ALPINA GmbH & Co. KG)
Special Show Act
Special Show Guest Appearance & Performance
Special Exhibition
The long awaited new ALPINA model B3 BiTurbo
First imported BMW ALPINA B7 Turbo, BUGATTI EB110GT, others
Parts & Accessory Sales
MINI, AP RACING, Mini Mania, ALPINA, BMW, Special Price parts & accessory sales
Family Run / Parade Run
All guests will have the exceptional opportunity to drive their own precious vehicle on the great Japanese F1 GP racetrack
Racing Taxi
Experience a ride with professional race driver Michael Krumm in the ALPINA B5
*participation will be decided by draw
Garage Sale
Sell your car parts at the event
Concours d'Elegance
Display your car in our Concours d'Elegance and decide the category & appealing point yourself (e.g. point out the rare accessories or performance kit, the mileage, first owner since 19xx, etc.). collect votes by the guests & have the opportunity to win special awards & prizes.
Track Run
Enjoy driving on the track with your own car (w/lead car).