265 HP dyno tested and still increasing!

Current Upgrades:

Mini Mania Supercharger Pulley Upgrade

MiniMania/K&N Intake System

Mini Mania Performance Header with Cat

Borla Exhaust System

Evotech ECU Upgrade

Stage 1 Cylinder Head

KONI Shocks with Mini Mania Springs

Mini Mania Adjustable Rear Sway Bar

Phantom Grip Limited Slip Differential

Mini Mania Aluminum Flywheel

Water to Air Intercooler from Mini Mania

Drilled & Slotted Brake Rotors with EBC Pads

Titanium Strut Brace from Mini Mania

Mini Mania Short Shift Kit

Upgrades Coming Soon (not included in current Dyno run)

Larger throttle bodies

Nitrous oxide injection kit

Ceramic light-weight brake rotors

Carbon fiber hood

Larger capacity supercharger

Camshaft upgrade

Final drive ratio reduction

Close ratio gear set (street)

<font=ARIAL size="1">Click for larger images

<font=ARIAL size="2">Leader of the Pack
Yes, our latest street MINI was strong and dependable enough to win the Ultimate MINI Challenge road race and then make the 250 mile drive home, but we will not be satisfied with being the best only once! We have plans to take this car well beyond the 300 HP magic target!
Our very street drivable Mini Mania Super Cooper will be tested numerous times during the coming months. In early February we will drive the car from Northern California to Las Vegas for the "Vacation in Las Vegas" extravaganza that will include another track day. We will continue to refine many of our upgrades while proving the reliability under racing conditions. We welcome all visitors to come take a look under the hood and check out our Super Cooper's performance. We hope to add at least another 15 or 20 HP by then!
I drive the car every day, and I tend to forget how much better than stock it has become. But when I get behind the wheel of our Cooper or the stock 'S' I really appreciate all the upgrades. I have to admit that a few of them are not yet released to the public but I can assure you I will enjoy testing them until we are satisfied of their reliability.
We are very pleased with all the upgrades we have done – which we now accept as normal. We have our 15% reduction pulley installed and thanks to the proper sized belt we have NEVER had a single problem. Our exhaust header seems to have made a big difference in the car's torque output. Torque is what you feel in the 'seat of your pants' when you put your foot to the floor, and the header delivers a significant performance improvement. The Mini Mania/K&N intake system increases the air flow to meet the demands of the smaller pulley and other modifications we've made. The Borla exhaust system currently on the car performed excellently.
Another noticeable improvement in perceived performance came with the aluminum flywheel upgrade. Now, most honest people will admit that a flywheel change CANNOT increase HP. But what it can do is allow the engine to develop the HP more quickly. Our aluminum flywheel weighs over 50% less than stock, and once again this is an improvement you can really feel it in the seat of your pants – the car accelerates like you wouldn't believe!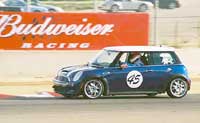 The ECU upgrade should be considered one of the "MUST do" modifications on anyone's list. Designed to optimize the engine tuning to take full advantage of our pulley upgrade, the ECU lights up the car to what it should have been from the factory. Even a 'Works' car would not be able to keep up with our performance! The cylinder head upgrade was another improvement that added measurably to the performance feel for this ultimate street MINI. While we are still doing further development on camshafts, we are getting a worthwhile gain from prototypes that will definitely play a part in our goal of 300 HP.
Our suspension setup is optimal for a multiuse car. The Koni shocks do an excellent job of controlling the Mini Mania lowered springs, while still providing a level of comfort on long trips. We have our adjustable rear anti-sway bar set to the middle of the range; while it is obviously a matter of driver preference, I prefer a little bit of trailing throttle oversteer which gives a nice feel on the race track. If you keep this to a mild level, then street driving can actually be more comfortable. I for one would like to feel as though if I were going too fast into a turn and thus decided to lift off the gas quickly, that the car would have a tendency to rotate and thus corner more safely and faster – it's just my personal driving style.
Our heim jointed trailing arms have proven themselves to be strong enough to last the rigors of racing and yet give us the flexibility of adjustment for both rear camber and toe to get it set up exactly right. When lowering the car, it is critical to keep everything adjusted correctly.
Our water to air intercooler was one of the most satisfying upgrades we've made lately. It is another one of those that is tough to sort out with all the claims of dramatic HP gains. And while it can be said that Dynos don't lie, it is also very true that it all depends how you read the data. Air inlet temperature is important in any motor but it is critical in the case of a Supercharged motor. A dyno test of a stock MCS will show a dramatic loss of HP between a cold start and several minutes later, as the engine and engine bay temperature increase. The use of a water-to-air intercooler provides a great degree of stability in HP reading. Reducing the air inlet charge temperature CANNOT increase HP, but it does allow the engine to develop the HP it should and MAINTAIN it. I like to say that a good intercooler can SAVE HP, not make more of. Our very extensive dyno tests indicate that in our MINI we were SAVING over 20 HP with the Mini Mania Water-to-Air Intercooler. The road feel is real, as most of us can't compare the driving performance of a stock car before it warms up, and by that time you have already lost the HP. The saving are real and you can indeed feel 20 HP!
One of the big improvements that I am planning to have installed within the next several weeks will be the transmission ratio upgrades. Currently the car is set up to have a theoretical top speed of 165 MPH. As this has not proved attainable even in Grand-Am racing conditions, we have chosen to lower the final drive to reach maximum RPMs at 135 MPH. This will greatly decrease the time it will take to get to the max, and thus even the time needed to get to 70 MPH will be dramatically improved. While this change is VERY significant in itself, we felt that improving the spacing between the gears would also be great for this street/race application. In a stock gearbox, when you upshift from from 1st to 2nd gear the RPMs drop by 2400. This could drop you out of the optimum power band of your engine. It is always a good idea to keep the engine in the higher RPM range as this is where all the power of any engine is developed. Our new kit will not only lower the final drive ratio but will also result in only a 1200 RPM drop between any of the 6 gears in the stock trans!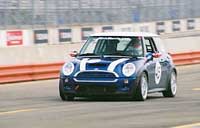 This is the third test car in our fleet and is still my favorite and daily driver. I may change my mind when our '04 model arrives later this year, but for now the Super Cooper's combination of streetability and competitiveness on the track has all my attention. There will be more to come, so keep checking our web site for updates as we continue to improve the performance of this great car!