August 27, 2007 - Nevada City, CA. Mini Mania Inc. announced today it will sponsor the Father-Son race team of Eric & Colin Herrick who will drive a 2005 MINI Cooper S north to Nuevo Laredo across Mexico in the "Unlimted Class" during the La C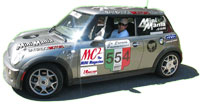 arrera Panamericana 2007 starting on Friday, October 26.
Follow the race as it happens with daily updates and pictures here: http://unlimitedclass.minimania.com/index.cfm
The Herricks make up Team 554 in the Pan Am race, and are in the process of equipping their 2005 MINI Cooper S high end performance parts from Mini Mania to make the track-ready MINI even faster for the multi-day race.
"When we heard of this opportunity, we jumped at the chance to help the Herricks build out their MINI Cooper S," said Don Racine, owner of Mini Mania. "The Pan Am race is a classic, all-out road rally over some incredibly beautiful terrain and amazingly dangerous highways. The "Unlimited Class" race follows the same course, etc. as the classic cars. It will be an exciting race to watch, and we look forward to supporting Colin and Eric with the best performance parts we offer."
According to the official race websites, La Carrera Panamericana was first run in 1950 to celebrate the completion of the Panamerican highway. Considered one of the world's most dangerous races, it was cancelled after 5 seasons due to the high mortality rate of race teams and spectators. Resurrected in 1988 by a team headed by Eduardo León, the 20th race runs 2000 miles and from the border of Guatemala to the Texas border and has been turned into a classic road rally for super-tuned classic and modern cars.
Established in 1974, Mini Mania Inc., is the leading supplier of aftermarket performance and accessories products for the BMW MINI and Classic Mini. Located in Nevada City California, Mini Mania products are available on the web and from dealers throughout the U.S. and abroad.
La Carrera Pan Americana is a road rally of about 100 entrants with the unique distinction of running classic Studebakers, Fords and other older cars with highly tuned engines and suspensions 2000 miles across the Mexican countryside. More information can be found at www.panamrace.com and www.lacarrerapanamericana.com.mx.
The "Unlimted Class" race information can be found at http://unlimitedclass.minimania.com