200 Pictures
Images of almost every car on the green, plus a lot of autocross action.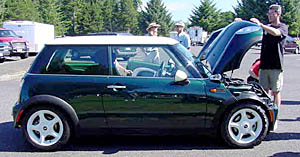 Another 62 Pictures
Breakdown on the way to MMW; under the hood of a New MINI; a Mini Towtruck (NOT at the Meet!); more entries and awards. Courtesy of Jeremy Thorpe (of Orange Cabriolet fame!)
Autocross Movies (MPG format)

Click on an image to see a movie of that car's run! Thanks again to Jeremy Thorpe.