The summer of 2012 was finally coming to an end, and it was almost time for my college classes to start up again. In a couple short weeks, I would be attending as a junior at a college a few minutes from home. I had been saving up my money for months and months with the hopes of finding myself a used MINI. I was willing to travel anywhere in the country to find the right one. After selling my truck for $1600, I now had the last bit of money Id need to buy my dream car, a mini cooper S. I traveled with my dad from New Hampshire all the way to New York to look at one I found in the online classifieds.
When I arrived, I discovered that the car was in much worse shape than it had been described. The body was covered in dents and scrapes, the engine had been modified by a younger kid, and the interior was beat. Nothing about this car pleased me. Unfortunately, the whole day was wasted on traveling, and I had taken a hit from the gas prices. I began to feel defeated, until I discovered one that was for sale by-owner in Miami, Florida. Sure, it's quite the long trek, yet, I was willing to go anywhere for a MINI.
After arranging hotel reservations and booking flights, I arrived in Miami and drove to the address of the owner, where he would show me the car. After about an hour of traveling through some scary neighborhoods and back roads, I finally arrived to the address. Only to find a small dealership that seemed to be part of someone's house, and operated by the current resident. This scared me quite a bit, for I fear shady dealerships the most! Anyway, I parked my car and headed to the lot. The fence surrounding the small lot was locked, encompassing about 4 or 5 cars, none of them being a MINI. I saw a small garage, and thought that maybe it was inside. At this point, I was scared that I had wasted all this time and money for some sort of scam. There were about 4 other people waiting to get into the dealership, sitting just outside of the locked fence. Figuring Id break the ice, I asked what they were waiting for. Surprisingly, they all said they were there to look at the SAME car. It was a 2003 British green MINI Cooper S with 70K miles, asking price: $7000 OBO. Startled by the whole situation, I went with my gut, and decided that something wasn't right. I got back in my car, grabbed a bite to eat, and flew back to New Hampshire the next Morning.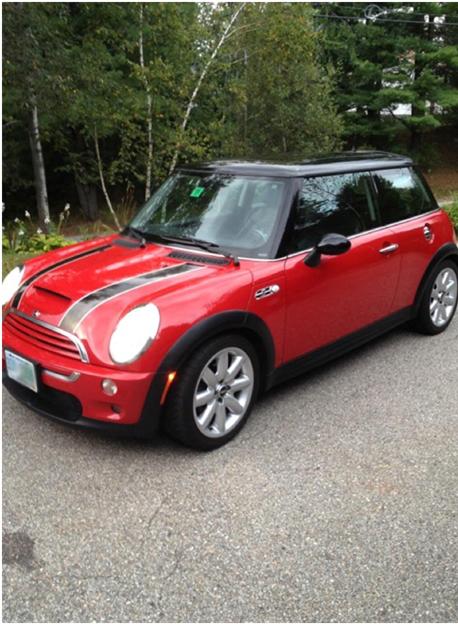 At this point, I was demoralized beyond belief. I had blown hundreds of dollars on traveling alone, and hadn't seen a single decent car. The next few days I dedicated my time to searching through classifieds hoping id find the right vehicle. Being without a car, I was desperate. Finally! I saw one just two cities away from me. It was in my price range, met my standards, and the owner was willing to show it off that day. Who would have thought! After a small phone chat with the owner, we agreed to meet at a Shell gas station, about equal distance from both of us.
When I had arrived, everything was just how it was described in the listing. It was a 2003 MINI Cooper S, chili red with black stripes. It only had a single owner, and the car was very well kept, no aftermarket performance parts, and clearly not abused. I was very pleased. I took it for a test drive and everything looked sounded and felt great. That night, the owner wrote a bill of sale, and personally drove the car to my house, where I paid the man his asking price and spent the rest of my night admiring this little piece of art in my garage.
I learned that with patience and dedication, comes greatness. Looking back now, I couldn't be happier with my purchase. I use it as my daily commuter and get compliments wherever I go. The hundreds of dollars spent on travel may have been a bummer, but the car I ended up with made it all worth while.
(My nice shiny MINI during the first day of ownership)