Order and Shipping Information
Overview
Estimated Shipping Charges
Shipping Address Policy
World-Wide General Shipping Information
Shipping Schedule
When Will I Get My Order?
Entering APO/FPO Addresses
Backorders
Product Use Notice:
When ordering, recognize that some products sold by Mini Mania may not be approved for highway use on public roads. These products are designed for show, off road driving or racing applications only. It is the buyer's responsibility to ensure that their vehicle meets all federal, state and local laws and regulations. Buyer assumes all liability and risk associated with the use of high performance products and holds Mini Mania, Inc. harmless of any associated liability.
Overview
Domestic Shipping
Shipping domestically is always prioritized by the least expensive way first and fastest way secondarily.
Unless noted by individual parts: All shipping costs are paid by the customer.
Next Day services are not available on Internet placed orders.
International Shipping
Shipping overseas/internationally is prioritized by the least expensive way first and fastest way secondarily.
All shipping costs, including DUTIES and CUSTOM FEES are paid by the customer.
Next Day service not available on Internet placed orders.
COD orders not available on international orders.
Shipping Charges

How can I get a shipping estimate?
Just click "Buy Now" on the product page to add it to your cart. Continue shopping and when ready for the shipping estimate, begin the checkout process.

Shipping charges for most items are calculated and displayed during order checkout. You will NOT need to log in or create an account to use the 'shipping quote' button.

If you're not ready to order, simply use you browser's "back" button to return to previously viewed pages.
Shipping Methods appropriate for your destination are displayed to you during order checkout. Once you've decided on the items you'd like to order, consider how quickly you would like to receive your shipment(s), evaluate the shipping cost displayed, and choose a shipping method.

What if no shipping charges are displayed?
Shipping charges are calculated at time of shipment based on the actual package weight and dimensions. In some cases, we may not have weights or dimensions in our computer system for one or more of the items you ordered. In this case, shipping is not quoted. The amount you will be billed is the carrier's standard charge.

The cost of shipping your order will be sent to you in a confirmation email message at the time of shipment. No action is required on your part.

Shipping Address Policy
When you order product using your credit card we initiate a process to check the address information you enter to see if it matches the address that your credit card issuer has on file and matches your billing address. If they do not match then the issuer of the credit card will not approve the transaction 100%. This is because much of credit card fraud occurs by having products shipped to the address of the person who stole the credit card instead of to your address – the billing address. The fraudster steals the credit card, orders products and has those products shipped to the fraudsters' address and you don't know anything about it until you get your credit card bill.
This works great for those people that have products shipped to their home address and their credit card bill is also mailed to that same address. But some people use a PO Box or their personal credit card to order products for business. In those cases they want the product shipped to their office but the statement (billing address) is still being mailed to their home address or PO Box. This normally would be a rejected transaction because of the two legitimate, but different, addresses.
The way to get around this is with an Alternate Shipping Address. You can add an Alternate Shipping Address to your credit card so that orders will be accepted at both addresses. The alternate shipping address does not have to be your business address but is used here simply as an example.
Simply use the toll-free number on the front or back of your card to contact your credit card company and create an Alternate Shipping Address which is simply a note on your account authorizing purchases that are delivered to a destination other than your billing address. With the Alternate Shipping Address feature in place you can have credit card orders shipped to two different addresses but your credit card bill will continue to be mailed to the original billing address.
Add the Alternate Shipping Address to your credit card account before placing your order. After your credit card company has updated your credit card account you can then order products with your credit card and have them shipped to the alternate shipping address you have on file with the credit card issuer.
* Please note that on your initial order items must be sent to the billing Or 'Alternate' address as registered with your credit card company. See this Policy for more details or contact our sales staff at 800-946-2642.

World-Wide General Shipping Information
We use international carriers such as FedEx, UPS or USPS.


Please be aware that import duties, local taxes, customs charges, etc. are the responsibility of the customer.
For some destinations, we offer the choice of Mail (USPS). While often less expensive, remember that items shipped via Priority Mail, while insured, are not always reliably delivered and cannot be tracked. By choosing Priority Mail, you accept responsibility for your order once it leaves our facility.
When choosing a shipping method, remember that carriers charge considerably more for expedited delivery. Expedited delivery also generally requires the package be signed for at the time of delivery. Check with your selected carrier locally if you or your authorized representative may not be available to sign for the package at the time of delivery.
Customers outside the domestic United States should exercise particular care when selecting a carrier or expedited shipping methods. If in doubt, consult with your potential carrier for information about shipments to your country. If Mini Mania is invoiced by any carrier for import duties, local taxes, customs charges, or similar fees, the customer's credit card on file will be charged immediately for these fees, and an invoice explaining the charges will be sent to the customer.
Shipping Schedule
Most orders phoned in to Mini Mania before 12 noon Pacific Time are shipped the same day; orders received later usually ship the next day. If you must receive your order by a specific date, please make this clear when placing your order.
Most Internet orders are processed the next business day and are shipped within 1-2 days.
If there is more than one item in your order, we will ship your items as they become available.
Depending on availability, your order may be sent in more than one shipment. You will be charged shipping for each shipment.
You may choose to contact us by phone or e-mail before placing your order in order to ascertain availability.

When Will I Get My Order?
For Ground shipments, see the maps below for approximate delivery times. For expedited shipping choices, please see your chosen carrier's web site for details, terms and conditions. Note that in all cases, shipping times do not include the day the order ships, weekends or holidays.
UPS Ground Delivery Transit time Map for Domestic Customers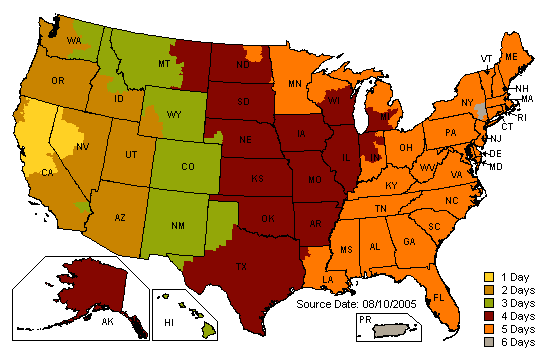 FedEx Ground Service Delivery Map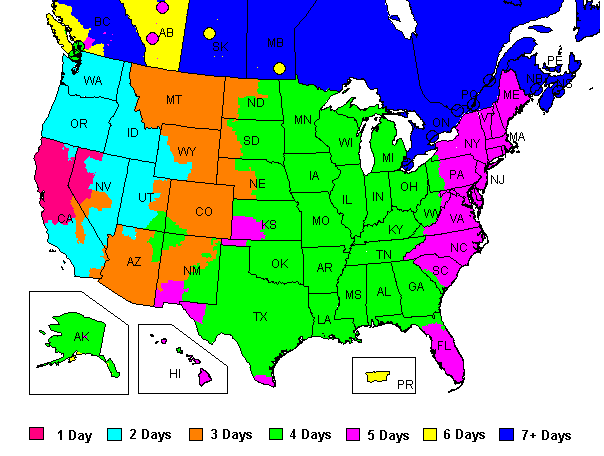 Entering APO & FPO Addresses Correctly
Having trouble entering an APO or FPO address on our order form? Following these steps should help:
Enter the recipient's full name and address in the relevant fields.
Enter "APO" or "FPO" in the City field.
Enter "AE" in the State/Province/Region field if the recipient is stationed in Europe, Canada, Africa, or the Middle East. Enter "AA" if the recipient is stationed in the Americas. Enter "AP" if the recipient is stationed in Asia or the Pacific.
Regardless of where the recipient is stationed, select "United States" from the Country drop-down menu.
Following these steps will ensure that you're charged the correct shipping amount and that your order will be delivered in a timely fashion. All shipments to APO/FPO addresses are sent via U.S. Priority or First Class Mail. We estimate 5 to 7 business days for delivery once the order has been shipped; however, some destinations may take up to 21 days.
Backorders
We endeavor to stock most of the items we sell. The automatic shipment notification email you receive will identify backordered items and indicate the approximate date we expect to receive the item at our warehouse. Be sure to contact us if you wish to cancel your backorder to avoid unnecessary shipping and restocking charges once your backordered items are shipped.