Support your local MINI Club by becoming a Mini Mania Affiliate!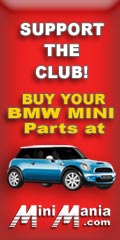 Place a Mini Mania banner and link on your home page, and earn a 5% commission on all on-line sales made through your website. No set-up fees, minimum sales levels or other hidden charges; you'll receive a check every six months. This is an excellent opportunity for Mini clubs to raise money for the treasury, or for Mini dealers to get added income with very little effort and no overhead costs.

The Mini Mania Affiliate Program works by tracking product sales generated by customers using the link on YOUR home page to reach our product pages. We have code which links to either our Classic Mini or New MINI product pages; you can choose to display either one, or both, on your home page.
Your site will generate more income based on the visibility of the Mini Mania link, and how effectively you promote the program to your customers and club members. In order for you to earn commissions, Mini owners must be able to find and use your Affiliate link!
What's Involved
To set up your Affiliate account, contact us and tell us the name, address and contact information of the person, company, or club which will be receiving the commission checks twice per year (if you already have a Mini Mania customer number, let us know). Mini Mania will assign you a "dealer code" which you will use in setting up your web page.
We will direct you to a web page on our site which contains the HTML code you will need to set up your link to Mini Mania. Please note the HTML differs depending on whether you want to link to our Classic Mini or New MINI product pages; you may choose to have just one link or two on your site. Have your webmaster copy the HTML from these pages and insert it into your home page, substituting your dealer code assigned to you by Mini Mania where indicated. Banners and buttons in various sizes are found below for you to copy and use on your site, or you can generate your own text or graphic links.

At that point, you're ready to go live and start earning commissions! Commissions are paid every six months, and are calculated at 5% of Mini Mania on-line sales generated through your site, excluding shipping charges and subtracting returns. A statement will accompany your commission check, showing the transaction dates, items sold, total amount per item, and invoice numbers. Mini Mania's Affiliate Program pays commissions for Internet orders only; we are not able to apply sales from phone orders to your account.
To Get Started ...
Email [email protected] or call us at (530) 470-8300.
Save