The tale of two Mini racing families writes a new chapter this September at Oregon's Portland International Raceway for the 60th Anniversary Mini Race, but the story can actually be traced as far back as the 1970s, and even earlier.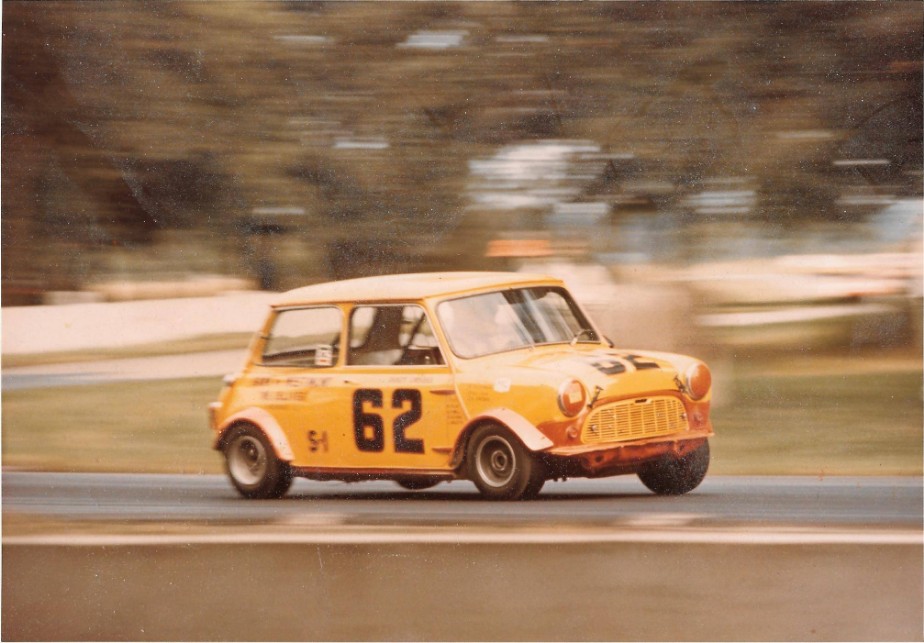 The Don Racine family, now of Northern California and the Chicagoland Unsbee's, now of northern Oregon and Nevada, share a long and storied history of competition with the iconic British Mini in sports car races across the nation.

In the 1970s the Peterman Unsbee Racing Enterprises (PURE) three-car club racing team won races and championships in Midwestern Council and Sports Car Club of America events. Don Racine and his family have been racing Minis since 1972, which led to Don forming Mini Mania, Inc.

Ironically, because race sanctioning bodies back then would not allow you to race until age 21, I had to wait until 1972, the same year Don began autocrossing and then racing his Minis. Now, after 43 years I am reuniting with the #62 Cooper S I raced from 1972-1976.

In 1972 and 1973 I scored back-to-back titles and 16 straight undefeated races in Midwest Council. I then moved on to SCCA Regional and National racing. Altogether, I won about two dozen or more championship feature races in the Mini, and dozens of qualifying sprint races at eight tracks in seven states between 1972 and 1976. I sold #62 to Dennis Earles in Tennessee and he autocrossed my car, then sold it, and it was lost to history. Or, so it seemed.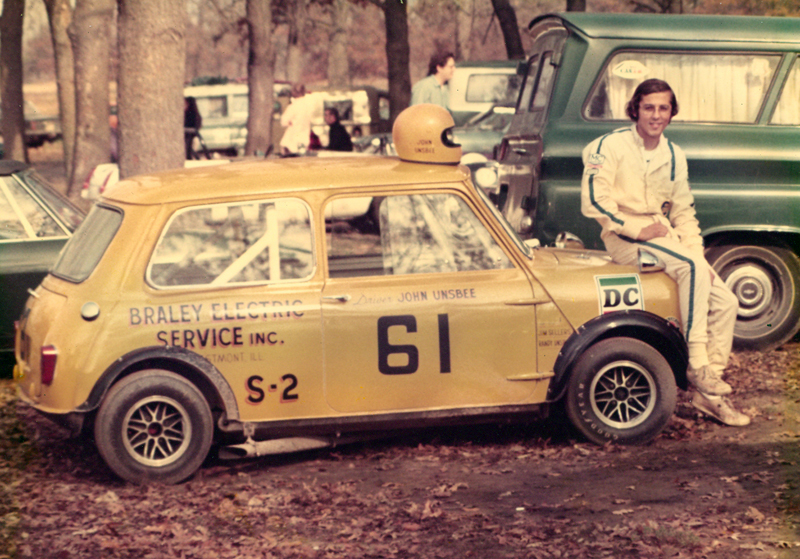 I don't recall how many races John won in the #61 but I know it was many though he also had many mechanical failures. He raced at 10 tracks or more in seven states between 1970 and 1975. He was a constant threat in SCCA National racing until the Datsuns came along and killed the class, and almost always won in Regional racing as I did. However, #61 never won six straight races as it was previously reported. That was a mistake confusing #62 with #61.
Fortunately, while John was living in Nevada he kept his #61 Mini even though he had long since dropped out of racing, and Don Racine purchased it in 2009 from him and started racing and winning, right away. In 2015 I first met Don and his son, Dennis when they came to race in a vintage event at Portland International Raceway. At that time they expressed an interest in building a "tribute" car to my #62 to run alongside my brother's #61. As time progressed, and through the wonders of Facebook, the Racine's, Dennis Earles and I discussed my car's history online. Surprisingly, someone recognized my car's original colors and lettering as one they now owned, and Don quickly purchased it.
The years had not been kind. The front fenders had been removed for a fiberglass addition, the car was painted black, but the original hood remained in its original state. There were just a few engine parts. The Racine's performed a ground-up restoration and invested over $40,000 and hundreds of man-hours. In June of 2017, they took both PURE Minis to the Sonoma vintage races. My former #62 took first place exactly 45 years to the month of my first victory.
So, Don Racine now owns two of the three PURE team Minis. The third team Mini, #63 campaigned by the late Bill Peterman, is lost, at least for now.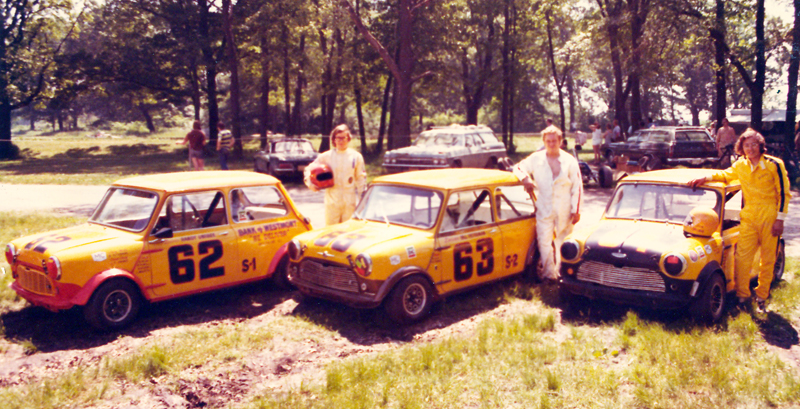 We had become enamored with Mini Coopers upon attending the first Canadian Grand Prix at Mosport Park in 1967. One of the support races for Formula One was a sedan series, much like our SCCA Trans Am, with Mustangs, Camaros and this little shoebox chasing down the V8 ground thumpers and driven by Bill Brack. We had never seen anything like that.
The next year the Trans-Am competed at Meadowdale outside Chicago and once again, there were Bill Brack and his Mini racing at the back of the pack in the Under 2-liter class but giving the big bore cars fits. We didn't take any more convincing - racing Minis was the way to go.
But our racing roots went back further, and that explains how we came up with the distinctive paint schemes, lettering, and numbers. We had started racing ¼ midgets when my father, a Chicago area stock car sponsor of the well regarded Bill Van Allen, wanted a publicity stunt for his business, Braley Electric Service in Westmont, IL.
Lewis and Marjorie Unsbee had long been racing fans, and when his business grew to the point of being able to sponsor race cars he did so. One day in about 1953 or 1954 he picked up a copy of Popular Mechanics and saw an article about a farmer in California who had built a replica of the popular midget racing car, but in ¼ scale, that kids could drive. There was nothing like this in the midwestern United States and Lewis wanted one to paint and letter just like his stock car to have his sons drive during intermission at area stock car tracks.
My dad said he called the farmer many times asking him to build one but kept getting turned down. Finally, after about a year, he convinced him to build one that my brother and I shared, and then a second car. I took my first drive at Mance Speedway in Illinois at age three years, 11 months and my brother was seven. I won my first race at age four. It wasn't long before ¼ midget racing associations sprouted all over the Midwest. Naturally, when we eventually graduated to racing Minis John took his ¼ midget car number of 61. Mine was #6, the same as Bill Van Allen, but that wasn't available when I began racing my Mini so I took #62. Our mechanic, Bill Peterman, followed suit with #63.
I have a great many fond, and some frustrating, memories of my years racing the #62 Mini. I was a junior in college at Northern Illinois University and impatiently awaiting my 21st birthday so I could go through a Driver's School and get my novice race license. My brother, 3 ½ years older, was already racing his Mini in Midwest Council and SCCA.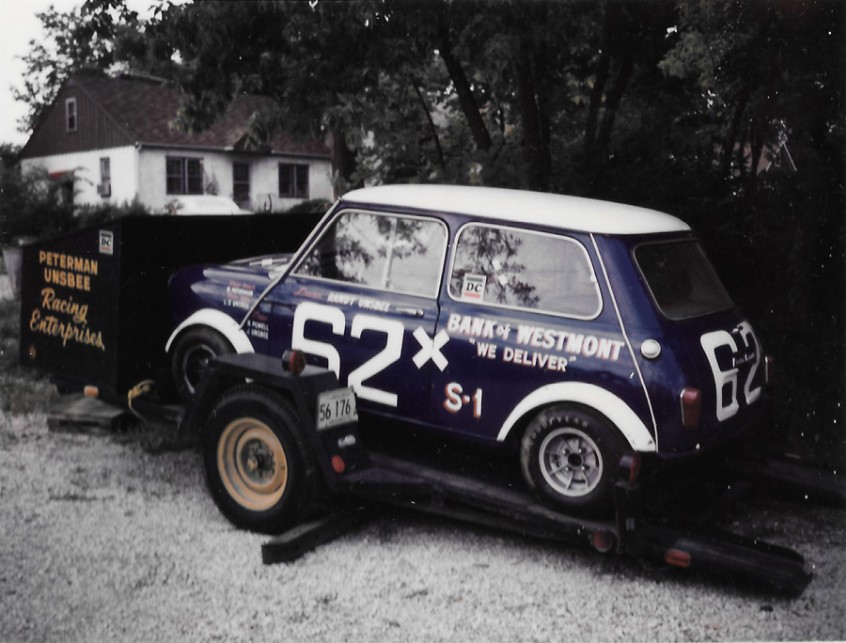 Though my car started out in the blue and white colors it had when I purchased it in the winter of 1971-1972, it was painted Braley Electric yellow just like our ¼ midgets by my second season. An earlier Mini I had purchased, an 850, was a basket case and needed a complete rebuild before I could go get my license. It seemed hopeless, especially with my being away at college and only able to come home on weekends to work on it. So, my dad and Bill Peterman found a better solution: a 1965 Mini Cooper S that was completely assembled but had no engine. I already had an engine! A deal was made, a roll bar and belts installed, and we installed the 850 engine so I could enter the Sedan 1 class in Midwest Council at Blackhawk Farms.
I recall during the driver's school I clenched the steering wheel so tight my hands hurt, and in my first track session, I literally forgot to breathe. But, I passed my novice license test on Saturday, June 24 and won my first race on Sunday, June 25 against a field consisting of Fiats, a Ford Anglia, Saab 99s, a Mini or two and other small bore cars. On Monday, June 26 I turned 21. Okay, we fudged my age a bit as I had already missed three races that season. We went on to win seven straight races in 1972 and nine straight in 1973 for a second title. John went on to win the 1972 SCCA Regional Championship and Bill Peterman was also a frequent race winner and 1972 Sedan 2 Champion in Midwest Council.
By 1974 I was ready to take on SCCA National racing. I purchased a used engine from National Mini Cooper racer Bruce Nesbitt and ran SCCA Regional and National events for the next few years.
I have many Mini racing memories, but one particularly harrowing event stands out. It was at one of my favorite circuits, the four miles at Road America, during the 1974 June Sprints.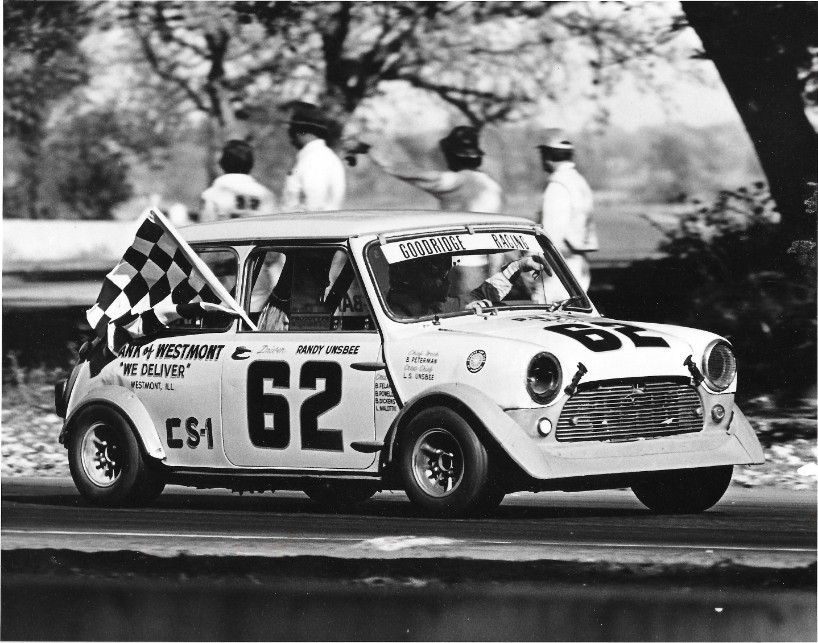 In one qualifying session, I was heading down the flat out Moraine Sweep towards the hairpin corner #5 and was about to overtake a couple of H Production Sprites. Just as I got to the turn, and just a car length or so behind the two Sprites, I slammed on the brakes and was surprised to hear a very loud metallic sound over the roar of the engine. I thought the engine had broken.
The metallic sound was my brake pedal hitting the metal floorboard. I lost my brakes at was probably approaching 120 mph. I had the choice of plowing into the two unsuspecting Sprite drivers or trying to find a way around in a fraction of a second before hitting them.
Back then there was a narrow grass strip between the track surface and the guardrail - about the width of a Mini. I aimed for that and PASSED the two Sprites in the grass.
My next task was how to stop the car. I saw the tire wall at the end of the escape road and knew there was no way to slow down enough to negotiate a way around or stop. Still doing a 100 mph or more I threw the Mini into a spin to scrub off as much speed as possible and braced for impact. I knew this was going to hurt, a lot.
After what seemed like a half dozen dizzying rotations, during which everything was a blur, the car finally stopped spinning in a cloud of dust and flying grass blades right next to the guardrail at the end of the escape road. It stopped so close I couldn't even open the driver's door, so I had to climb out the passenger side to see if there was any damage.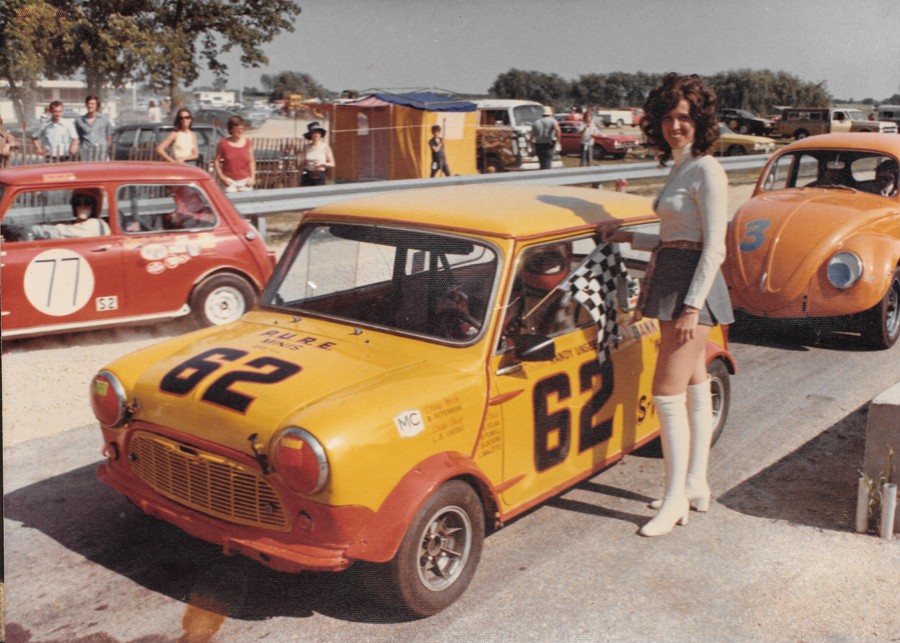 I was surprised to hear an enormous roar and cheer from the June Sprints crowd on the corner five hillside. I was kind of annoyed because I could have killed two other drivers and myself and was in no mood for levity. However, my buddies watching from the hillside later told me they had never seen a car get so high up in the air and not flip over or crash - kind of Dukes of Hazzard style. That's why the crowd was cheering.
I gingerly drove the car back to the paddock with no brakes. It turns out a metal brake line, the kind that isn't supposed to fail, had failed. We took all four Mini wheels to Goodyear for remounting because we couldn't pull out all the grass stuffed between the wheel rims and the tires from the wild ride. The Goodyear guys couldn't stop laughing. I went on to race and got a decent National finish against the Alfas and factory Datsuns.
Unfortunately, my timing for going SCCA National racing was terrible as the Datsun factory teams of B210s came on the scene in 1974. The Minis' old technology was doomed and the C Sedan class virtually became extinct. By 1975 John had parked #61 and briefly tried his hand at sprint car racing before dropping out of race driving altogether. I eventually sold my Mini to Dennis Earles and figured if you can't beat them, join them.
The Datsun Competition Department offered me a brand new 200SX to build into a car thanks to a recommendation from the legendary Gene Crowe, one of my dad's former drivers and mechanic during the Bill Van Allen days. Gene by this time was head wrench for Bob Sharp Racing, Jim Fitzgerald and Paul Newman.
I went on to race a wide variety of formula, production, and sports racing cars through 1981. I later resumed racing again in Showroom Stock and Improved Touring from 1999 to 2010 and won four more SCCA championships, until the competition began to wane. So, I parked the race car and checked off some items on my bucket list: driving on some of the great race tracks of England. I had already gone through the Jim Russell school at Snetterton and the Winfield school at Goodwood in 1977 in preparation for the Pro Formula Ford race at Road America. More recently I have driven a series Formula and GT cars at Brands Hatch, Silverstone, Donington, Thruxton, and Rockingham.
Last year Mini Meet West was held in Hood River, OR and I participated as part of the Oregon Mini Society. Now that my daily driver is a 2004 MINI Cooper S I competed in my first ever Hill Climb. Also at the event? Don Racine in my restored #62!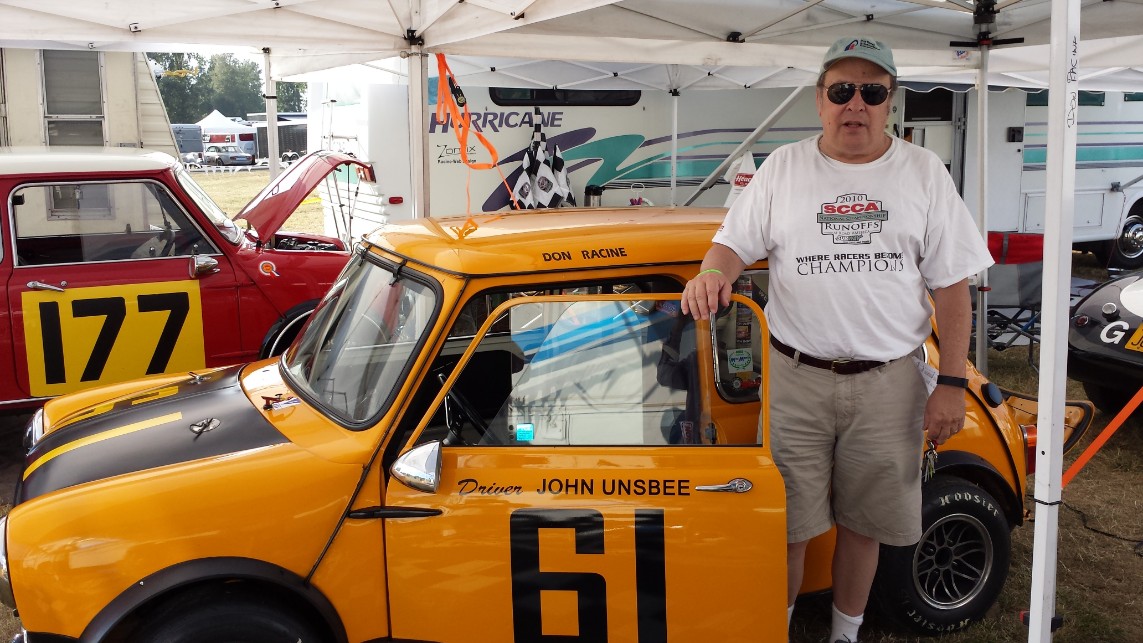 While we were visiting between sessions Don commented, "One of these days we have to get you back in #62." I never thought that would be possible, but once the 60th Anniversary Mini race was announced for Portland I don't think there was any way Don wouldn't bring his family, cars and my former championship winner to Portland. A match made in heaven!
They are entering five Minis to driven by the immediate family: Don, son Dennis, daughter Julie and her husband John Burmann. Don's spouse, Shirley, is also a longtime Mini enthusiast and team principal.
Don has raced almost every type of sports car since the 1970s, including formula cars, sports racers, and sedans at more than thirty tracks in the USA, Japan, Australia, United Kingdom, and Canada. Like many, he began by volunteering at events and autocrossing before graduating to a variety of racing cars while developing a love for Mini Coopers. Sourcing parts for the growing numbers of Minis he owned led to founding an import business that's flourished into Mini Mania, the leading restoration and performance parts supplier for both Classic Minis and the new BMW MINI.
He has won numerous Classic Mini races in recent years, including events at the Indianapolis Motor Speedway and California's Sonoma, Laguna Seca and Coronado racing circuits, to name a few.
Following in his father's footsteps, Dennis' earliest memories are of when his parents purchased a Mini Woody station wagon. He also began with autocrossing and helping on his dad's cars while growing up. Dennis has owned more than 20 Minis and has been road racing them for the past 14 years with numerous victories.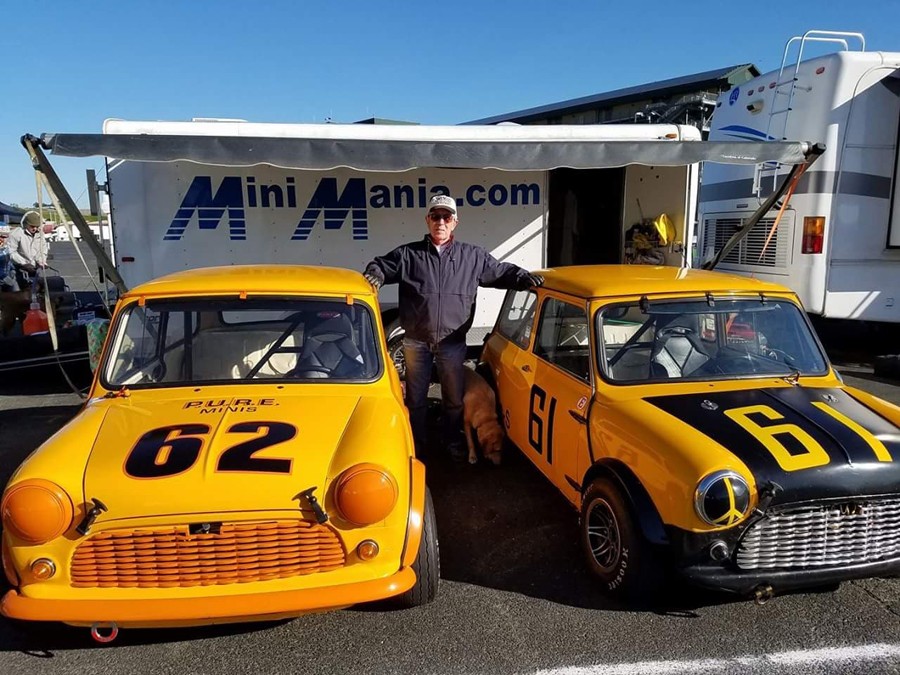 Don's daughter and Dennis' sister, Julie also grew up with Minis in the driveway and learned to drive at age 11 in Don's Mini Moke on dirt roads at a campground. She later competed in numerous autocross, hill climbs, and other events before going road racing in the early 1990s. Julie and her husband, John Burmann decided to go sports car racing together beginning in 2009. Julie purchased one of her brother's Minis and in 2010 John obtained one to make for the Racine family's four-car team.
John Burmann attended driving schools at California's Thunder Hill and Sears Point raceways in 1995 to learn about sports car racing before competing in Sports Car Club of America (SCCA) and National Auto Sport Association (NASA) competition. He and his wife, Julie both have the racing bug and decided vintage racing was the way to go. He began with one of Don's Sprites which was later traded for a Mini. John and Julie enjoy the Mini Cooper family affair and competing with Don and Dennis in up to five race events per year.
The 60th Anniversary Mini Race is being held Sept. 6-8 as part of the 18th annual Columbia River Classic sanctioned by Society of Vintage Racing Enthusiasts (SOVREN). They are anticipating over 20 race Minis and 130 other vintage race cars. Also at Portland International Raceway that weekend is the All British Field Meet (ABFM) featuring over 700 special British cars of all makes and marques, along with a car show, rally, slalom, and swap meet.