Team Mini Mania's caravan of four Classic Mini Coopers have again been selected to participate in the upcoming Sonoma Historic Races at Sonoma Raceway, California.
***UPDATE***
Do you needs parts and you're going to the Sonoma Historic Motorsports Festival? Mini Mania will delivery them to you at the event FREE of charge! In addition get 10% OFF your order (excluding special order items and item already on sale). So, that's 10% OFF PLUS FREE delivery. Give us a call at 1-800-946-2642 to set up your order and delivery.
The Mini Mania team has been chosen to race against some of the best of the best Vintage race cars in the annual Premiere Vintage race event. The Team will be led by Don Racine racing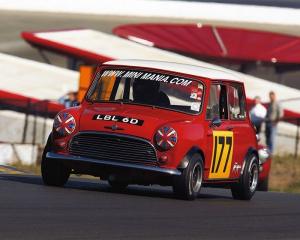 both his Classic Yellow 1961 Mini Cooper #61 and the now famous Aardvark. Dennis Racine will be racing his father's famous 1967 "Monty Mini" #177 (pictured at right). Julie Racine will be racing a 1960 Green Mini originally built 20 years by her brother (Dennis). John Burnham (Don's son-in-law) will be racing another of Team Mini Mania cars, a 1965 Silver Mini Cooper S.
The annual race draws from around the world more cars and drivers than can be accepted in any one event. With such a famous event at such a famous race track the selections of cars and drivers has to be very discerning. Heritage of the cars and drivers are foremost in the selection as well as presentation at the event. Don Racine has been accepted since the first of these events 25 years ago. This will be the first year that all four of the Team Mini Mania Mini Coopers have been accepted for this event and thus will be putting on a real show!
Mini Mania has worked to put in a car corral for Mini owner's to have their own parking area and will be setting up a hospitality area in our pit for people to meet, find a seat, get off your feet, have a drink and/or snack, talk to drivers, see the cars up close and to basically connect with other Mini enthusiasts. We are trying to get a count of how many Minis will be at this event. Please email [email protected] if you plan to attend the Sonoma Historical Motorsports Festival.
This year's Wine Country Classic Vintage Car Races (aka Sonoma Historical Motorsports Festival) at Sears Point Raceway offers a thrill for vintage car enthusiasts. With a 12 turn, 2.52 mile course attendees are bound to see the vintage cars at their best. There will also be an open paddock to get an up close and personal view of the cars. The weekend also features the Wine Country Pavilion with samplings of fine foods and wines from Sonoma and Napa Valleys. It's a perfect pairing of the wine country and racing you won't want to miss!

Be sure to join the team and cheer on your favorite Mini!
Event Details

What: Sonoma Historical Motorsports Festival

Where: 29355 Arnold Dr Sonoma, CA 95476

When: Saturday, May 18, 2013 - Sunday, May 19, 2013

Media Contact: Donald Racine - [email protected] - 800 946-2642
For more information please click here.
About Mini Mania Inc.
Mini Mania Inc. is the industry leader in Classic Mini and Mini Cooper parts and accessories sales. Based in Nevada City California, Mini Mania has been in business for 38 years, selling Mini products worldwide through its web site www.minimania.com, or its phone specialists at 800 946-2642