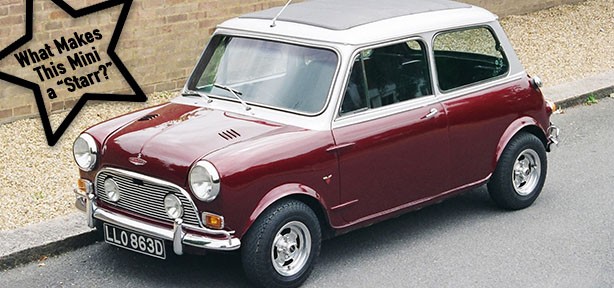 The Little Mini that was, and is, a "Starr"
The Mini was the revered motor symbol of the 1960s, and it was expected that the era 's biggest popular music group – The Beatles – would all be representatives of Alec Issigoni's own masterpiece. But while it's fairly easy to cart your guitar around in a mini, a set of drums is another matter entirely.
And it is said that Ringo stipulated that he needed to be able to fit the drum kit, making it different from the drum kit bought for the other members of the 'Fab Four.' The solution to the lack-of-space / accessibility issue was the conversion of hatchbacks that coachbuilder Harold Radford provided as an alternative to his up-market Mini de Ville GT, launched in October 1965.
Like all Beatles' Minis, 'LLO 836D' was bought new by the band manager Brian Epstein, to whom it was first registered in May 1966. The registration number is in the same series as that of Paul McCartney's Aston Martin DB6 ('LLO 840D'), which was presumably bought at the same time.
The registration was made to Richard Starkey (Ringo's actual name) on 15 June 1967, and he kept the car until it was sold in December 1968. Nothing is known of its subsequent history until 1977, when the former Starr Mini was bought by the current owner 's father.
Although 'LLO 836D' was part of the BBC Television program 'Blue Peter' in February 1984, it was described as 'Rolls-Royce of Minis' and in March of the same year it was shown at the 'Beatle City' exhibition in Liverpool. In August 1987, the Mini was seen in Dallas , Texas, as the Beatle City Festival was moved to the USA and upon its return home was restored by Naylor Brothers in 1990/1991.
In 1998, Ringo's Mini won the prestigious Cartier 'Style et Luxe' competition at the Goodwood 'Festival of Speed,' and three years later – in 2001 – was featured on BBC TV's flagship auto show 'Top Gear.' Motoring magazines listed the car's many unique features, such as:
Bonnet vents
Extended wheel arches
Manx alloy wheels
De-seamed bodyshell
Waso fuel filler caps
Bespoke window frames and quarter lights
Webasto sunroof
Hooper and Radford badges
Triple ancillary gauges
Rev counter
Cigar lighter
MotoLita steering wheel on Mark II column
Internal bonnet release
Walnut dashboard and door cappings
Folding rear seat
Door handles
Electric windows
Etched Sundym glass (side windows)
Huntmaster reclining seats
Driving lamps (individually switchable)
Benolite grille
Morris 1100 indicators
Door warning lights
VW 'Beetle' rear lightsCibié headlights in Innocenti rims
Take a look at these awesome shots of this super rare and super cool Mini.