George Harrison owned the Mini that featured in 'Magical Mystery Tour'. The Mini, an Austin Cooper 'S', LGF 695D, was built for George Harrison by Harold Radford (Coachbuilder) Ltd in late 1965 and painted in Metallic Black.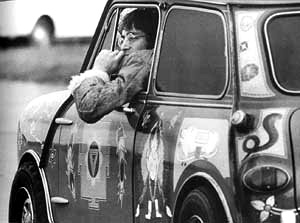 In early 1967, the car was repainted and the psychedelic pictures were added using a book, Tantrum Art, for inspiration.

At the same time Harrison also had the wall of his house painted in the same style, which did not go down very well with his neighbours...

The Mini then was used in the film 'Magical Mystery Tour', which was screened by the BBC on the 26th December 1967 in black and white then again in colour in January 1968.

Shortly after the film the Mini was given to Eric Clapton from whom Harrison got it back in the 1970's.

Mike sent a letter to George Harrison about his Minis and he got a reply saying he could not provide him with any information though a few months later, in June 1998, the Mini appeared at the 'Goodwood Festival of Speed' (that is where many of the photos on the sides were taken) and was still owned by George Harrison.

INTERESTING FACTS / STORIES

The Mini with George in one of the pictures is GUU 707C, which is a 850 Mini. George had a number of 850 Minis another one was KMT 449C that he brought from Epstein's company and part exchanged a mini for it (I think it was GUU 707C) he also brought an Aston Martin at the same time (reg number KMT 499C).

George on Magical Mystery Tour: "I remember quite a bit of it, really, in the big hangar down in Kent. We were driving around this air field in the Mini Cooper, your mother should know. That was quite interesting, I quite enjoyed that..."

George remembered:"after the drive around in the rain each of us was put in a Mini with our name on. John, Paul George, Jimmy individually, in huge Dayglo paint. They were advertising the British Motor Corporation. These cars were Minis, together with an Austin Princess with 'Beatles' right along the side in Dayglo" - 11th June 1964, Australia.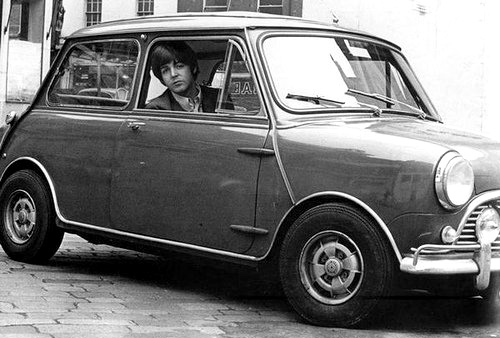 The story Mike (Radford/Mini de Ville Register) was told some years ago was that the Mini had been stripped ready for painting but no one had taken photos of the paintings. The chap who had painted them wanted silly money to redo them, the car was said at this time to have belonged to Harrison's brother. Some years later the paintings were done by someone else using old photos and the film for reference, although if you look closely some differ from when the car was in the film.

George, John, Cynthia, and Patti had their first LSD trip while driving LGF 695D (they were leaving the home of a dentist friend that had slipped it into their tea). George recalls driving very slowly because they did not know what was happening to them (this is from the Beatles Anthology series). Thanks to Mike Weaver.