Pirelli will introduce its newest ultra-high-performance tire "the P Zero™ Trofeo"
at the SEMA (Specialty Equipment Marketing Association) Show in Las Vegas.
The Trofeo is a D.O.T. (Department of Transportation) approved state-of-the-art track tire for serious driving enthusiasts.
P Zero™ Trofeo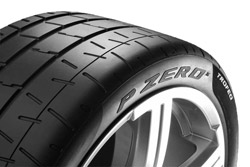 Trofeo's asymmetrical tread features two wide central ribs, large tread blocks, an inner area with greater groove density and an outer area with a pattern derived from asphalt rally applications. The P Zero™ Trofeo is the best of both worlds: a fast track tire that gives racers the flexibility to drive on the street to and from the track.
The P Zero™ Trofeo achieves improved grip, uniform contact pressure and better control at speed. Its enhanced inner tread, together with its longitudinal grooves, responds to the demands of track, or road – even in the wet. Its center ribs provide added stiffness, and allow for uniform pressure distribution along the tread resulting in sure-footedness and increased driving comfort.
With over 100 years of Motorsport victories, Pirelli's experience on the track played a key role in creating the Trofeo's compounds and structure. From its unique construction both front and rear, to its innovative manufacturing process, and even the changes in geometry and materials used for the tire's bead – Trofeo is a DOT street legal race tire that gives drivers a wider contact area; greater rigidity, stability during acceleration and braking, and the peace of mind of having a constant and consistent footprint area at high speeds.
Pirelli Tire North America designs, develops, manufactures and markets tires for passenger vehicles in both the original equipment and replacement markets as well as markets and distributes tires for motorcycle and motorsports. Located in Rome, Georgia, Pirelli's Modular Integrated Robotized System (MIRS) employs state-of-the-art technology to manufacture tires for both export and domestic markets.
Related Articles