On Your Way To NCA? Here's a MAP
The 7th "Nevada City Adventure" for Mini Coopers is set for Saturday, May 17th, 2008 beginning 8:00 a.m. and ending at approximately 5:00 p.m. Held annually in heart of the gold country, this event celebrates both the Classic Mini as built by BMC (and Rover) and the latest MINI Cooper as built by BMW. Planning is now underway to insure this will be the biggest gathering in the history of Mini Mania in the Gold Country.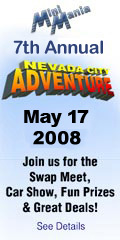 Events planned include:
* Vendor Arcade- Supplies will demonstrate product and answer questions.
* On-site Dyno Testing - measure the wheel HP of your MINI/Mini- reservations required- call for details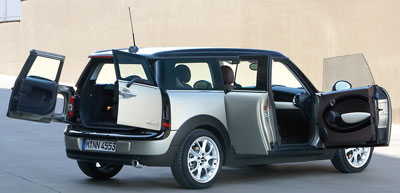 * 'People's choice' car show with awards in a multiple of classes!
* Nevada Country tour- see some of the best of the Gold Country
* 'Vtec Mini' Encounter- largest ever gathering of Vtec powered Mini in the USA
* Silent Auction- Great products at only the price you want
* Raffle- Take your chance and win your choice of great products
* Free Grand Prize drawing- Every entrant will be eligible for some great prices!
* Mini Mania Open House- 15,000+ parts, 10% Discount on most parts.
* New MINI Clubman special display from Niello MINI
* Detailing Clinic - see some of the tricks and techniques to keep your car looking new for years.

Ed D'Arata, Sales Manager of Mini Mania and who also serves as the technical expert on Vtec conversions says of the "Vtec MiniEncounter"; " The 'encounter' will be the pit the best of the original Classic Mini as well as many of the new BMW MINI Cooper against the latest innovation to spring out of the Classic Sports car after-market, the Honda Vtec engine powered Classic Mini."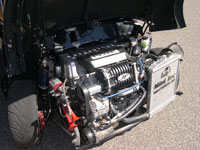 The Vtec Encounter presents an opportunity to stand up and be counted! This will be the largest gathering of Vtec powered Mini in the USA. Special Awards, Special Parking and Special activities will be highlighted by technical demonstrations from the development team at Mini-tec. "Work in Progress" cars will also be displayed. A special manufacturers direct sale will allow V-tec conversion kits to be available at huge savings for immediate delivery.
We are excited and look forward to seeing you at this year's Nevada City Adventure and sharing some fun in the sun in the beautiful Sierra Nevada Foothills, and to show off our new showroom and refurbished warehouse.
We suggest you make reservations well in advance for lodging in Grass Valley or Nevada City if you plan on an overnight stay, due to the popularity of Nevada City and the surrounding communities at that time of year.
Downtown Gass Valley Lodging or Nevada City Hotels and Bed & Breakfast
NCA Highlights - Plan to date

10% off all sales at the event!*
Vendor Arcade
Optional tour of historic Gold Country land marks and points of Interest
Vtec Encounter
MINI Clubman display from Niello MINI
Silent Auction
Mini Cooper Parts Raffle
Various awards
People Choice Car show with awards for:
- Mini/MINI with most Chrome
- Mini/MINI with most Modifications
- Cutest Mini/MINI
- Dirtiest Mini/MINI


- Mini/MINI with best License Plate

- Meanest & Badest Mini/MINI
- Vtec Mini of the Meet
BBQ Lunch available with a wide selection of great home cooked food.
Classic Ice Cream Truck will provide a great opportunity to relax and enjoy the company.

--------
*discount is not combined with other offers or special orders
OTHERS PLACES TO STAY:
Be sure to make reservations in advance if you plan to stay in Nevada City either Friday or Saturday night! Accommodations are frequently sold out on weekends. All area codes are 530.
Northern Queen Inn - 265-5824. A 10-minute walk to Mini Mania, and a short drive/long walk to downtown Nevada City. Restaurant on the premises.
Best Western Gold Country - 273-1393. Next stop up the freeway from Mini Mania (ask us for the twisty backroad route!)
Two Room Inn - 265-3618. At the top of Broad Street in the heart of downtown Nevada City.
Outside Inn - 265-2233. Usually caters to the "mountain bike" crowd, in a residential area of downtown Nevada City.
National Hotel - 265-4551. The oldest continuously-operating hotel in California (or hearabouts, anyway). In the heart of downtown Nevada City.
Holbrooke Hotel - 273-1353. Another historic Gold Rush hotel in nearby Grass Valley.
Golden Chain Motel -273-7279. At the south end of Grass Valley, you'll have a 10 minute (or less) drive to Mini Mania and Nevada City.
Gold Miners Inn, Holiday Inn Express - Brand new hotel right in the middle of downtown GRass Valley. - 121 Bank Street, Grass Valley, CA 95945

CAMPGROUNDS
Nevada County Fairgrounds - 273-6217. Called one of the Top 10 Fairgrounds in the country! Limited hookup sites; showers available. Details and rates at www.nevadacountyfair.com.
Scotts Flat Lake - 265-5302. Boating, fishing, showers, the works! 20 min. from Nevada City.