2nd Annual Nevada City
Adventure
Sunday, September 15th, 2002
Swap Meet, Car Show,
Shopping Tour, Rally/Tour, Picnic Bar-B-Q, RC Racing

Swap Meet - 9am - 2pm

FREE to all buyers and sellers. All British car parts welcome, Vendors welcome, cars for sale welcome, club displays welcome! No cost to buy or sell!

Car Show - 10am - 2pm

Awards for everyone- Best of Show award will be peoples choice of WORST car shown. Must be driven to the event and street legal, no wrecks allowed! NO Cost to enter!

Shopping Tour - 10am - Noon

Nevada City will provide special tour bus for the short ride to downtown Nevada City for 2 hour stroll around the very quaint shopping district. NO cost for bus ride!

Rally/Tour - 12:30 - 2:30

A very informal affair designed to simply allow you to enjoy your car and the great roads of Nevada County! No Cost.



Picnic/Bar-B-Q - 11am - 2pm

Great family fun, bring your own or support a local charity and buy what you need from the local Bar-B-Q truck!



Radio Control Racing -
Track Opens at 8:30am, Racing Starts at 10am

Electric, Nitro, Mini-Z's, bring 'em out, 3 of a kind make a class!

A fun affair where you can bring your own (any size) or simply watch the sport.






Places to stay


Best Western - (530)273-1393 $99.00

Holiday Lodge Motel - (530)273-4406 $50.00 - $80.00

Northern Queen Inn - (530) 265-5824 $77.00 - $126.00

Outside Inn - (530) 265-2233 $79.00 - $130.00


National Hotel - (530) 265-4551 $75.00 - $119.00

Holbrooke Hotel - (530) 273-1353 $68.00


Golden Chain Motel - (530)273-7279 $58.00 - $78.00

For those of you that want to come a day ealier and visit the local area the following are just a few possibilities:

Visit the "Empire Mine". It's only $3.00 to enter this 784 acre historic state park. You can spend the whole day exploring, going back in history, seeing the mining relics, and learning about the story of California's Hard Rock Mining, and it's significance in California's history.

Enjoy strolling through historic Nevada City and take in some wine tasting along the way. Nevada County is now home to 8 different vineyards, and several tasting rooms for your enjoyment. Two tasting rooms happen to be located in downtown Nevada City within walking distance of each other, Indian Springs Tasting Room and Nevada City Winery. Both have fabulous wines to taste and there is no fee! If Port is your fancy, Indian Springs Tasting Room has introduced their very first Syrah Port which is fantastic and worth the $1.00 tasting fee. Other vineyards in the area are also worth checking out and you can get maps & directions from either of the two tasting rooms in Nevada City

we're sorry, but there are no more events scheduled at this time. Please check back again later for future additions.
Maps

From the Bay Area/Sacramento: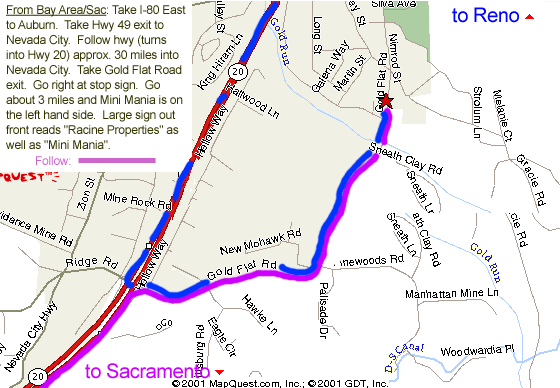 From Reno: