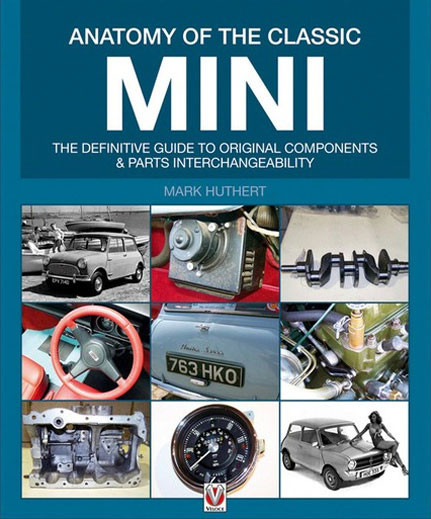 Anatomy of the Classic Mini

The definitive guide to original components and parts interchangeability.
by Mark Huthert

Paperback, 192 pages, 1835 pictures, 9.84" x 8.15", V4223
ISBN: 978-1-84584-223-9

An Essential Reference Book for all restorers of classic Minis! Includes detailed photos of rare parts. The Mini's long production life saw many model changes and literally thousands of component changes, making choosing and assessing the correct part for a classic Mini very difficult. If you wish to keep your Classic Mini going, this book will enable you to look and assess other A-series parts from other cars. No books like this have been published before for the Classic Mini.
This book is the result of years of research, and comprises around 1800 photos showing these component variations, with captions explaining which Mini model and date each component was originally designed to fit. With no German parts listed, this book is an essential volume for all restorers of the classic Mini looking for true authenticity. The purpose of this book is to enable the reader to identify important parts correctly , and help source replacements from other vehicles from the same manufactures , particularly engine and gearbox components.
This is by far the most valuable tool any and every Mini owner should have! After 40+ years of building/ restoring Minis this handy reference book not only will make the job easier but will be the greatest aid ever in helping you understand the wide crazy world of the Mini.
Independent Reviews

"Researched over many years by a keen Mini enthusiast, the book is perfect for all fans of the classic Mini that want true authenticity!" - Mini Torque
"For anyone trawling boxes of parts at autojumbles, it will be a godsend." - Octane
"This compendium could well be a useful companion for Mini fans ... It should be ideal for autojumblers and restorers alike." - Classic & Sports Car
"A perfect companion to anyone intent on restoring a Mini to perfection." - Practical Classics
"This is a unique book and one that holds much promise ... The book is recommended for general interest: I found it most interesting but is an absolute must for those endeavouring to fit the correct parts to their car and with luck will prevent incorrect parts being fitted or purchased. To that end, the £35 cover price, although seeming expensive for a soft bound book of limited pages, could save the cover price many times over. Buy it. - Cooper World
This comprehensive title looks likely to be a necessity ... Huthert's book could be an essential restoration tool. - Auto Express
This unique resource represents years of research and is something that no enthusiast for the original Mini - and there are still many thousands of them - should be without. - Speedscene
An essential work for restorers and originality fanatics. - Austro Classic
It really is quite a work ... Mark and Veloce have done a great job with a publication that will keep our classic Minis running. Anyone who is restoring a Mini - or even thinking about it - will want a copy of this book. - Classic Car Weekly
"Classic Mini restorers need look no further than this book." - Classic Motoring
"An excellent book for Classic Mini enthusiasts." - Total Kit Car

Chapter Titles
Introduction 6
Chapter 1 Bodywork 7
Chapter 2 Braking 33
Chapter 3 Breathing 37
Chapter 4 Brightwork 41
Chapter 5 Camshafts, cam followers, etc 54
Chapter 6 Cooling system 60
Chapter 7 Crankshafts & connecting rods 70
Chapter 8 Cylinder heads & rocker gear 79
Chapter 9 Crankshaft pulleys & dampers 87
Chapter 10 Distributors & drives 89
Chapter 11 Engine block & upper stabiliser bars 92
Chapter 12 Exhaust & inlet manifolds 108
Chapter 13 Hydraulics & pedal box assemblies 115
Chapter 14 Fuel system 121
Chapter 15 Gauges & mounting pods 128
Chapter 16 Glass & lighting 131
Chapter 17 Oil system 136
Chapter 18 Steering 143
Chapter 19 Subframes & suspension 148
Chapter 20 Transmission & lower stabiliser bars 156
Chapter 21 Wheels 180
Chapter 22 Handbuilt 621 AOK & 1959 Mini 763 HKO 184
Useful contacts & museums 187
Index 190