Popular Lighting Options for Classic Minis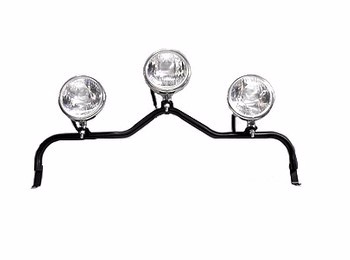 Austin Mini Three Spot Lamp Bar, Italian Job Style - Mark II
A lamp bar like the type used on the red,white, and blue Minis in the original Italian Job movie. Comes with three (3) 6" spot lamps. MKII and later cars.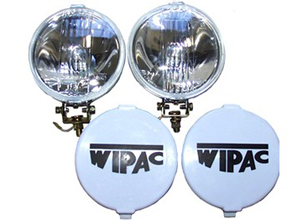 Chrome Spotlight/Driving Lights - 5 1/2" Pair By Wipac
Pair of WIPAC Chrome Spotlights, Made in England. 135mm in diameter, 50mm deep with snap on covers. Uses 55 watt H3 bulbs.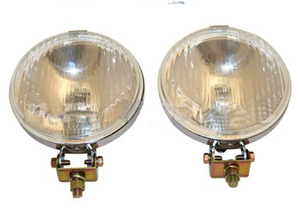 Chrome Fog Lights Pair - 5 1/2" by Wipac
Pair of high powered chrome fog lamps. 135 mm (5.5") diameter, 50mm deep. 55 watt H3 Bulbs. Comes with two light covers.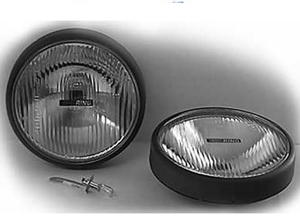 Austin Mini Round Fog Lamps Made By Ring
Yes, seeing where you are driving can be fun! Added lights look neat to the passerby, but more importantly they feel good while you are driving! Our "Ring" brand driving or fog lamps are a popular choice!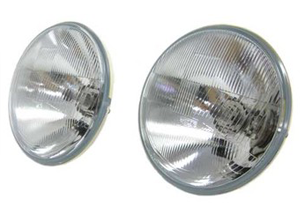 Austin Mini Quadoptic Headlight Kit For Left Hand Drive
Even at normal highway speeds it is common to "outdrive" conventional headlamps. These halogen headlamps have very bright 55/60 watt bulbs. Their special lens gives good long range vision while also projecting a beam to the side for improved vision when turning.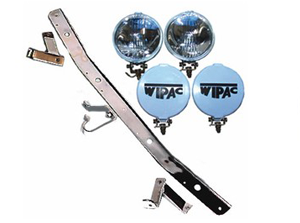 Austin Mini Black Rally Lamp Bar With 2 Pairs Of Driving Lights
If you are driving in very dark conditions -- or like to drive very fast in the dark -- you can always use more lights! This great special offer kit includes a heavy duty black lamp bar (holds up to 6 high performance lights) and two pair of chrome lamps.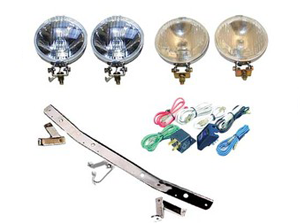 Austin Mini Black Rally Lamp Bar With 1 Pair Driving Lights & 1 Pair Fog Lights
This special kit includes a black lamp bar mounting kit (BLACK not chrome as it appears to be in the photo), a pair of chrome driving lights, a pair of chrome fog lights and a harness with switch and relay.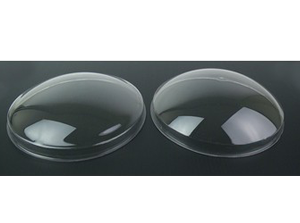 Austin Mini Headlamp/Headlight Covers
These durable plastic headlamp covers were widely available in the 60s & 70s. They protect headlamps from flying debris, yet are virtually invisible. They are used by racers to improve aerodynamics.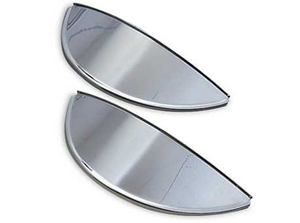 Austin Mini Stainless Headlamp/Headlight Peaks - Pair
If you are looking for a unique look then these easy to install headlight peaks or eyebrows are a 'must have'.

---
See All Classic Mini Lighting Options


Save
Save
Save