Casual Autocrossing the MINI Cooper
Autocrossing has been a popular competitive sports car activity since the earliest days of sports car driving in the United States. Offering a competitive atmosphere and the opportunity to challenge your own driving ability and the car's capabilities, these events provide adrenalin-boosting excitement and the chance to improve your driving skills under very safe conditions.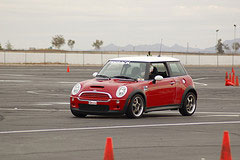 An autocross is a race against the clock over a course laid out in a large open, paved area, such as a stadium parking lot, or occasionally on an auto racing track. The course is marked out by plastic traffic cones, and typically will include one or two longer straightaways, often ending in abrupt turns, tight and loose curves, and at least one section that requires the driver to weave in and out of a straight line of cones. Because the cones are plastic, if the driver strays off course, no damage will be done to anything except the driver's score and ego.
Typically at an autocross, all participants will have the opportunity first to walk through the course to figure out how best to navigate the turns and curves in the most rapid means possible. Then, running one at a time, each participant will have two or three opportunities to drive the course. Times are generally taken to a tenth or hundredth of a second by automatic timing devices. A typical run will last from 30 seconds to two minutes, depending on the length and complexity of the course that has been laid out. Time will be added to the recorded time for each cone that is displaced during the run.
Even though the courses are quite short, limited by the confines of the size of the parking lot where the course is laid out, and top speeds don't often exceed 40 miles per hour, autocrossing is an excellent way to learn to drive better. Since the basic skills or driving consist of controlling a car while accelerating, braking, and turning, and an autocross consists of nothing except accelerating, braking, and turning, every second on the course helps improve driving skills.
There is a hard-core group of competitors participating in these autocross competitions, but the majority of participants simply want to enjoy the fun of revving engines and squealing tires. For these hobbyists the opportunity to learn to drive better, have some fun with other car nuts, and enjoy a pleasant day outside is sufficient reason to participate. Since the organizations that sponsor these events thrive on attendence, every effort is made to make the first-time novice feel welcome, get adapted to the procedures, and learn how to drive their car better in this exciting activity.
The costs of autocross participation generally are quite low, often less than $25 for a full day's events. Safety requirements are similar to track day events, with each car passing a tech inspection before running, focusing on wheels, tires, steering, suspension, and brakes. For most events a safety helmet rated for automobile or motorcycle use is required.
A number of local sports car clubs sponsor autocross events, but the major organizer of these events is the Sports Car Club of America (SCCA). The SCCA is divided into individual regions and districts, so it's likely that there is a local SCCA organization near you that organizes autocross events.
Check the national SCCA website (www.scca.com) to find a local club near you, then look at their web site for information on activities and schedules. Find out when the next autocross is taking place in your area, and drive out to see what it's all about. An excellent website for the novice and experienced autocrosser, You'll probably find at least one new MINI, and probably more, already actively involved in SCCA autocrossing, and the owner will be happy to tell you why he or she likes autocrossing and how to get involved yourself.
An autocross school is another way to sample the fun of autocrossing while improving your driving skills. Many of the regional SCCA clubs have organized autocross schools, and at least one commercial group—Evolution Performance Driving School—offers an excellent one-day school in conjunction with local clubs (www.autocross.com/evolution). As with the road-racing courses, we strongly recommend these schools whether you just want to learn a little more driving you MINI, or are thinking about becoming a serious autocrosser.
The nice thing about organized autocrossing is that cars are classed by their level of preparation, so you don't have to worry about competing directly against extensively-modified cars with your totally showroom-level MINI. In fact, SCCA currently offers four classes for street-legal cars, in addition to three classes for race-prepared cars. The "Stock" class is for cars that are equipped exactly as they came from the dealer (with a few exceptions such as allowing any tires and wheels of the same size as original equipment). For owners who wish to upgrade the performance of their MINIS, the "street-touring," "street-prepared," and "street-modified" classes permit nearly all the modifications discussed in the first three sections of this book at increasing levels of modification. You can check the SCCA regulations for exact information, and if you get serious about autocrossing, more experienced participants will be happy to explain the differences among the classes.
If you want to learn more about autocrossing, there is a variety of good information on autocrossing on the web for both novices and experienced drivers. A good place to start is www.autocross.com which includes both excellent information and great links to other websites on related topics..