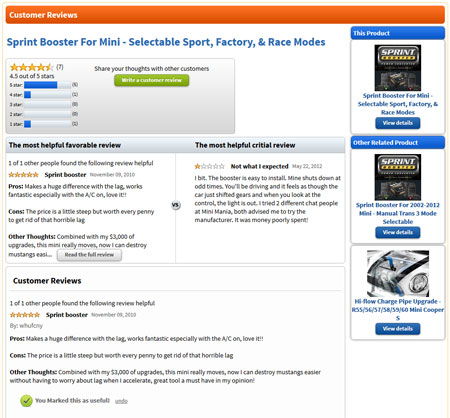 Customer Product review posts are in many ways the core of what Internet buying is about—the ability for regular folks to express an opinion about a product, be it positive or negative. Every day, tens of thousands of product reviews are written on websites across the world, and often, on just one product alone, hundreds of new opinion/review posts are written each week.
The goal of most folks when they write a review post is to share their opinion with the world about the product. Tell us the good and bad, tell us about the installation, did it meat your expectations?, etc!
A brief review of perhaps one or two paragraphs is most credible for your fellow enthusiasts, but even just a one line subjective comment is acceptable.
To enter your comments, go to the web page of the product you are reviewing and click the

button near the top of the page. Enter your star rating, review title and comments in the text boxes.
Note: A published review to qualify must consist of at least 20 words, be submitted within one year of purchase and include an acknowledgement of who you are. The review must be on the associated product page, not this article page. See previous paragraph for details.