The Mini Pick-up restoration project seems to be again getting underway. The program started almost 2 years ago when I got tired of seeing the decay on the family pick-up getting worse just sitting there.


The first step of restoring the body got underway with a bang and looked like it could be done in a couple months. But now it looks like only a couple MORE months and it will be done and ready for the next step. A visit to the body shop with camera in hand shows the progress. While it is best described as SLOOOW- it will indeed be fantastic when it is done, While it is hard to tell from the pictures, but a 'skim coat' has now been applied and we expect it to have it first coat of primer by next week.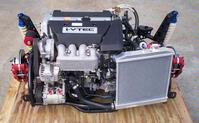 With an assurance from the shop that they will be ready to give it back to me by the end of the year I have started to ask myself a few new questions!!

My original plan was to install one of the Mini Mania VTec conversion kits into it. Keeping it as stock as possible with 10″ wheels, etc. This was to become a daily driver that simply had the torque and performance of a very stock VTec. Mini Mania has sold hundreds of these kits and it felt like a good idea at the time. But recently I have considered that perhaps the value of the Pick-up to the next generation would not be the same and besides Mini Mania also builds 100′s of 13800cc A+ powerunits.

But now for my Ultimate confusion- We anxious to see completed the development of a production kit that will allow the average DIY Mini owner to convert his Mini into an Electric Mini"Electric" Mini. This looks like it is going to be a fantastic option that will allow you to convert yet still maintain the option of being able to switch back to a conventional engine if desired. The kit
will use the standard Mini transmission and will fit into the engine bay with no modification. It may be another six months off till we have our first running sample but family pick-up has been laid up this long- what is another 6 months!

Looking for opinions: which way should I go?
Electric?
VTec?
1380cc?