2014 is the 40th year that Mini Mania has enthusiastically supported the Mini Cooper community. Our celebration started with our party at the Nevada City Adventure at the end of May and will continue with are touring across the US to participate in a number of special Mini races.

The first race will see us spending 4 days driving from Calif to Mid-Ohio for the 2014 version of the re-enactment of a Canadian-American Challenge race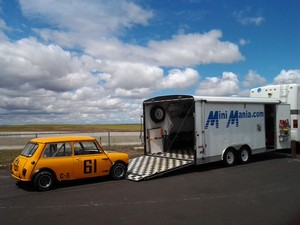 for the classic Mini Cooper. This should be a very special event with 50 Minis gathering from all corners of the country to race against our Canadian counterparts. It is sure to be a great time.
We then head northwest to Milwaukee- Milwaukee is located in the heart of the US and just 90 minutes north of Chicago. The next stop on the tour will be the Mini Meet 2014: East Meets West (July 2 - 6, 2014). This event celebrating 55 years of the Mini will also be a great crowd pleaser and while our Vintage Race Mini is not a show car- it will sure to be part of the show!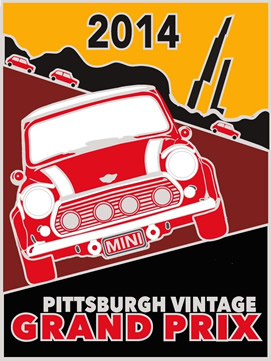 Heading southeast after about our week long stay in Wisconsin will again loop us past Chicago to make our next stop in Pittsburg, Pa. This stop will be a great opportunity to meet local Mini fans, etc. as we will be there for Vintage races two week-ends in the row. The Pittsburgh Vintage Grand Prix has grown into a 10 day motorsport event with two weekends of racing! The kick-off weekend launches our event. This bellicose big-bore battalion of 1960's and 70's legends will roar through the Pittsburgh International Race Complex (Pitt-Race) in Beaver Falls on the July 11-13 weekend.
Schenley Park is the scene of our nation's largest vintage race event. 175 vintage racers gather here each July to test their skills and entertain the crowd. The PVGP races through Schenley Park are considered by many drivers to be the most challenging race course worldwide. The Mini is the featured marque for the special race. The 2.33 mile circuit has 23 turns not to mention haybales, manhole covers, phone poles and stone walls. The Grand Prix in Schenley Park is the only vintage race event that is run on actual city streets – made possible by our Pit Crew of 1,000 volunteers.