Mountain Madness
From its lair in California's Sierra mountains, Mini Mania plots to conquer the world by getting every Mini on the globe to go a little bit faster.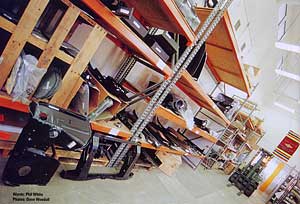 Don Racine smiles, spreads his hands and settles back in his chair to recount a tale he must have told many times. "I love telling this story," he says. "I started out East, racing a Porsche 356 in Pennsylvania. Then I moved to California, where insurance for the Porsche went through the roof. But I remembered that the thing that ever beat me was this little grey-haired old man in a Mini Cooper. And now I am one!" He laughs. "I sold my Porsche and bought a Mini, and I've never looked back!"
Fairly soon, Mini Mania began as a logical extension of Don's search for ways to make his Mini go faster. "But," he says, "it was a hobby. For the first eight or nine years I didn't work it. I had a full-time job. Then 23 or so years ago I took it on full time."
During the ensuing years Mini Mania has become a huge name in Mini tuning all over the world. In fact it is one of the main players in this still-competitive market, and thanks to an association with Mini Spares in the UK some of its produce can be found on a fair percentage of cars over here. This is a company that has grown with the Mini through a fair portion of its life cycle, and so inevitably it has turned its attention to the marque's latest incarnation. "The BMW Mini," Don says, "is very different, more commercial. The old car is much more of a pastime, whereas this you can have on track days and still drive it around in the week."
Over in the marketing department, Ken Suzuki predicts that the new version will eventually take over from the old as far as Mini Mania goes. "I think there will eventually be a natural drop-off for the older car," he says. "The New Mini is here for quite a while and we'll continue to grow it."
Moving to working with a modern car has, Don says, presented challenges unique in the company's three decades of life. "It's really different," he says. "This is our first time dealing with cars in warranty. It's the first time we've had to talk to a dealership network! We talk to them weekly, and that's how we deal with any issues that come up."
Working with something that is a thoroughly modern brand inevitably, nowadays, brings companies like this into contact with its, erm, extra-mural activities. The line between advertising and feature films is increasingly blurred, and it was almost inevitable from the outset that the new Mini would star in a film. In fact, it was pretty much a given that this movie would bow to Peter Collinson's 1969 romp The Italian Job. Mini Mania was roped in to help the Mini perform stunts that weren't part of the original BMW testing brief. "I heard," he says, "that they used 37 cars in the making of the film. The cars in the tunnel were electric powered, with a Cooper five-speed transmission."
Headline-grabbing events are all good for business, so next year the company, and a Mini, will be involved in a land-speed record event. "That's going to be fun," Don says. The eternal search for speed is a marked contrast to life at Mini Mania's base in Nevada City, a gold-rush town nestling in the Sierra mountains to the east of San Francisco. The company began life down in the Bay area, but moved up here where both the air and life in general are of a higher quality. The ski resorts of Lake Tahoe are an hour's drive away. "There's a different pace of life here," Ken says.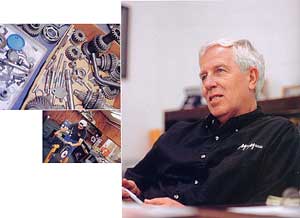 We jump in the car and drive a mile down the road to Mini Mania's new engineering shop, the domain of Jamal Katat and his dog Harry. In fact, there are dogs all over the main building too, as people bring them to work. "We're kinda laid back about that sort of thing here," Ken says. Jamal assembles engines and works on Mini Mania's cars and development projects. He is just unpacking into his new space and complains that the place is too messy to photograph. But we're entranced by the wooden-clad building. It's set just opposite a timber yard and looks like Mini Mania bought it from Papa Walton.
The place is not, however, a fitting bay. The New Mini has pushed the emphasis of the company's trade firmly towards the supply of parts rather than their fitment and conversion work on individual cars. "When we left the bay area," Don says, "we moved away from servicing and decided we wouldn't be local to anybody any more." Currently, 33% of sales are made via the Internet and this figure is climbing steadily.
"Have they shown you the computer room yet?" Don asks, suddenly excited. He rushes off to a small space alongside the main corridor and throws open the door. "This is the heart of what we do now." Three racks full of servers and cabling hum and wink rhythmically at us as Mini Mania's Website goes about its business. Keeping the hardware in-house has allowed a system to be built that links directly to the sales and marketing people, who can update the Website directly from their workstations, making it very efficient.
www.minimania.com is a good site – easy to use, comprehensive and quick to load up, thanks to the four fat broadband connections it reaches the rest of the world through. "One of the big challenges is to keep on improving distribution and marketing overseas," he says. "The marketing part is really made easier with this." He's sounding all professional, but the man looks just like a big kid in a toy shop.
Computers are still the subject back in Don's office, but this time he is describing how they help with developing new products. "This," he says, pulling an odd white plastic form from below his desk with a flourish, "was prototyped in real time. It was designed on screen then moulded right away. They call it growing the product. I don't know how they do it," he grins, "but it produces good product real quickly." I'm fascinated, but all the time the question "what the hell is it?" is running through my mind. "It's the Mini's big cup holder," Don says as if it were obvious. "Cup holders are a real issue in the USA. My wife won't buy a car unless it has good cup holders."
All this virtual stuff is well and good, but it seems that there's still a role for good old hands-on development work. "We've been through iteration after iteration of intercoolers," Don exclaims. "The reason you won't find one in the catalogue is because we can't find one that I can't break." Ah yes, the legendary Racine driving style, which, ahem, explores the weaknesses of a car during gruelling track sessions. "He's good at breaking stuff," says a passing employee with a grin. "Well," retorts his boss, "we can't do the testing that BMW has access to. So the next best thing is that I try to break it."
This is a brutal process, but accepted practice in BMW tuning. German manufacturers Alpina and Hartge are both frequently seen trying to destroy their own products on the Nordschliefe, and premium American tuner Steve Dinan subjects his output to something commonly known as his "butt dyno". If it survives a seat of the pants ride with him, it gets onto the product list.
Where the new Mini is concerned, Mini Mania is aware that not every customer is a DIY tuner. "We are working closely with a number of shops," Don says, "as it's these guys who will be installing the products." Almost without exception, however, his customers are enthusiastic about their new car. "This Mini is so good for America," he says. "You can have the ride of a lifetime in something that's cheap and which you know will take you to work as well." Best of all, the diddy BMW has done wonders for the old Mini's profile in the USA and its popularity is at an all-time high there. Mini mania is a many-layered thing across the water.
Q&A – Don Racine, Mini Mania
What exactly did you do for the Italian Job cars?
The film company wanted cars able to jump seven feet and drive away, so we sold them special uprated dampers and springs for three cars. They called back and said "we have good news and bad news. The good news is that we jumped 'em, they landed and drove away. The bad news is that the director thought it looked too easy." So they moved the jump to make it more spectacular, the cars hit the ground nose first and they had to order three more sets of suspension. Personally I don't consider that bad news.
How do you find staff all the way up here in the mountains?
The right people come to you when you're noticeable in the marketplace. Anyway, who wouldn't want to live up here? It's beautiful.
So is it just one great big toyshop, then?
Well, we work hard. But I tell people 'if you don't enjoy being here then go away'. All the key people at least are here for pleasure as much as to work. We get paid to go play, and not many people get to do that.
Text by Phil White
Photos by Dave Woodall
Reprinted from GoMini Magazine, Aug/Sep 2004