UPDATE: Mark Your Calendars! We have set a date for Nevada City Adventure 2014! Join us on Sat. May 31, 2014 for our 14th Annual Open House and Car Show. 2014 also just so happens to be our 40 year anniversary. We are already planning an EXTRA special event! RSVP on Facebook here.
Nevada City Adventure 2013 Recap
This past weekend, more than 100 shiny Minis and 200 excited enthusiasts attended our 13th Annual Nevada City Adventure Car Show and Open House. It was our most well attended event since its inception in 2000! With live music, beautiful cars, friendly people and several event features a fun and lively time was had by all! Here is a recap of the days happenings which includes a gallery of photos at the end.
Set-up and Arrival
Mini Mania team members arrived bright and early working together to set up tables, pop-ups and get the Mini Mania cars ready. We had been planning the event for months so our excitement ran deep. Our number one goal was to exude our constant mission, excellent customer service. After all, customer appreciation is the very reason Nevada City Adventure exists.
At 8:00 a.m., on the dot, a caravan of honking, sparkling clean MINIs pulled into our driveway marking the beginning of an amazing day. Soon after, a steady stream of classic Minis and MINI Coopers filled up our huge parking lot. Enthusiasts strolled our beautiful grounds admiring cars, meeting new friends and sharing ideas and stories. The weather was perfect, with the sun just starting to peek over the tall pines surrounding our headquarters. The smell of flowers and exhaust permeated the air. We could tell it was going to be a blast!
Vendors and Activities
Our show room was open with Mini Mania sales team members ready to assist participants in finding parts and answering questions. Miniology was all set up ready to broadcast the day's festivities. Expression Graphix was on site to print on demand event t-shirts. Niello MINI had a 2013 MINI Paceman on display. Our DYNO vendor, Driving Ambitions, was all set up and ready to make some noise. Richard Diablo, a columnist for MC2Mag and avid Mini model collector, had his impressive collection on display right next to his shiny blue MINI. AJ's Superior Automotive from here in Nevada County came down to perform free Sprint Booster Demos and answer questions.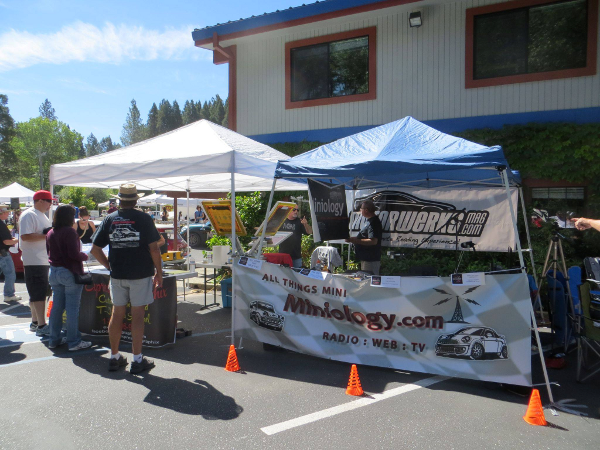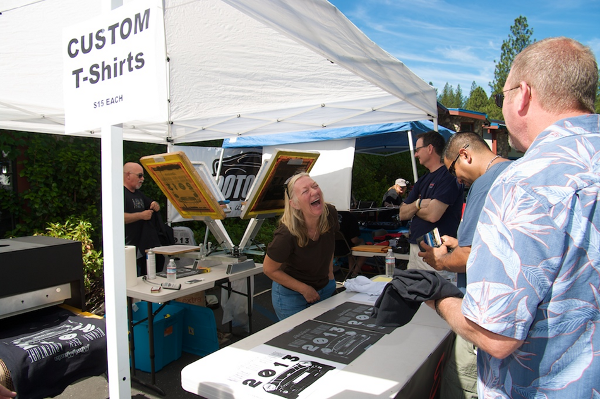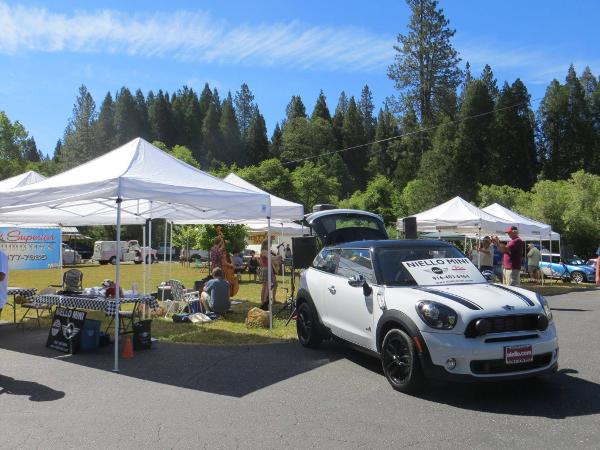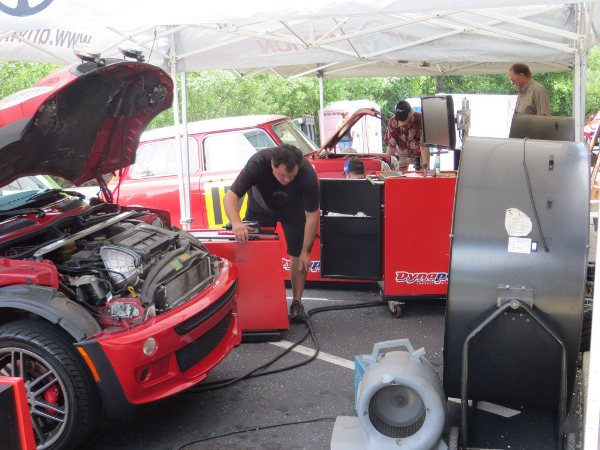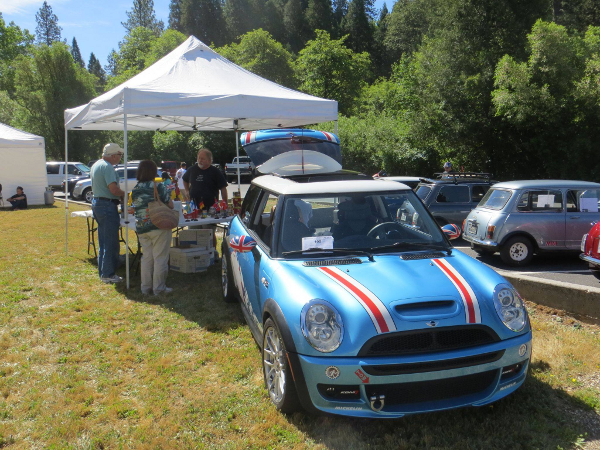 Registration and Goodies
We set up a registration and information booth where attendees received car numbers for the people's choice awards, a free lunch ticket and a Mini Mania back pack containing an event schedule, a free gift coupon, an entry form to our weekend at Lake Tahoe giveaway, promo codes for product discounts and a few other goodies. We had all sorts of fantastic giveaways donated to us by our supportive vendors. Decals, stickers, shirts, license plate frames, wheel cleaner, knapsacks, bottle openers...the list goes on. Let's just just say there was plenty of free stuff to fill those backpacks!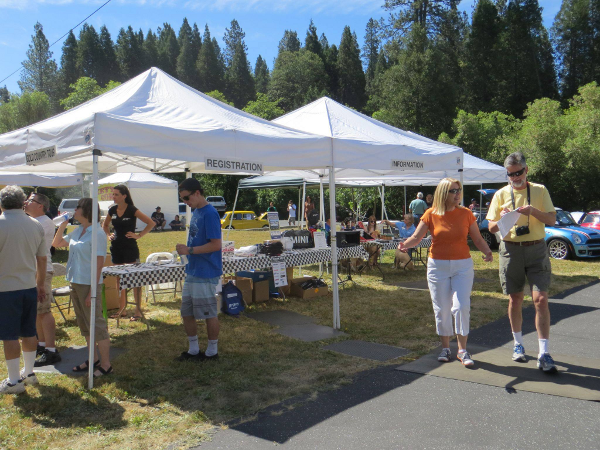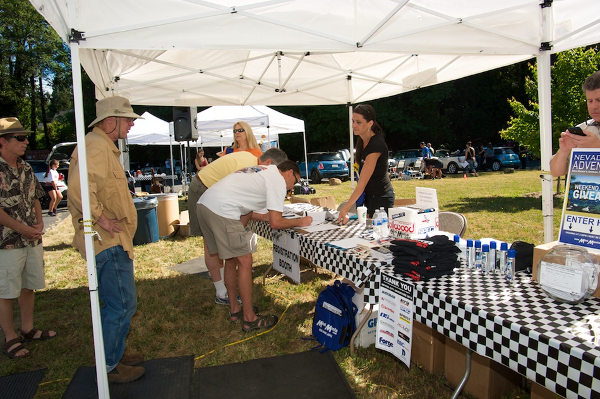 The Band
Paige Anderson and the Fearless Kin arrived, set up and started playing their beautiful mix of bluegrass, country and folk music. Their sound perfectly captured the essence of Nevada County. Their group consists of Paige, 19, Aimee, 17 and Ethan, 14. They are part of Anderson Family Bluegrass, the other members being their little sister, mother and father. In fact, their father was here to help them set up and was obviously a great supporter! They are fantastically talented young people!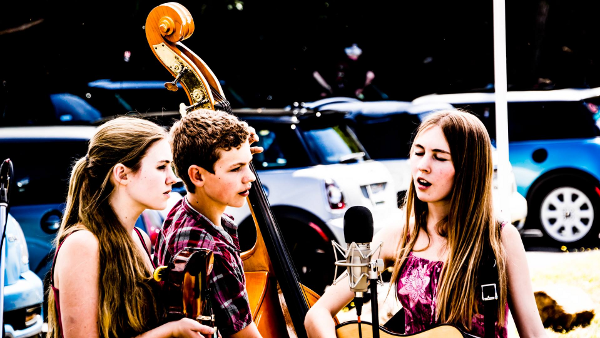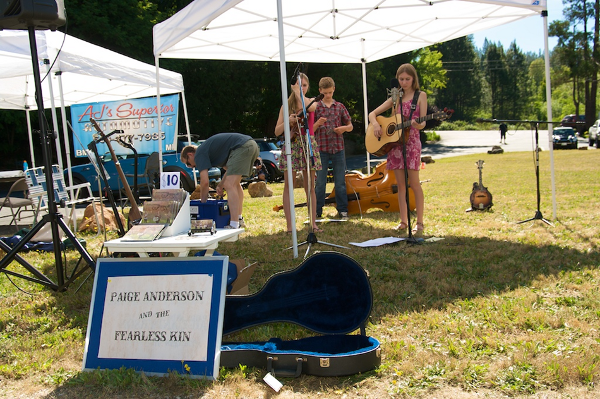 Check out their performance from Saturday:
Yummy Food
Top Dog, a local hot dog vendor, was serving up delicious, free lunches to attendees and Lazy Dog Ice Cream, a Nevada county favorite, was offering an array of delectable frozen treats. We also had a gentleman and his family travel from Colfax to set up a yummy Kettle Corn booth.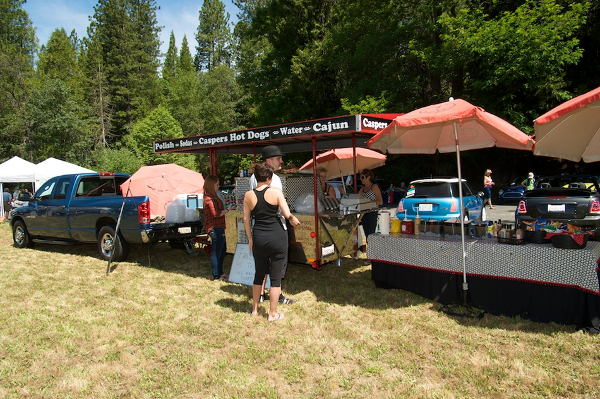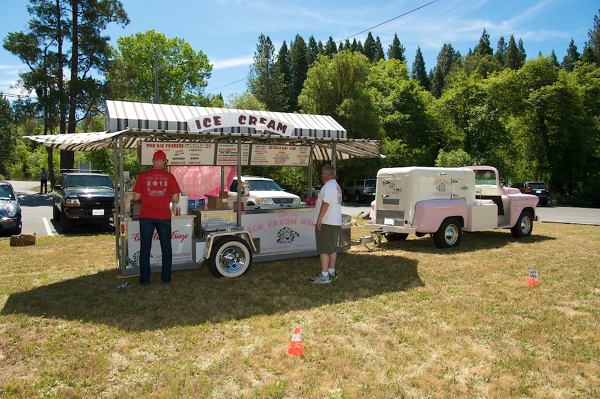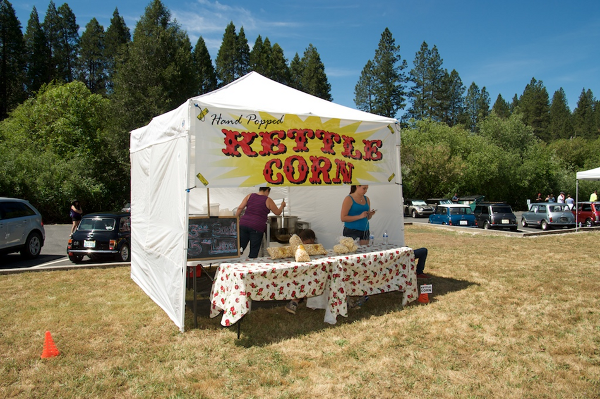 Poker Run and Scenic Driving Tour
Thirty-nine Minis lined up at 1:30 p.m. to take part in our poker run and scenic driving tour, the most we have had by far! They traveled 20 miles of windy, lush highway stopping along the way several times to collect their poker hand. The destination was Washington, CA, a picturesque, little town nestle in the Sierra Foothills on the edge of the Yuba River.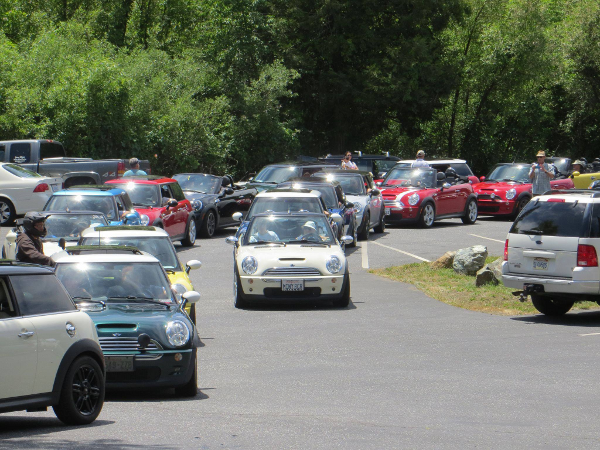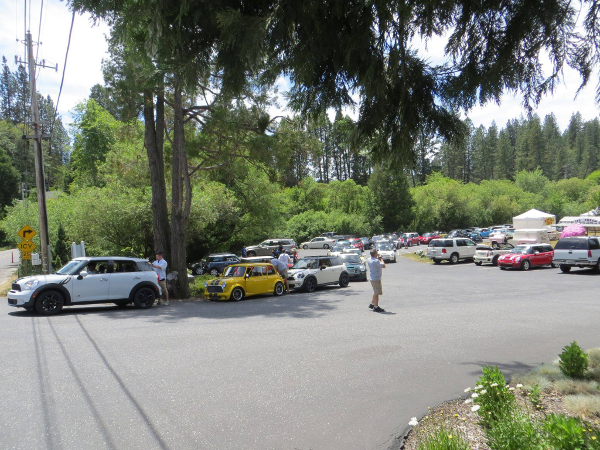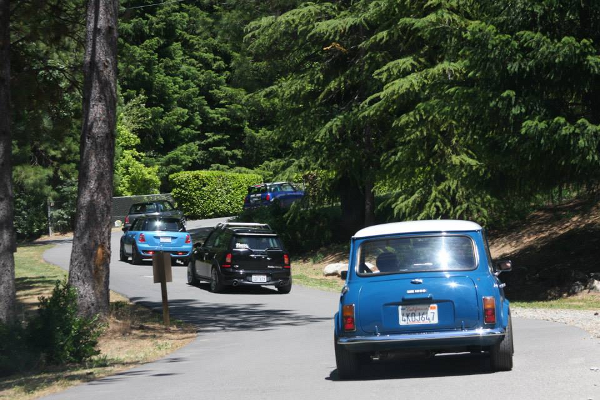 Back at Mini Mania - Awards and Giveaways
When the drivers returned they were given their 5th card to complete their poker hand. The winner, Quintin H. of Grass Valley, CA had a four of a kind and won a prize package valued at $175 that included a collapsible wash bucket stocked full of Prima car care products donated by Detailing Innovations. Our second place winner was Dani G., also of Grass Valley, CA. She also had a four of a kind and was awarded a front set of EBC brake pads valued at $150. Finally, our third place winner, Gabriel R. of Marysville, CA had a straight and won a $100 Rennline gift certificate.
People's Choice Awards
After the poker run winners were announced it was time to declare the People's Choice Awards. We had four categories and each winner was given a $25 Mini Mania gift certificate. The categories and winner were:
(photos coming soon)
Best Overall Classic Mini
1987 Austin Mayfair
Gabriel R. - Marysville, CA
Best Overall BMW MINI
2005 Cooper S
Randy S. - Modesto, CA
Most Mods Mini/MODS
1961 Austin Seven
Carl H. - Emeryville, CA
Best Looking Mini/MINI
2004 Cooper S
Norm N. - Shasta, CA
Weekend at Lake Tahoe and Surprise Giveaway
Next up, the drawing for our Weekend at Lake Tahoe Giveaway! The lucky winner was Karen L. of Roseville, CA. Karen will enjoy a two night stay at the Hyatt in South Lake Tahoe! She was very excited and so were we! As a surprise we pulled a second name from the polof submissions and Sondra W. of West Sacramento, CA won a MINI duffel bag donated by Niello MINI! And, as an extra bonus, we drew three additional names to win a NCA event t-shirt. Doug F. of Maupin, OR, John C. of Foster City, CA and James H. of Poulsbo, WA were the lucky recipients.
At the End of the Day
Overall, our 13th Annual Nevada City Adventure was a great success! In fact, we are convinced that it was our best event to date. We are already planning and scheming an extra special event for 2014. Amazingly, 2014 will be Mini Mania's 40 year anniversary!!! We want to thank EVERYONE who attended along with the following businesses, vendors and performers that helped make this event possible:
PHOTOS
Here is a link to some AMAZING photos taken by professional photographer and Mini Mania employee, John Burnett. Here is one of his fantastic photos!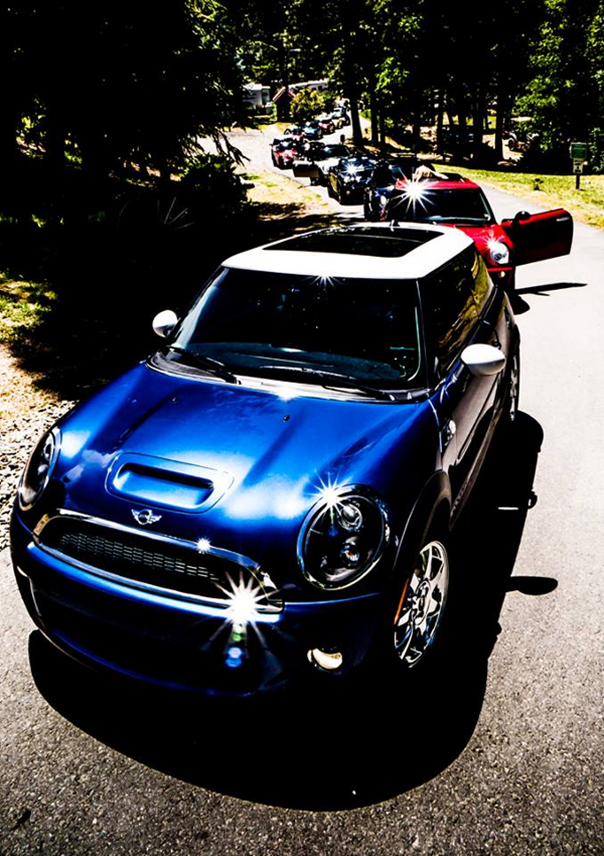 Below is a gallery of some of the photos taken at this year's NCA event. If you have photos you would like to share please email them to us at [email protected]
Thank you again and we hope to see you at Nevada City Adventure 2014!!