At Mini Mania value your satisfaction. So, if you're not fully satisfied with our products or service, please let us know so we can rectify the issue.

When Returning an Item, Please Note: Mini Mania will refuse unauthorized returns. A return authorization number is required for ALL eligible returns. See details below. Once received, please allow up to 3 weeks for your return to be processed and credit applied or refund issued. Credit may take up to 2 billing cycles to appear on your Credit Card statement.
Summary
Please review the entire page before making the decision to return an item.
Damages Due To Shipping
Products shipped by Mini Mania are properly packaged and protected; therefore, damage in transit is the responsibility of the carrier.
If a package appears damaged when you receive it,indicate the condition of the package on your receipt from the carrier.
If damage is discovered upon opening the package,notify the carrier and Mini Mania immediately.
Damage claims are handled through the carrier. Be sure to retain packing materials for carrier inspection. Claims for missing items or error in shipment must be reported within 5 days of order receipt.
Qualification For Returning an Item
Please follow the instructions below carefully to ensure your return is accepted and processed promptly:
To be eligible for refund or credit returned items must be:
in the their original packaging and/or boxes.
in original condition.
unused.
uninstalled.
re-salable.
include all documentation.

Electrical Components, DVDs, Software or Software Devices, Books and Special Order or Custom Built Items cannot be accepted for return.
Parts returned damaged or not in their original packing and/or boxes are subject to a restocking/re-packaging fee.
Please Note: Mini Mania will refuse unauthorized returns. You must have a RETURN AUTHORIZATION NUMBER.
Two Ways To Get a Return Authorization Number
Return Authorization Number (RA#) can be obtained either online (if you have an account) or by calling our office.
Through Our Online System
Simply log into your account (https://www.minimania.com/act_home.cfm)
Scroll down to ORDERS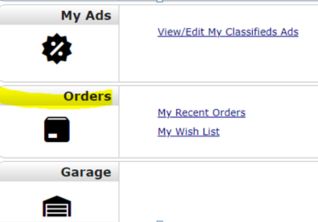 Click on "My Recent Orders". ; There you will see a list of your orders and the parts you've purchased.
Select the item(s) you wish to return along with the reason. When finished, click 'Continue' and we'll provide a form you can print and include with your item(s).
Attach the provided address label to the outside of the box.
Please do not modify the shipping label.
Returns must be post marked within 30 days of receipt of the product.
Speak To A Salesperson
Please call our customer service number at 800-946-2642 right away for a Return Authorization Number (RA#). YOU WILL NEED YOUR INVOICE, so please have it in hand.
When returning an item:
Include a copy of the original invoice in the box, including the completed return formincluded with the shipment.
Include the RA# on the invoice, return form, and on the shipping label.
Do not include the name of the Sales Tech who provided the RA# unless instructed to do so, or return processing may be unnecessarily delayed.
Package your return merchandise carefully and send it pre-paid and traceable to:
Mini Mania, Inc. Attn: Returns Dept.
870 Gold Flat Rd., Suite A
Nevada City, CA 95959
Important Information:
Mini Mania must receive returned items within 15 days of your original receipt of the product to be eligible for a full refund.
Items received between 15 and 45 days from date of receipt, or received without a copy of an Invoice, Return form and RA# are subject to a 15% re-stocking fee, and are eligible for store credit only.
Returned items are subject to inspection prior to issuance of refund or credit.
Credits or exchanges cannot be issued for used or incomplete returns.
Items determined as ineligible for credit can be shipped back to the customer upon request, at customer's expense.
Unclaimed ineligible return items will be disposed of after 30 days.
Credit will not be given for returned merchandise damage incurred in transit.
No UPS Call Tags will be issued.
With the exception of returns caused by our error, shipping costs for returned items are the buyer's sole responsibility.
We do not accept returns shipped to us "COD Freight", nor do we pay outgoing freight charges.
Refused shipments returned to Mini Mania do not automatically qualify for credit.

Thank you
Mini Mania