Yeah, yeah, yeah, we all know the new Mini is cute as hell, but is it really all that fast? In stock 115-bhp trim, the answer is a resounding "not really." True, it's a great handler, but power isn't one of its strong suits. Step up to the 163-bhp supercharged Cooper S and there's noticeably better pull, but most gear heads would still consider it more fun than fast. Drop an extra $4500 on the John Cooper Works 200-bhp upgrade, and performance improves slightly, yet still won't pin your ears back.

To accomplish that, Mini fanatics turn to Mini Mania of Nevada City, California. Classic Mini experts for nearly 30 years, the guys at MM have gotten serious about pumping up the performance of new Minis. To prove their point, they let us loose with their 250-bhp Stage III Cooper S. Chock full of Mini Mania's engine and chassis upgrades, this unassuming little box has been transformed from cute and fun to cute and Fast.

Adding nearly 90-bhp to the Cooper S engine is pretty

straightforward. Mini Mania performed the standard breathing tricks by mating their cold-air intake kit and custom exhaust header to an NRP low-restriction sport exhaust system. They then turned their attention to the engine itself, fitting MM's smaller-diameter supercharger pulley, which increases boost to 16 lb., their high-flow head, a Schrick cam, an Evotech ECU upgrade and a Fidanza lightweight flywheel. The transmission remains unchanged, save Mini Mania's short-shift kit.

To handle this much power, a Phantom Grip limited-slip differential sends power through an upgraded chassis. Mini Mania lowering springs (same rate as stock), adjustable rear anti-roll bar and a titanium front strut tower brace firm up the chassis, while Koni adjustable shocks help maintain control. Slotted and cross-drilled brake rotors with EBC Green Stuff pads tackle all deceleration duties. The standard wheels and tires have been replaced by 17x17-in. BBS RK wheels with 205/45-17 Kumho Ecsta tires.

How does it work? Like no other Mini we've driven. Wheelspin in 1st and 2nd gears is commonplace. Even with its limited-slip diff, power-on push in 3rd gear corners requires a judicious right foot at exit. Compared with a standard "S" or even the JCW car, this thing flat hauls. We're guessing, it'll turn 0-60-mph time of around 5.8 seconds. Power hits hard from as low as 2000 rpm and carries right on through to the 7200-rpm redline. Chassis balance still leans toward understeer, but feels slightly stiffer than stock. The lower ride height and Konis make for quicker reactions and better tran-sitional behavior at speed.

To really experience their Cooper S at the limit, Mini Mania president Don Racine asked if I'd like to race this car in the Ultimate Mini Challenge held at the Mazda Raceway Laguna Seca. Are you kidding? With that in mind, MM took the car back and prepped it for competition. Conversion from road car to race car was absurdly simple. They added a bolt-in Autopower

rollbar, Sparco 5-point harness, Hoosier racing tires, Ferodo 3000 brake pads and a fire extinguisher. Everything else was left intact, including the seats, radio, air conditioner, and air bags.

In the heat of the competition, Mini Mania's Cooper S never missed a beat, running strong all weekend en route to a pair of wins against a field of race-prepped new and classic Minis. Serious power and predictable handling combined to keep the blue No. 45 in front of the pursuing pack despite its road-going roots.

The cost for all our car's goodies would run somewhere in the neighborhood of $5400 for the engine/exhaust mods, $2600 for the suspension/ brakes and $1700 for wheels/tires. Mini Mania offers three stages of tune to suit different budgets or can tailor a setup specific to a customer's needs. For more info, contact them at (530) 470-8300 or www.minimania.com.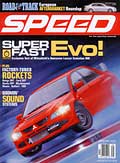 Article by Kim Wolfkill
Road & Track SPEED Magazine
Spring 2004