Shift Knob Options for Gen1 R50, R52, R53 MINI Cooper
Our wide selection of MINI Cooper Gear Shift Knobs and Knob Caps will allow you to get the look and feel that you like at great prices. Complete aftermarket range and factory original equipment versions.
Shift Knob Styles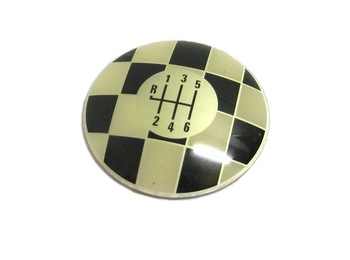 Mini Cooper Checkered Shift Knob Caps
for R50, R52, R53
Dress up your shift knob with this high quality shift knob cap. Available for 5-spd or 6-spd transmissions. This is NOT a simple stick-on decal! Each design is stamped into brass and the recessed areas are filled with enamel which is then fired at 1600 degrees for 10 hours. KNOB NOT included.

Shift Knobs for Gen2 MINI Coopers R56, R57, R58, R59, R60 & R61
CLICK HERE FOR SHIFT KNOBS FOR R55, R56, R57, R58, R59, R60 & R61 MINI COOPERS
Shift Knobs for Gen3 MINI Coopers F54, F55, F56, F57 & F60

CLICK HERE FOR SHIFT KNOBS FOR F54, F55, F56, F57 & F60 MINI COOPERS


MINI Interior Articles You May Be Interested In
---