5 Best Classic Mini Cooper Modifications
We asked our classic Mini specialists to give their suggestions for the top 5 mods for the Classic Mini. We wanted to know their opinions when it comes to multiple types of modifications.
Here we share the answers for the best Classic Mini Cooper Mods.
Enjoy!
---
Classic Mini Brake Mods
Most Classic Minis are old cars. ALL Classic Minis are a very old design. Brakes have improved enormously in the last 50 or 60 years, such that today an average delivery truck can stop better than an average Mini with drum front brakes! If you don't want to risk the embarrassment of rear-ending a UPS truck, UPGRADE those brakes!
The good news is that there have always been some great options for fantastic brakes for any wheel size combination. Either of these kits will be like night and day over the drum brakes! I recommend this kit for 10 inch wheeled cars:
---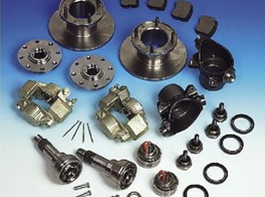 Austin Mini Brake Conversion Kit Drum To Disc 's' 7.5 Inch
No matter how well your Austin or Morris Mini Cooper handles, you still have to stop sometime, and if the car in front of you has ABS you'd better be able to stop your Mini Cooper right now! At one time the only way to get the highly desirable Mini Cooper S disc brakes was to acquire a used set and rebuild them. Now we have this kit to convert any year Austin or Morris Mini or Mini Cooper to S disc brakes.
And this kit (which I have on my own 66 Cooper S) for 12 or 13 inch wheels: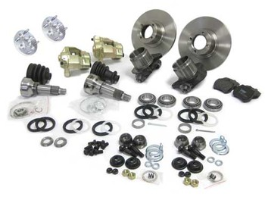 Austin Mini Drum Brake To Stock 8.4 Disc Brake Conversion Kit
It is very common these days to find Minis here in the States with drum brakes. To convert to disk brakes you have numerous choices but most of them first have to be factored by the wheel size you have or want to run. Various options are available with the 7.5" size rotors (for use with 10" or larger wheels) or the 8.4" rotors (for use with 12" or larger wheels).
Classic Mini Suspension Mods
Anytime we service the suspension on our Classic Minis, we start with the springs and the supporting structure. I feel there is just no reason to stick with the stock "trumpets" as the easy ride height adjustable Hi-Lo style are so cheap and allow customizing the look (and clearance!) for different size wheel and tire combinations.
I don't really recommend coils springs for everyone as the dry rubber springs give the Mini some of it's unique handling with the very progressive spring rate, but here are two kits that provide a complete suspension solution. First, the one I have on my car with the RED coil springs:
---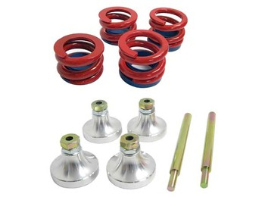 Austin Mini Coil Spring Upgrade w/ Adjustable Hi/lo Type Suspension
The Mini Cooper has earned much of it's reputation because if its superb handling and performance while driving. But many of us would not only like to have great handling but also want it to be comfortable to drive as an everyday street car. The stock Mini Cooper suspension if most often politely called stiff. With the very short wheel base and rubber cone suspension, it is hardly a real comfortable car to use daily.
And the Hi-los with the stock rubber springs: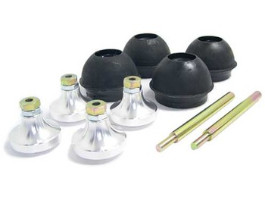 Mini Cooper Suspension Upgrade Kit W/ Hi-los & R
At least 90% of all Mini & Mini Coopers were produced with 'rubber cone' suspension. While these 'rubbers' work well in place of the more conventional coil springs, they do have a tendency to age poorly. Not only do they get hard but they will also collapse. The result is not only a Mini that is not comfortable to drive but also one that handles poorly.
Classic Mini Cooling Mods
Any Classic Mini built for performance MUST have the best possible cooling system. I have used this kit on high performance 1275 and 1380cc engines: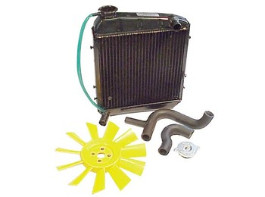 Austin Mini Super 2 Core Radiator, Cap, 11 Blade Afn , And Hoses
When it comes to cooling a Mini, nothing beats the new design Super Two Core radiator. The radiator itself is made with a very dense core, same as used by Lotus. Dimensionally it is the same as a standard Mini rad, making it a direct bolt-in replacement for one piece radiator shrouds. Earlier, 2-piece shrouds will need very minor modifications.
And for a little more 'bling' this beautiful polished aluminum radiator is supplied with almost indestructible silicon hoses, this is the kit on my car now: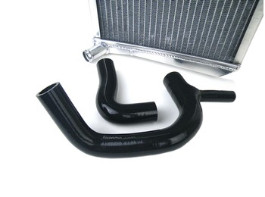 Austin Mini Super Aluminum Radiator With Upper And Lower Hoses
The C-ARA5000 is the Super trick alloy radiator for all pre-'89 Mini applications with 1275cc engines*, weighs only 4.75 lbs. If you want the best of all worlds- this is the answer! Great cooling, light weight and fantastic looks! This special Mini Mania kit includes our own Silicone radiator hose! These should last forever and not degrade with heat, time and environment.
Classic Mini Intake Mods
T
he great majority of engines I have built have used this carburetor and intake manifold. Indeed, it is the most widely used intake system on performance-built street 1275cc or bigger engines. I have this kit on the 1345cc engine in a high performance Mini Moke: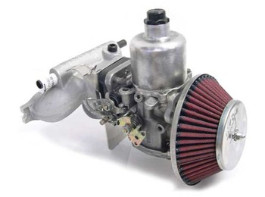 Austin Mini 1.75 Su Hif6/hif44 Rebuilt Conversion Kit For 1380 Engines
This conversion kit provides the parts needed to convert your engine to use the HIF6 1 3/4" SU carburetor on your 1380cc engine. Kit includes a rebuilt carburetor, BDK needle, intake manifold, air cleaner, spacer, throttle cable and necessary hardware.
But sometimes nothing looks quite as right on an English spots car as set of twin SU carbs as used on the original Mini Cooper S and various Austin-Healey and MG Midgets: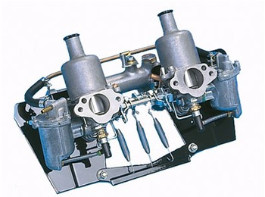 Austin Mini Twin Hs2 Carburetors With Manifold Less Air Cleaners
This complete New twin 1 1/4" SU carb set-up will solve many problems! There are times when it is not too difficult to fix a part- but there are also times it is much better to just replace it! Dealing with new carbs is the best answer when it comes to fixing a carb problem. This kit includes manifold, linkage and carbs!
Classic Mini Exhaust Mods
It's hard to beat the value and performance of the basic RC40 exhaust system for any Mini with a 1275cc or bigger engine. This kit even works fantastic with a performance 998, and would be ready to bolt up to a bigger engine when you upgrade. I have this exact kit installed on a high performance Moke: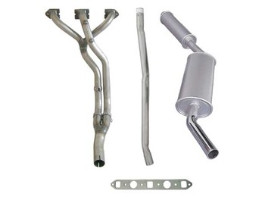 Mini Cooper Complete Exhaust System - Header And Muffler
This is the answer for anyone who wants to do a complete job with the best stuff available. The LCB (Long Center Branch) header is tops in extracting the best performance and ease of fitment. If you have tried others then you know how painful a poor fitting manifold can be. And the best complement for the header is the RC40 exhaust system to provide a mellow tone that still projects performance!
For ultimate street performance engines, or large bore competition engines, this big-bore LCB from maniflow will never be "too small"! I have this header on my own 1380cc engine: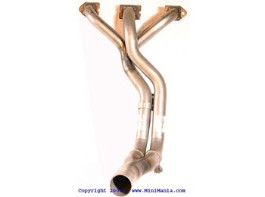 L
cb Big Bore Exhaust 2 Od Collector- Mini & Mini Cooper S
Large bore LCB for competition use or on very large bore street engines; such as 1400cc+. Y-piece outlet end is 2" outside diameter, 1.875"id.
The best quality production exhaust manifold is made by Maniflow. The Long Center Branch design has proven to be the best all-around for our 5 port cylinder heads.
While the larger bore can cause more interference with axles and shift linkage in earlier cars, It is indeed possible to install a complete large bore exhaust system with careful attention to details. This "two box" system from Maniflow connects from the big-bore header above and provides the popular center-exit look and sound: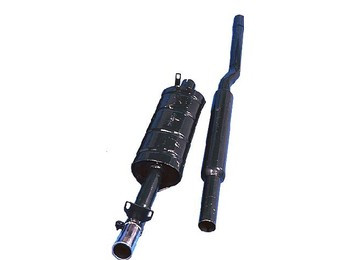 2 Inch Bore Center Exit Mini & Mini Cooper S Exhaust
This Maniflow exhaust system for your Mini or Mini Cooper has the qualities you want: warm mellow sound, great looking center exit, 2" chrome plated tail pipe, and it bolts directly to the large bore LCB or 3-1 header.