Dynapro 6 Big Brake Front Brake Kit (Hat)
The DP6 enhanced brake capacity and pad performance of the DynaPro 6 forged billet six-piston caliper is combined with 12.88" diameter rotors for this group of front wheel drive sport compact kits. These kits are the perfect compliment to wheel, tire, and suspension upgrades on daily drivers, competition vehicles, and custom styled show machines. Each kit is engineered vehicle specific to maintain full compatibility with the OE master cylinder output and factory ABS functions. Optional caliper finishes and rotor designs enable the builder to personalize the style and optimize brake performance for every individual application.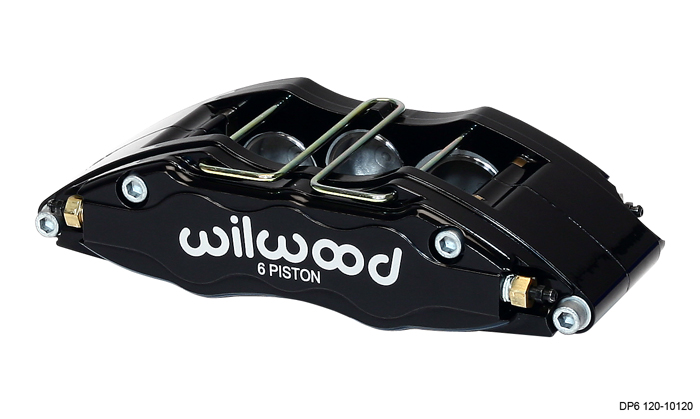 The DP6 marks a noteworthy step in the evolution of the DynaPro caliper series. DP6 calipers offer the performance advantages of a larger pad and a six piston differential bore configuration, with complete bolt-on interchange ability to the four piston 5.25" lug mount DynaPro models, and the long standing Dynalite caliper series.
As with the previous DynaPro models, the strength of the DP6 is a combination of process and design. Premium grade alloy billets are stress-flow forged resulting in a highly efficient, high strength body. Stress flow forging re-aligns the internal grain structure of the metal within the contour of the caliper body. This process is proven to provide superior strength over any other process derived from castings or straight billet block machining. FEA assisted solid modeling design technology was employed to find the optimum balance between lightweight with superior strength against deflection and body separation under high load.
In addition to the sturdy, yet stylish body, the DP6 incorporates race proven technology and the latest Wilwood performance enhancements. Pad clamping force is generated by six heavy wall stainless pistons configured in a leading to trailing edge differential bore pattern. The heavy wall pistons have been re-engineered to fully resist backside deflection at high pressures while maintaining balanced pad loading for even wear over the length of the pad. Stainless steel resists corrosion while inhibiting direct heat transfer from the pads to caliper body, seals, and fluid. Two choices for overall piston volume provide options to match caliper size with master cylinder output and bias requirements.
The DP6 uses the upgraded type 6712 pad that provide the larger overall volume size from the previous Dynalite and DynaPro four-piston models. The pads are retaining with exclusive Wilwood Quick-E clips for simplified pad service and maintenance without caliper removal. Stainless steel SRS bridge plates are used to dampen engagement harmonics, eliminate pad rattle, and protect the caliper bridges from gouging by the pad edges. Four corner bleeds and internal fluid passages accommodate front or rear mounting and simplified gas evacuation regardless of mounting position.
Standard DP6 calipers feature a high gloss black finish. Bright polished, high gloss red, and other custom Wilwood colors can be ordered to add personalized style for custom applications.
SRP Rotors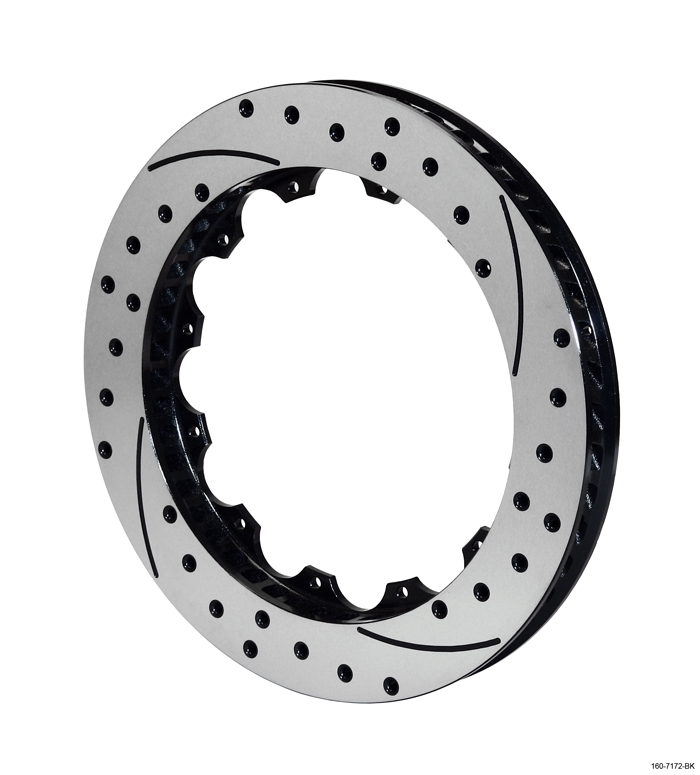 SRP Drilled Performance Rotors feature a specially engineered directional cross drill and face slot pattern that improve brake response and pad performance throughout the entire range of light to heavy braking. The venting and cleaning action of the holes and slots will reduce pad glaze and disperse gasses and heat generated during the pad to rotor interface. The holes and slots also inhibit irregular pad compound build-up on the rotor faces resulting in smoother engagement and improved pedal response in all conditions. The material removed also contributes to lower rotating and unsprung suspension weight.
Along with the excellent performance characteristics of this rotor design, each rotor is treated with a black electro coat to inhibit corrosion on all areas of the rotor. The high tech design, classic style, and aesthetic appeal of the SRP series are the perfect finishing touches to any wheel and tire detail
SRP rotors are available in all popular sizes used in Wilwood's Pro Series and Big Brake conversion kits. Kits in these categories designated with the drilled rotor option get the SRP as standard equipment.
Application:
High performance street / strip, drag race, and track day categories using vented iron rotors.
Light to medium braking on dirt tracks including late models, modifieds, sportsman, and street stocks.
Disc brake conversions on street rods and muscle cars.
Characteristics:
Medium friction compound with the low noise and low dust of a street performance compound and the increased friction characteristics of a semi-metallic race compound.
Smooth engagement with consistent response from a flat torque curve throughout its entire effective temperature range.
Good low to middle temperature wear rates.
Beds quickly and provides fast response without excessive abrasion on vented iron rotors.
Use & Caution:
Medium friction, smooth engagement, low abrasion on iron rotors.
Flat torque curve.
Low to medium wear rate, increases as temperature increases.
Street Use OK
BP-10 Compound Temperature Range & Torque Values

Temperature range and overall friction value are the primary considerations for pad selection. The pads must be capable of maintaining the proper amount of friction for stopping power within the temperatures that will be realized on the track during the event. Then, overall wear rate must be considered. For most asphalt and road race applications, compounds in the high temperature ranges over 1000°F range are usually necessary. Dirt track, drag race, and street performance applications usually operate at temperatures between 500° and 1000°F. Keep in mind that these are general ranges, and not absolute values. Many factors and unforeseen influences can affect brake temperatures. The best indicator for pad selection will always be on track performance. If pad fade (friction loss) due to overheating occurs, then improved cooling, a heavier rotor, or a higher temperature range pad may all become necessary.