Nice and
simple.



Just to put North Carolina in perspective with the other three states

(and you thought I was going to forget about demographics and history, didn't

you?) its population of about 7.5 million puts it just less than double its

neighbor to the south, South Carolina, and about the same as Georgia. And its

size of 52,586 square miles ranks it 28th in the US and a little smaller than

Florida and Georgia. Part of the Blue Ridge Parkway (which will show up in a

future article when EG climbs to the top) runs through North Carolina where

Mount Mitchell at 6,684 feet is the tallest east of the Mississippi.

(Crocodile Dundee voice again -- "That's not a mountain!." -- from someone

who looks out from his front porch at Mount Rainier at 14,000 feet plus.) But

more on that later.



North Carolina has had Europeans trying to settle in it for a long time.

Sir Walter Raleigh (the "now he's the Queen's favorite, now he's not" guy)

started a colony on Roanoke Island in 1585. (He stayed home in England while

the others sailed off.) The survivors skipped out the next year and headed

back to England. A second one was tried in the same spot in 1587 (Raleigh was

no dummy -- he stayed home, again), and shortly after the birth of the first

white child in the "New World" the Governor sailed away saying he'd be right

back with supplies. (I'm sure there's no connection.) When he finally managed

to get back (a couple of years later in 1590), no one was home and they

didn't leave a note where they'd gone. It is called the "Lost Colony." It

finally took some colonists from Virginia to set up the first permanent

European settlement, around Albemarle Sound in the mid 1600s.



North Carolina has never been the radical her southern neighbor has been.

She was sort of dragged into the Civil War and had less trouble with

integration issues in the 60s and 70s. She's certainly proud of one

accomplishment, even to the extent of showing it on the license plate. "First

in Flight" and the old biplane remind you that the Wright Brothers made the

first true, heavier-than-air, powered flight. It was at Kill Devil Hills (not

Kitty Hawk) that they made four flights one day in 1903, each longer than the

last. The 5th totaled the plane so they hung it up for the day. The first

flight went for a total of 120 feet, and the last 852 feet.



(Back to Ocracoke!) On the morning of the 17th I woke up EG, made sure

she'd survived the thunderstorm and headed out for the drive up the islands.

The recorded mileage at that point was 3,040 so we'd covered 1,158 miles

since leaving Miami - not counting the 2.25-hour ferry ride!



Ocracoke is not all that long, and, like several other places on the

trip, even though it is very narrow, there are few glimpses of the sea. Park

the car and walk either direction from the road and in less than a minute all

is revealed, however. At the end of the island there is a small ferry (this

one's free) that makes the ½ hour run to Hatteras Island. My timing was

better than for the ferry to Ocracoke. I drove straight on as the last car to

board. Hatteras is much more built up to my disappointment (and to the

natives, I imagine). I'm still puzzling over the building craze here and

other places for houses that are going to be knocked down or flooded or both.

It's not a matter of if, but when. Strange.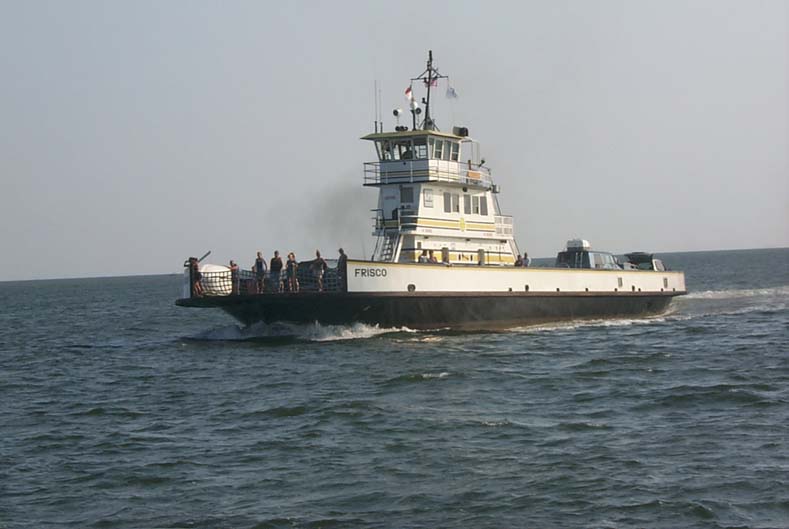 Ocracoke to Hatteras Ferry. Even smaller than the last
one.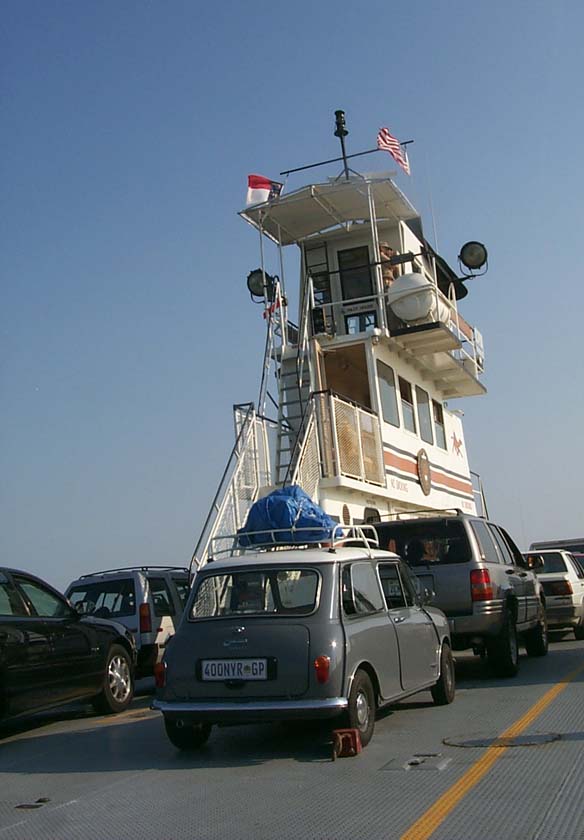 Back row this time on the odd shaped ferry.



It is on Hatteras that the big lighthouse was moved in 1999. You may have

read about it. What do you do when you have supposedly the tallest,

freestanding brick building in the form of one lighthouse and if you don't do

something, the sea shore erosion is going to make it into one wet pile of

rubble at the bottom of a cliff? Of course. You get funding from Congress,

find a lot of people with time on their hands and pick the 1870-built

building up and move it 2,900 feet from where it started. There's a bit more

to it than that. It's actually quite interesting. Look it up! I drove by to

have a look. It's still standing, so I guess they knew what they were doing.



EG and I enjoyed the drive up the islands and detoured off to Roanoke

Island to visit the Fort Raleigh National Historic Site and learn a bit more

about the now-you-see-'em-now-you-don't settlers. A Ford van followed me for

quite a ways onto the island and into the parking lot. When I got out of the

car they explained that they weren't going to visit the site but just wanted

to know all about the car. I should have been charging admission. If you take

the time for a visit, plan on spending a while. There is lots to do and see.



The next stop up the way was at the Wright Brothers' site at Kill Devil

Hills. There is a nice display in the field showing the takeoff rail and the

first four flights, marked with nice stones. It puts the length of the

flights in perspective. The museum is nice, too, if a bit crowded, with

recreations of the first plane and a predecessor glider. (The brothers didn't

just build a plane and take off. Besides the engineering -- including

building their own scale wind tunnel -- they made thousands of glider flights

off of the top of Kill Devil Hill to teach themselves to fly, and to survive

crashing!)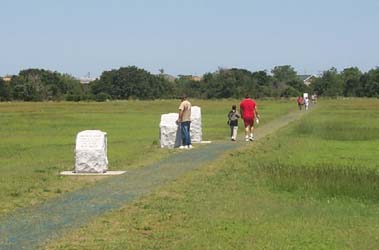 I'm standing just to the side of
where the flights took off. The stones mark the
landing points of the four
flights on December 17, 1903. The people weren't there then.



There is some Civil War history connected with the Outer Banks, if you

care to do some reading. It doesn't rank up there with major campaigns,

however, and tends to get overlooked. Most of it was over early in the war

with the Union in charge of the area's forts. With the help of a good Civil

War book you can find some places to visit if you look. I guess the thing

that stands out most for me is that General Burnside took part in these early

battles. He's aptly named and easy to pick out in any photograph. Just look

for the huge sideburns.



At Kitty Hawk I left the islands and followed 158 then 168 towards

Virginia Beach, Virginia to meet up with Howard Collins. The quality of the

drive varied, but it held my interest. And the rock I almost hit turned out

to be a turtle. That's one lucky shell carrier thanks to EG's nimble move.



Just before Virginia, I stumbled on the workshop of a representative of

an American icon.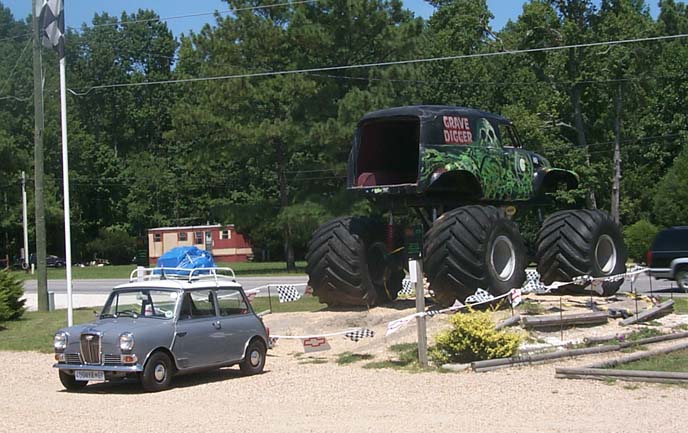 Grave Digger, a Monster Truck, with
EG nervously looking over her shoulder.




It took a Tourist Move but the
obligatory photo was taken.



I arrived in Virginia Beach a little earlier than anticipated so I

checked into a motel, tried to recover from another day in the heat and

called Howard Collins. Howard came by for a look at EG and the required

photograph and then drove me back to see his car.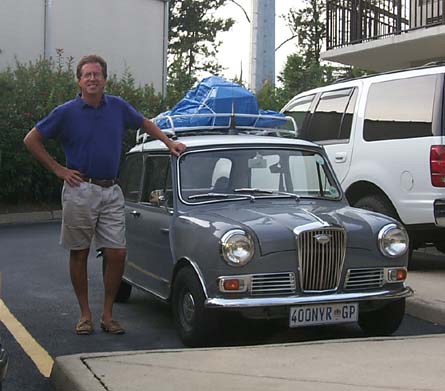 Howard Collins holding back EG from
rubbing against his leg.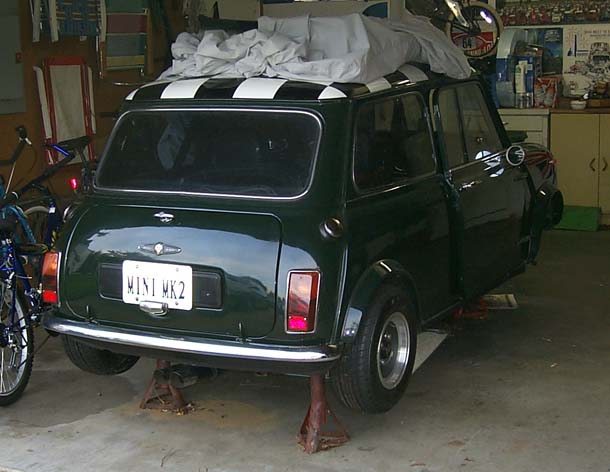 All jacked up and nowhere to go. Howard's
Mk II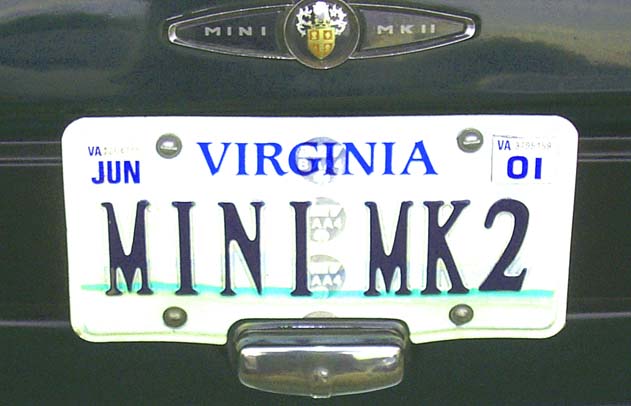 Just in case you had any doubt.



Howard has a much-modified Mk II 850. Even its mother wouldn't recognize

it. The 848 is gone, replaced with a nice 1275. It is an interesting car.

Originally it had a speedometer reading in kilometers, was LHD and has small

indicator lights on the front wings. We've speculated on its origins but

don't really know. Belgium? France? Let Howard know if you have some insight

into how he can figure out his car's paternity.



So, we discussed Howard's car and Minis in general before being

interrupted by a phone call. Some nut from Canada, I mean Big Al wanted to

know more about Howard's other car, the Mk I S for sale. Big was ready to buy

and was working out a time when he could put the Mini Hauler on the road to

pick up the car. Big and I exchanged a few pleasantries using Howard as an

interpreter (I don't speak Canadian very well) and, after hanging up, Howard

showed me the S. It was a genuine Mk I but, as advertised, was going to need

a lot of work to put right.



While Howard and I were talking Minis, a neighbor arrived to see his

wife. The neighbor left a while later (we were still talking Minis) and

mentioned that Howard's wife was a bit nervous that Howard was buying a third

Mini. While Howard and I were looking at the S in the back yard, his wife was

on the back deck on the telephone. As Howard and I headed out the gate to

find a place to have dinner, I waved at her and told her not to worry. I'd

only talked him into buying three more cars. I swear she blanched!



Over dinner, the stories kept flowing, but here's one you may not have

heard. You may think I'm a bit daft for this trip I'm taking (Go on. Admit

it. You do.), but what Howard did recently makes me look positively sane. He

made the same trip I had just finished at this point, but in reverse. He went

from Virginia Beach to Florida only he did it on a jet ski! Corner him and

have him fill you in on the details.



The night of the 17th finished with me in my motel room planning the next

day. You can't turn around in Virginia without tripping over US history.

Jamestown and Williamsburg are near by, for instance. The plan was to do a

little sightseeing and then stay in the general area the next night with

another Mini nut, Ron Graham. Not everything worked out quite like I planned.