Pierre, South Dakota (That's "Peer," remember.)



Once dinner the 27th was out of the way it was time to dive into EG to

see why she was running a bit "off," and, while I was at it, it was time to

change the tarp. It had flapped around for 3,900 miles since leaving Miami

and had worn through in a few spots. I was heading for the Northwest. It

might rain.



There's also a small story about the tarp. You've been looking at it for

about 18 or 19 articles. You may have noticed. It's blue. Well, while

enjoying the MADMEN's and Jeff's hospitality at the J & W garage in St.

Louis, I took a little flack for the blue-colored tarp. You may remember that

Karl (he of the "North to Alaska" and back Mini trip) came back through the

Pacific NW. For some reason he noticed a lot of blue tarps. I would have

thought he would have spent more time enjoying the great scenery, but he

seemed to fixate on the blue tarps. He saw them everywhere. (I think he

probably needed a nice rest by that time in his trip.) Eventually, he came to

identify the blue tarps with that part of the country.



Anyway, he was giving me a bad time about buying a blue tarp - like it

was necessary or I wouldn't be able to get back into Washington. I told him I

bought it in Florida, but that didn't seem to appease him. The others

(remember all the help I had standing around watching me work, and spill oil

on Jeff's floor?) chimed in and I was outnumbered. Knowing the tarp was

wearing I went looking for a replacement in Knoxville. I looked for a blue

one. Honest. They only had silver so that is what I ended up with. I really

wasn't afraid of crossing the Washington boarder with a silver tarp.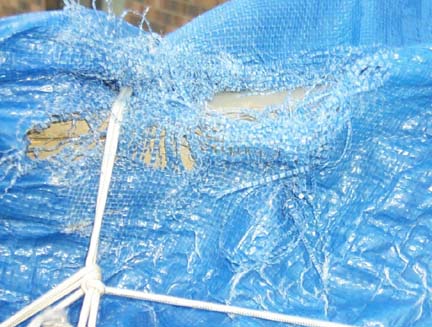 The blue tarp has seen better days and is soon to be
replaced.



Back to EG. I dug the heavy toolbox out of the boot after unloading all

the other things stuffed around it (you can really pack a lot into a Mini

boot if you try!) and opened the bonnet. (By the way, like the English

Wolseley Hornet versions, the South African Wolseley 1000 has an interior

bonnet latch.) I started by checking the condition of the ignition leads and

distributor cap. They appeared OK, so I pulled the plugs. I wanted to check

their condition and gap. The gap was fine and the color was close. No clues

there.



The next check, done using a remote starter, since the nice push button

solenoid had been replaced with the Ford part, revealed the problem. The

points were barely opening. The distributor cam was dry and the rubbing block

had been wearing itself down and, in fact, transferring some of its material

to the cam. I cleaned everything up, lubed the cam, and cleaned the end of

the rotor, as long as it was out. Everything else checked out: fluids, fan

belt, etc. The air filter was a little dirty, especially around the intake

side, so I rotated it 180 degrees as long as I was in there. With everything

back together, EG started right up and sounded better. Funny how if you pay a

little attention to them they perk right up. There's a life's lesson there

somewhere.



Changing the tarp was the next task and it turned out to be the most

difficult. John and I (way back in Palm Beach Gardens, Florida days) had

really tied it well. Once the blue one was off and surreptitiously deposited

in the motel's outside garbage bin it got even harder. You see, the wind was

blowing. The wind ALWAYS blows in South Dakota - and North Dakota, for that

matter. Anything short of an octopus would have had a tough time wrestling

with a big tarp in that wind. I'm sure I amused more than one of the

lookers-on. Probably one of the most exciting things to happen in Pierre on a

Sunday night. Nobody offered to help. Probably would have spoiled all their

fun.



Thus ended Sunday, August 27th after having traveled 3,902 miles since

leaving Miami on August 12th.



A momentary diversion here. Some of you (especially the Missouri crowd)

haven't been following along very closely in your songbooks. It took a South

African follower to point out that you can't get from Jefferson City,

Missouri, to Lees Summit on Highway 60. My mistake. I mistyped. It should be

Highway 50. (Lewis and Clark didn't have this problem. "Ah, I think we'll

follow the river today. OK, Clark?") Also, if you are having trouble finding

some of the roads (especially starting with the Missouri area) you may have

an old map or are using one without enough detail. I had good maps from AAA

and also was using the Streets and Trips mapping software to find some of the

smaller routes.



Speaking of Lewis and Clark, we left them August 20, 1804, in the area

currently known as Sioux City, burying Sgt. Floyd. You may remember that two

days before they had celebrated Lewis' 30th birthday with, among other

things, an extra gill of whiskey. What's a "gill?" you may ask. A gill is 4

ounces of whiskey. That's about the same amount of alcohol as is contained in

four beers, US style anyway. That's enough to raise the blood-alcohol value

of most people to 0.10 percent; i.e., the amount that will get you busted in

most places for driving under the influence. Fortunately, it was a few years

before the State Patrol came into being, and with a speed of 15 mpd (miles

per day) in a boat, even a State Patrol officer would have trouble enforcing

a DUI.



A bit up the Missouri River from present day Sioux City, the C.O.D. shot

their first buffalo and dined well. They were going to dine well for a quite

a while. The rolling plains they were working their way onto were covered

with massive herds of buffalo, not to mention elk. There are even mentions in

the journals of having to shoo the buffalo away as they walked in the plains

because the animals kept getting in their way!



After a number of adventures, the group made it to the current day Pierre

area by September 24th (four months to my 3 days) where the expedition almost

came to an early end. Here they ran into the Teton Sioux. A confrontation

came about. How close to an open fight the two groups came we'll never know

for sure; however, it is evident from the different journals that the group

came close to getting wiped out. They would have taken a lot of the Sioux

with them, but the numbers were against them.



After several attempts to convince the Sioux of their grand intentions

(the Sioux weren't buying), the C.O.D. finally made their way out of the area

on the 28th. It was almost an escape. They left behind bad feelings, and took

bad feelings with them. And they still had to come back through the same area.



What are the statistics of this area now? South Dakota, the 13th State on

the route covers 77,123 square miles (rank 16) just a couple hundred square

miles less than Nebraska. Spread over those 77,000 square miles are only

738,000 people, by far the least of the trip. Doing the arithmetic, you'll

come up with only about 10 people per square mile. This is a State in which

you learn to talk to yourself. It's also one with huge open prairie land, but

it still climbs a bit. Harney Peak is 7,242 feet above sea level. Remember

Mt. Mitchell, our tallest peak east of the Mississippi? It was 6,578 feet.



The French Verendrye brothers poked around in this area in 1743 and

claimed it for France. The US took possession from the French with the

Louisiana Purchase in 1803. The Dakota Territory (including present day North

Dakota) was created in 1861. In 1874 a guy you may have heard of was leading

an expedition in the area and discovered gold. Later he discovered lead and

arrows - George Armstrong Custer. It wasn't until 1889 that the Dakota

Territory was split into two new States, North and South Dakota. In 1890,

Wounded Knee happened. About 250 Indians were massacred in the last real

battle of the "Indian wars." And in 1941 the Rushmore Monument was finally

finished.



The Deadwood area saw a little action and played house to some

famous/infamous names: Wild Bill Hickock (killed there in 1876 holding the

famous "Dead man's Hand" of aces over eights), Calamity Jane, Doc Holliday,

Wyatt Earp.



And if you are into Hogs (the 2-wheeled kind) the name Sturgis is magic

to your ears, as thousands of motorcyclists descend on the town in August for

normal happenings when thousands of motorcyclists get together. Use your

imagination.



Pierre, the State capital, is another one that had to work to keep its

status. A $500,000 campaign gained Pierre the capital over such other

well-known places as Mitchell and Huron.



I said goodbye to Pierre early the next morning, Monday, August 28th. I

was facing another long drive with a stop the other side of Bismarck, North

Dakota. I was also curious to see how EG would respond to the change in the

points.



I followed 83 north out of Pierre and stopped long enough to fill up with

fuel and take a photograph of the beautiful capital building. No photograph.

From the side I was on, the photo would show lots of trees and little

building. The first part of the drive headed NE into the rising sun. It set

the prairies ablaze with color. I can see why some people fall in love with

this part of the country. Most get over it along about October or by November

at the latest.



The early part of the drive went through an interesting country of lakes,

streams and ponds mixed in with all the farm land. I imagine that each year

there are many hunters around that show up to help rid the world of the duck

menace.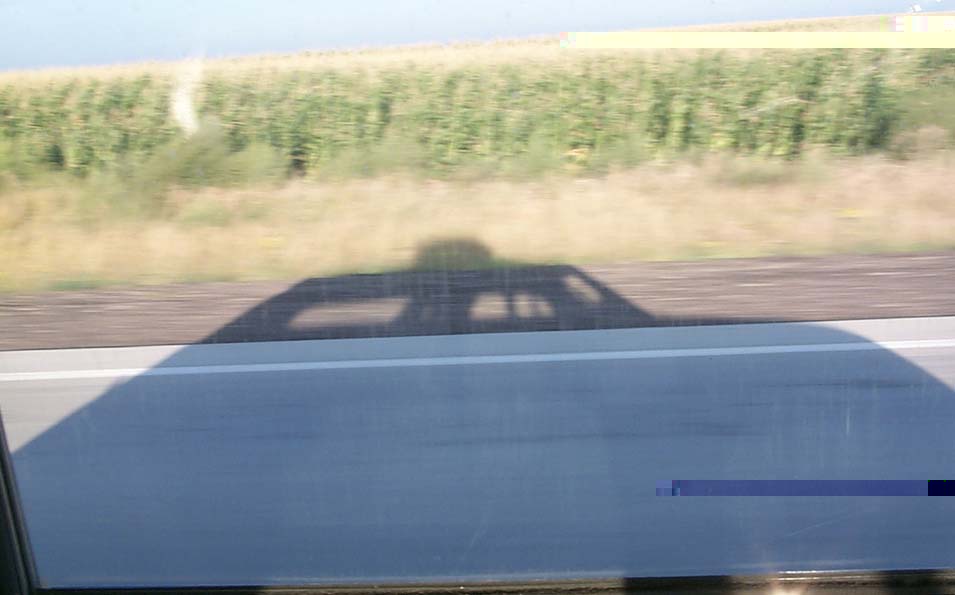 For most of the morning I was shadowed by this black
car.



Gas mileage had improved dramatically and EG was running sweetly. All the

elements came together for a nice drive…then I came up out of the more

protected lower area and ran into a North Dakota head wind that had me paying

a lot more attention to staying on the road and keeping speed up. EG, with

the roof rack loaded, was susceptible to winds and wanted to be bounced

around more than I was used to with Minis. Not unexpectedly because of the

harder driving, the gas mileage fell off. And not unusual for the trip and me

so far, I found myself between gas stations. I all but coasted into a station

in Sterling, North Dakota, (just off the east/west I-94) and filled up. Glad

I'm not a lightweight. The wind was buffeting me around. The natives didn't

seem bothered. Must have lead in their shoes.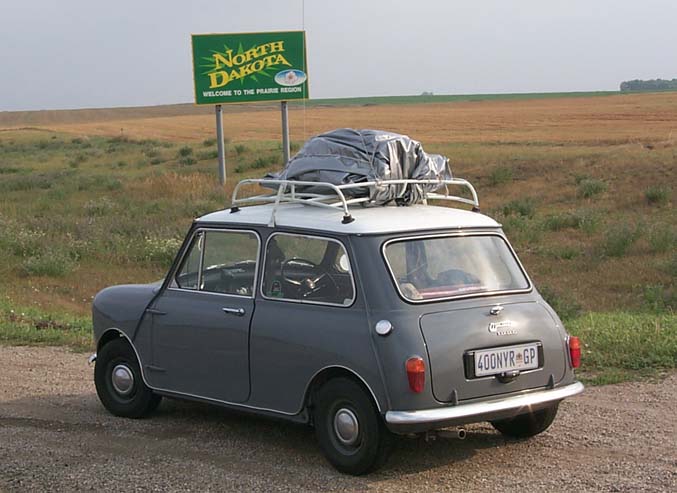 Another Welcome.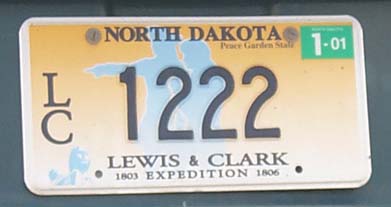 An appropriate North Dakota plate.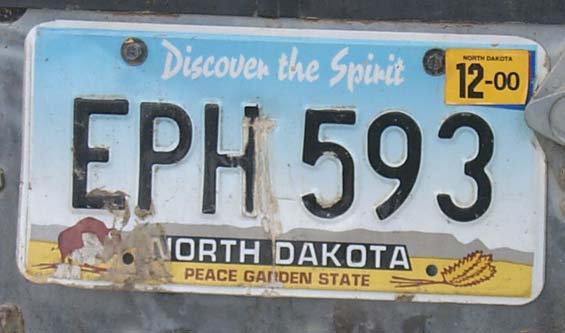 Another variety.



I originally planned to follow much of Highway 1804 closer to the river.

The drive would have been more interesting and probably a little less windy;

however, I wanted to be able to spend some time at a Lewis and Clark Center

farther along and 1804 would have been a slow way to get there. By the way,

if you are looking closely at the map, you'll notice that 1804 follows the

east side of the Missouri River, and there is another, 1806, that follows the

west side. Those more clever than I will recognize the numbers as the dates

the Corps of Discovery traveled up the Missouri on the way to the Pacific

Ocean and back down the Missouri on the way back to St. Louis. The highway

numbers are not a coincidence.



The next stretch of the trip wasn't much fun, either, because of the

wind. I turned west on I-94 to follow it to Bismarck. To continue my welcome

to North Dakota, the wind shifted and seemed to come out of the NW. Good

thing a Mini is narrow and the lanes were wide. At least I can't say that the

drive on I-94 was boring. Not boring. Not fun, but not boring.



In Bismarck I finally dumped the Interstate and headed north following a

short stretch of River Road which turned into 1804. That was followed north

until it turned into 83 once again. From there I went a short drive until

just north of Washburn. Right near the junction of 200 and 83 is a great

Lewis and Clark Interpretive Center. The displays cover the entire trip and

do it well. There are actual artifacts and reproductions of many of the items

carried along. Well worth a stop. And the more you read about the trip, the

more amazed you will be.



After far too short a time at the Center (almost any amount of time would

have been too short!), EG and I found a gas station and filled up. Although I

didn't calculate the mileage and EG was running well, it was apparent that

mileage had fallen off more than I could account for because of the wind. It

looked like the evening's stop would see me checking under the bonnet, again.



From the gas station I wondered down a number of small roads (200, 48,

25, and 31…I think!) until I hit I-94, again. The country was much as I'd

seen earlier in the day, and it was easy to time shift and imagine what it

was like in 1804.



By taking I-94 I was leaving the path Lewis and Clark followed for a

while. It becomes more difficult to follow the Missouri River without

spending more time than I was willing to allow. There's some interesting

country in that section of the Missouri. Maybe more about that next time.



I-94 eventually lead me into Montana and the thriving metropolis of

Glendive, and I say "thriving" with all the sincere sarcasm I can muster. I'd

been warned that glenDIVE didn't have much going for it. (There is a worse

stop coming up.) The warning was correct, but it did have a hotel at a decent

rate and I unpacked the car, found something to eat and decided to take a

look at EG. So, with the odometer reading 6,240, we'd traveled another 456

miles that day and now totaled 4,358 for the trip. So, what was going on with

EG's gas mileage?