Wolseley Across America: FLORIDA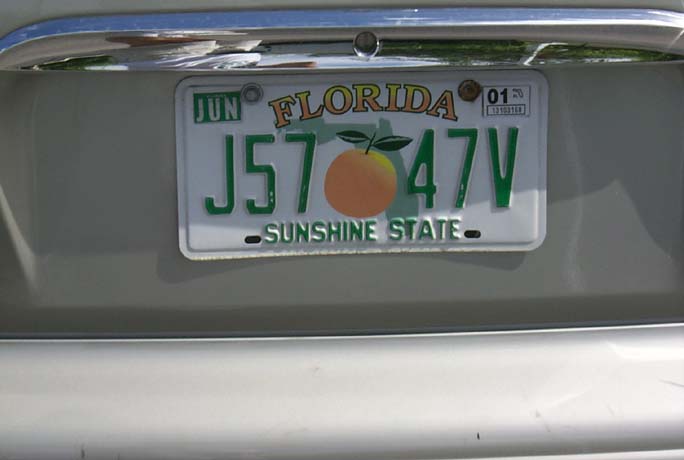 What can I say about Florida; except, it is everything you've ever seen

or read about it. It is almost a cliche of itself. Think of LA with humidity,

bugs, alligators and the worst drivers in the US. Here's a tip for car

makers. You could save a lot of money on Florida bound cars. Well, not a lot

per car, but by leaving out the turn signal bulbs on each car it would add

up. Nobody uses them anyway. OK, that is not entirely true. Occasionally, I'd

see someone driving down the freeway with the left turn signal on, and on,

and on... I finally figured it out. It is a handy place to hang the cell

phone on those few times when it is not being used.



And what's with the water faucets? In most places in the US, H = Hot and

C = Cold. In Florida the H is still right, but C = Tepid. Probably has

something to do with the fact you can't bury the water pipes very deeply.

(See following discussion about elevation!)



More technically, Florida has a population of about 14.7 million people

and is the 22nd largest State at 58,560 square miles. (Gee, it looks bigger.)

And here's a big tip. If you want to see Florida, do it as soon as possible.

I figure another degree in global warming and Florida will cease to exist.

The highest point in the entire State is only 345 feet above sea level.

Miami, elevation 20 feet (Sure, about the third floor of one of the condos).

Ft. Lauderdale, elevation 17 feet. Lake Buena Vista elevation 100 feet. Oh,

nose bleed territory! St. Augustine (the oldest European settlement in the US

to be continuously occupied), elevation 7 feet. You get the picture.



What Florida doesn't lack is enthusiastic Mini Owners. And here's another

tip. If you are having cooling problems with your Mini, contact any of these

guys. They've got it figured out.



Between the time I arrived in Florida from the cross country trip and the

time the Wolseley finally arrived in Miami, I was fortunate enough to talk

with and meet a few of the faithful in the area north of Miami.



I think the first person I was in contact with was John Rowland of Palm

Beach Gardens. John and I exchanged emails for a few days before we were able

to hook up over a pizza dinner. His story, like those of the rest I've talked

with, is too long to go into detail, but John has been a Mini person for

years. He no longer owns a street Mini but just brought his Mini racer out of

retirement this year after being away from racing for about 20 years. Seeing

his car was a bit of a 1970s, C-Sedan flashback -- back to the days when

Minis still raced as, well, as Minis. John has done some upgrades and

certainly will run faster than ever, but will be content to run mid-pack

behind the current generation of "silhouette" cars. Here are a couple of

peeks at John's car tucked away in the back of a very well equipped garage.

(There's also an early shell hidden away just "off camera.") John comes back

into the story later.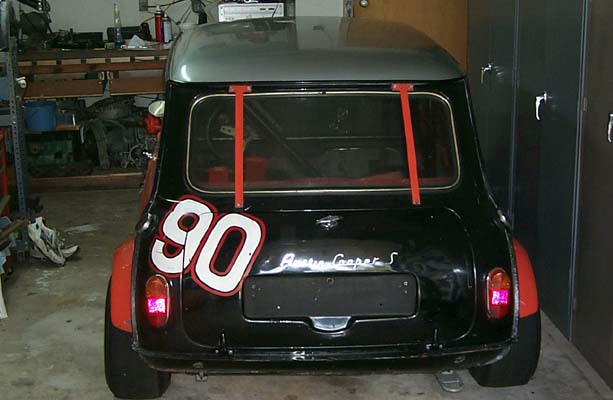 John Rowland's Mini wishing it was headed the other way...to a race.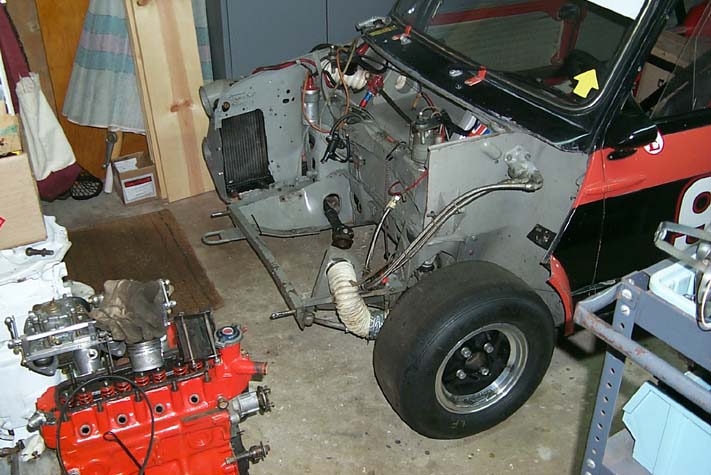 A look at the business end...with the business out for surgery.



John also put me in touch with West Palm Beach Mini owner Thom Peterick,

but, for some reason we weren't ever able to hook up. Me being stuck in

Riviera Beach without transportation for two weeks may have had something to

do with it.



Once the shipping company confirmed that EG (I'll explain in a moment)

was coming into Miami and not Port Everglades, I relocated to a hotel in

Miami and rented a car



EG. Well, the Wolseley is mostly a gray color and Ryno Verster, the

builder, started calling it Earl Grey. I'm not much for naming cars, think

it's kind of silly in fact, but Earl Grey was the name before I went to South

Africa to complete the purchase and the short form of EG seemed to stick. I

think she is more of a Lady so I tried to get the name changed to Lady Earl

Grey, but LEG just doesn't work as well!



So, now I'm in Miami and have rented wheels. That allowed me to meet up

with the Jim and Jay show. Both live somewhere north and east of Ft.

Lauderdale. Quite frankly I don't have a clue what the place names are. I

just followed Jim's directions to get to his house and he drove to Jay's. I

still don't know where I was!



Jim is Jim Sperry the owner of a very nice 1966 Cooper S that has been

breathed on a bit. It looks good and runs just as well. Jim is another long

time Mini owner and has stories to tell. If you get a chance to meet him, get

him to tell you how he flipped a standard 850 street car, on the street...end

over end!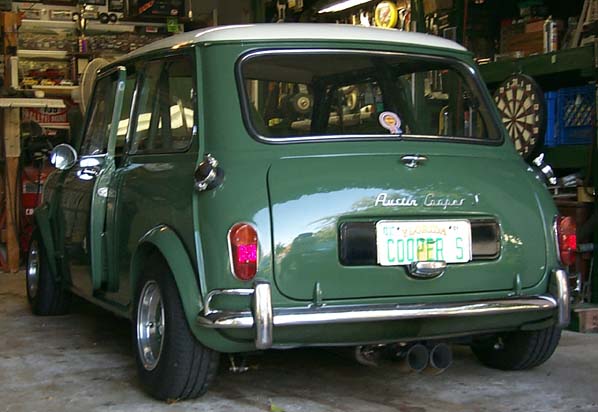 Jim Sperry's nice Mk I Cooper S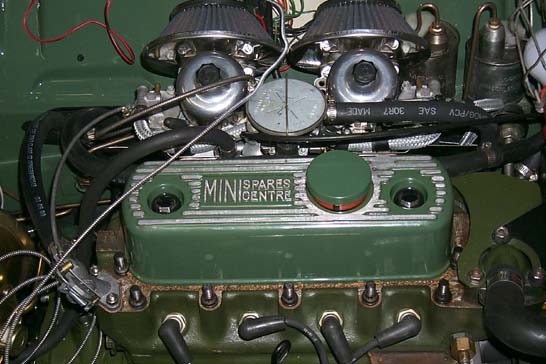 Nicely detailed engine compartment.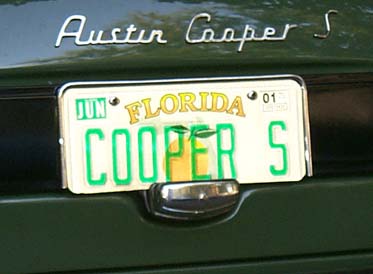 Just in case you don't have time to read the boot lid script as Jim goes by...




Jim cranked up his Green Machine and drove me out to Jay Neumann's, at a

good clip, I might add! Appropriately, Jay was working on one of his Minis

when we arrived. (He's getting married in a few months so I warned him he

better get a lot of work done now!) Jay has a Mk II S that he's doing a

considerable amount of work to, and sitting next to it in the garage is a

chopped, deseamed, VTec powered, er, project car. It's well on its way to

being a Mini Rod with reverse opening doors (will be electric, of course) and

a boot lid that swings out sideways. And out behind a fence is a Pink Pickup.

An old friend, actually. A couple of years ago I stayed with friends on the

south coast of England. They had this pink pickup that was being shipped to

the US. Turns out the car went to Mike Priest of Orlando who sold it to Jay.

Add another check to the "small world" list.



I didn't get any photos of Jay's cars. By the time we got there it was

dark and the garage wasn't conducive to Mini photos. I did snap this picture

of Jay and Jim. Jay's the younger one on the left, and Jim's the...the more

mature one on the right with the defective baseball cap. (There are so many

sold now days with the bill on the back instead of the front.) In all

fairness, Jim had it right-way-'round but it was shading his smiling face so

he had to move it for the photo.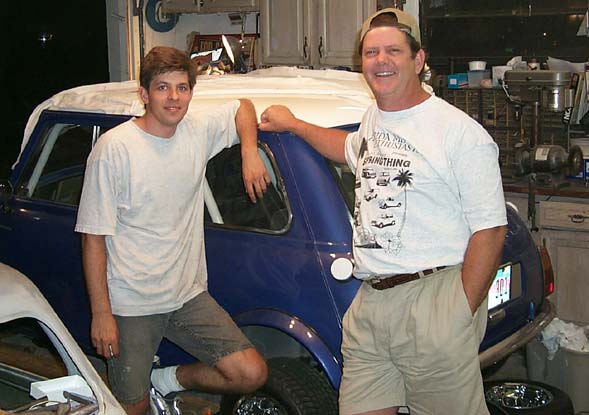 Jay and Jim leaning on Jay's Mk II S



Stay tuned for more Florida adventures.