Two-Factor Authentication
What is it?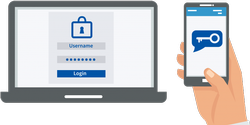 Two-Factory Authentication or 2FA is an extra layer of security used to make sure that people trying to gain access to an online account are who they say they are. First, a user will enter their username and a password. Then, instead of immediately gaining access, they will be required to provide another piece of information. In our case a authentication code from one of the many "One Time Password" applications available such as:
How do I enable 2FA on this site?
Login to your account, and proceed to the account
home screen
. Under "Settings" select the "Two-Factor Authentication" option and then click the "checkbox" to enable 2FA. You'll then be given a QR code you can scan with your cell phone to automaticly add the site to your authenticaion app.
I setup 2FA on Mini Mania but I've lost my phone or auth app?
In the case you've lost access to your 2FA after setting it up, please e-mail the
Webmaster
to find out how to re-enable your account.
Let's make sure we're showing you the right parts! Please Select your car type Below: